The Global Veterinary Vaccine Adjuvants Sales market is valued at 206 million USD in 2016 and is expected to reach 2110.9 million USD by the end of 2026, growing at a CAGR of 26.2% between 2016 and 2026.A substance that is formulated as part of a vaccine to improve its ability to induce protection against infection is called an adjuvant. Vaccine adjuvants are combination of chemicals and microbial components or mammalian proteins that improves the immune response to vaccine antigens. One of the reason to add adjuvant to a vaccine is improve the immune response so that less vaccine is required. Adjuvants also enhance the immunogenicity of highly purified antigens that have insufficient immunostimulatory capabilities. This is why adjuvants have been used in human vaccines for more than 90 years. Many vaccines also contain an adjuvant or adjuvant combination.
Adjuvants were initially used to counter the poor immunogenic potential of highly purified antigens. In recent years their role has expanded as our understanding of the immunology of vaccination has grown. Aluminum salts (alum), oil emulsions, saponins, immune-stimulating complexes (ISCOMs), liposomes, microparticles, nonionic block copolymers, derivatized polysaccharides, cytokines, and a wide variety of bacterial derivatives are some of the adjuvants in development or in experimental and commercial vaccines. Factors that are influencing the selection of an adjuvant are animal species, specific pathogen, vaccine antigen, route of immunization, and type of immunity needed.
The market competition is increasing rapidly with the rise in technological innovation and M&A activities in the industry. China is the fast growing and will occupy for more market share in following years along with India and Southeast Asia regions. United States and Europe will still play an important role in global market. Any changes from United States might affect the development trend of market. It is expected that the overall sales growth for Veterinary Vaccine Adjuvants will remain positive the forecast period. The actual production of Veterinary Vaccine Adjuvants is about 20 K MT.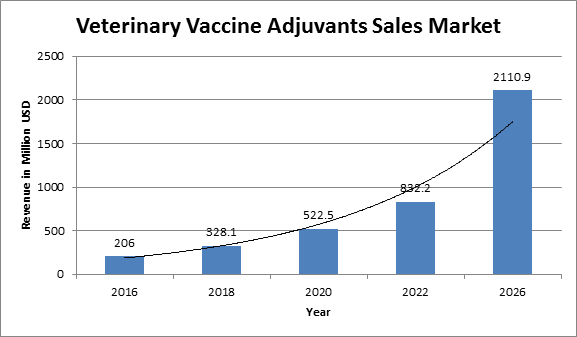 In cost analysis of system raw Materials are important component, occupying for the most proportion of cost. It's important and necessary to attach importance to raw materials sourcing. In general, the raw materials need to outsourcing, and the price, on-time rate and quality are very key indicators, to keep competitive market position, to maximize the profit. Actually, the price, on-time rate or quality, is just one of key factors to influence on the supply capacity and competitiveness. The lowest total Sales cost is the total index to maximize the profit.
Veterinary Vaccine Adjuvants Sales Market: Product Type
Oral
Subcutaneous
Intramuscular
Veterinary Vaccine Adjuvants Sales Market: Application
Livestock Vaccines
Companion Animals Vaccines
Veterinary Vaccine Adjuvants Sales Market: Competition Analysis
SEPPIC
SDA BIO
Brenntag Biosector
SPI Pharma
MVP Laboratories
Zhuoyue
Zhiju Bio
Global Veterinary Vaccine Adjuvants Sales Market: Regional Analysis
North America
Europe

France
Germany
Spain
UK
Rest of Europe

Asia Pacific

China
Japan
India
South East Asia

Latin America
Middle East and Africa
Veterinary Vaccine Adjuvants Sales Market Report delivers comprehensive analysis of :
Market Forecast for 2018-26
Market growth drivers
Challenges and Opportunities
Emerging and Current market trends
Market player Capacity, Production, Revenue (Value)
Supply (Production), Consumption, Export, Import analysis
End user/application Analysis
---
Veterinary Vaccine Adjuvants Sales Market was valued at around USD million in 2021 & estimated to reach USD by 2028.
Veterinary Vaccine Adjuvants Sales Market is likely to grow at compounded annual growth rate (CAGR) of % between 2022 to 2028.
Yes, the report includes COVID 19 impact on the market.