Underground Mining Vehicles Market is estimated to reach USD 40418.76 million by 2027, growing at a CAGR of 6.1 % between 2019 and 2027
The operations of mines have transform in accordance with the evolution of systems, equipment in mining method. The mining operations have been developed from primitive hand operation to the mechanized and automated mining vehicle. Through the robust technology application on the methods of extraction of minerals leads to higher productivity of minerals from mines. The mining vehicle is of critical importance in underground mines and mining operation. Furthermore, they are used in various operations in mining which include extraction, loading and transportations of materials, ores, equipment and personnel. The mining vehicles market is greatly dependent on the mining industry.
The mines developments across various economies are dynamic in nature, its fluctuation is highly dependent upon economic growth, industrially development. Also, supporting government policy in mechanizing mining process, subsidies and investments, an increase in FDI will also contribute towards the growth of mining vehicle market. Also, the public-private partnership helps the private investors with better guarantees and better institutional legal framework to accelerate the country's mining infrastructure. However, the high cost of mining vehicles and its operational cost may restraint its growth over the forecast period.
Still, mining companies are increasingly adopting mining vehicles in focusing on improving the working environment for their workforce; mechanizing the mining processes as well as increasing the production to cater the growing demand from various end-use industry will result in an increase in the demand for mining vehicles during the forecast period. Also, the manufacturers of mining vehicles are investing in research and development of the machine to make it more operationally efficient and economical. However, the ongoing trend in the industries of using better equipment to get better results will increase the demand for mining vehicles during the forecast period.
By power type, the mining vehicles market can be segmented into Diesel & Electric power. Although there is less difference in capacity of both versions, diesel engine vehicles are preferred over electric vehicles as they offer better ruggedness and convenience of locomotion. Reducing the use of diesel fuel could have major cost advantage for the industry as much as 40% of an underground mine's energy outlay is spent on powering gigantic ventilation systems to remove pollutants from tunnels.
As per application side, the mining vehicles market can be categorized into Mining and Construction. Mining processes are important to the improvement and protection of our daily living, providing resources used to create electricity, roads, and communities. The mining process starts with the cutting of the rock face and continues through the handling of the minerals, using such technology as cutting equipment, screening machinery, stockpiling equipment and conveying equipment.
Much like mining processes, construction processes play an essential role in the improvement of society. The construction industry effectively and safely makes our lives more comfortable and efficient. From towers to sewers to highway, construction machinery, such as excavators, dozers, and cranes, help to build a better future. Mining and construction equipment is in process at various sites all around the world. Reliability, sustainability, and productivity are important and necessary qualities in these respected industries.
In terms of region, the North American region consists of the U.S., and Canada. Latin America region consists of Mexico and Brazil. During the forecasted period, North America is expected to hold a major share in the mining vehicles market and is expected to behold it even in the forecast period owing to huge mining equipment existing fleet and sales of mining vehicle and increasing focus of mining companies towards increasing production capacity in this region. Many local manufacturers have established manufacturing facilities in U.S. and Brazil, allowing them to remain in the proximity of the miners. Furthermore, low cost of mineral production and rising investments are boosting the demand in these regions.
Major companies have established their dominance in the U.S market by higher integration throughout the value chain. These companies also have long-term contracts with raw material suppliers as well as research institutes for product innovation. Companies are focusing on increasing their production capacities by expanding their operations to different regions. Some of the key participating players in underground mining vehicles are Cat, Damascus Corporation, Classic Motors, MINECAT, Marcotte Mining, NPK, Artisan, Paus, Getman Corporation, BKT Tires, Mining Technology, and Fermel.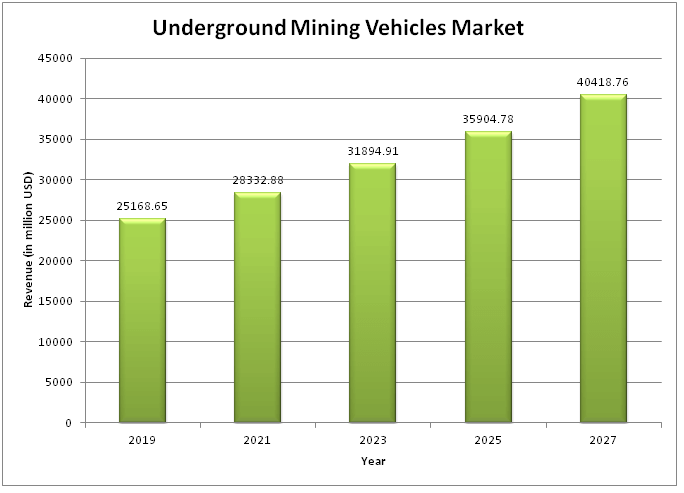 Underground Mining Vehicles Market: Power Type
Underground Mining Vehicles Market: Application
Underground Mining Vehicles Market: Competitive Analysis
Report includes accurate analysis of key players with Market Value, Company profile, SWOT analysis. The Study constitutes of following key players in Underground Mining Vehicles Market:

Cat
Damascus Corporation
Classic Motors
MINECAT
Marcotte Minning
NPK
Artisan
Paus
Getman Corporation
BKT Tires
Mining Technology
Fermel
Geographical analysis of Underground Mining Vehicles Market:
North America
Europe

France
Germany
Spain
UK
Rest of Europe

Asia Pacific

China
Japan
India
South East Asia

Latin America
Middle East and Africa
Underground Mining Vehicles Market Report delivers comprehensive analysis of :
Market Forecast for 2019-27
Market growth drivers
Challenges and Opportunities
Emerging and Current market trends
Market player Capacity, Production, Revenue (Value)
Supply (Production), Consumption, Export, Import analysis
End user/application Analysis
---
Underground Mining Vehicles Market was valued at around USD 28332.88 million in 2020 & estimated to reach USD 42884.3083 by 2028.
Underground Mining Vehicles Market is likely to grow at compounded annual growth rate (CAGR) of 6.1% between 2021 to 2028.
segment dominated the global market in terms of revenue generation. region is likely to show the highest growth rate between 2021 to 2028.
Yes, the report includes COVID 19 impact on the market.