Ultraviolet (UV) curing is a photochemical process which uses high-intensity UV light to cures or dries inks, coatings and adhesives instantly. Ultraviolet (UV) curing process is based on the photochemical reaction hence it uses light instead of heat. The UV-curable inks vehicle consists of four components that is monomers, oligomers, pigments, and photoinitiators. Liquid monomers and oligomers are mixed with photoinitiators which are then exposed to UV energy that hardens the inks, coatings or adhesives instantly. The revenue of global ultraviolet (UV) curing inks market is valued at 2.1 billion USD in 2016 and it is expected to reach 8.1 billion USD by the end of 2026, growing at a Growth Rate of 14.3% between 2016 and 2026.
UV curable inks offer instant drying (curing) on a wide range of substrates from metals, glass, and ceramics to flexible packaging, thin-gauge polymeric films, and more. Ultraviolet (UV) curable inks offers numerous advantages over traditional drying methods such as increase production speed, reduce reject rates, high colour accuracy, facilitate superior bonding ,improving scratch and solvent resistance, excellent print quality, high adhesion, scratch resistance, light fastness , improved color density, and provide a safer environment in the pressroom.
Ultraviolet (UV) curable inkjet utilizing ultraviolet light is the fastest growing ink segment in the digital printing market, far surpassing the growth rates of aqueous and solvent based inks. Ultraviolet (UV) curing ink is expected to continue its popularity in the industrial sectors owing to the constant technological advancements, rising need for innovative packaging inks, growing trend for adopting environment friendly printing inks, huge R&D investments by major players to develop innovative and eco-friendly printing inks techniques. UV LED inks is expected to gradually replace the conventional UV inks even when ultraviolet (UV) curing inks are as much as three times the cost of regular heatset inks.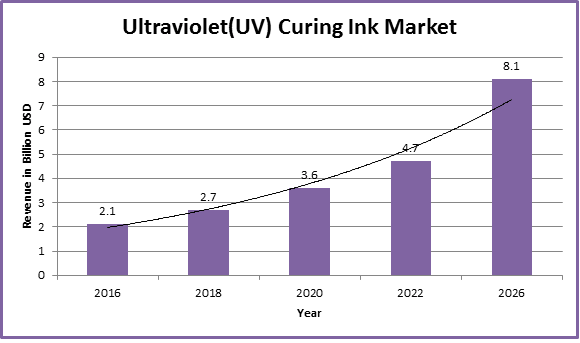 Ultraviolet(UV) Curing Ink Market : Product Type
Offset Printing UV Curable Inks
Silkscreen Printing UV Curable Inks
Flexo Printing UV Curable Inks
Gravure UV Curable Inks
Digital Printing UV Curable Inks
Ultraviolet(UV) Curing Ink Market: Application
Automobile
Consumer Goods
Medical
Publications and Printing
Global Ultraviolet(UV) Curing Ink Market: Competitive Analysis
Report includes accurate analysis of key players with Market Value, Company profile, SWOT analysis. The Study constitutes of following key players in Global Ultraviolet(UV) Curing Ink Market:
DIC
Toyo Ink Group
Siegwerk
T&K Toka Corporation
Ricoh
Flint Group
Hewlett-Packard
Gans Ink & Supply
NUtec Digital Ink
Hanghua Toka
Letong Ink
Yip's Ink
Kingswood Inks
Tianjin Angel Chemicals
Geographical analysis of Ultraviolet(UV) Curing Ink Market:
North America
Europe

France
Germany
Spain
UK
Rest of Europe

Asia Pacific

China
Japan
India
South East Asia

Latin America
Middle East and Africa
Ultraviolet(UV) Curing Ink Market Report delivers comprehensive analysis of :
Market Forecast for 2018-26
Market growth drivers
Challenges and Opportunities
Emerging and Current market trends
Market player Capacity, Production, Revenue (Value)
Supply (Production), Consumption, Export, Import analysis
End user/application Analysis
---
Ultraviolet(UV) Curing Ink Market was valued at around USD million in 2021 & estimated to reach USD by 2028.
Ultraviolet(UV) Curing Ink Market is likely to grow at compounded annual growth rate (CAGR) of % between 2022 to 2028.
Yes, the report includes COVID 19 impact on the market.