Smart Ticketing Market is expected to reach USD 12.22 billion by 2026 at CAGR of 8.31 %. Smart ticketing system includes entitlement to travel i.e. ticket is stored electronically on a microchip rather than being printed on a paper ticket. In most smart ticketing systems, the microchip on which a ticket is stored is embedded in a smartcard. Hence, smart ticketing schemes are often known as smartcard schemes, although smart ticketing scheme includes far more functionality than the smartcard. Smart ticketing uses the Government backed Integrated Transport Smartcard Organisation (ITSO) specification to allow seamless travel between, and within, cities and regions with different modes of transport.
The key benefits of smart ticketing include:
Allowing passengers to load tickets or credit in advance of travel, speeding up boarding times and reducing queuing.
Fraud and security. Smart tickets are far harder to replicate and can be electronically 'killed' the moment they are reported lost or stolen with any remaining balance refunded.
Operators will be able to run their own loyalty schemes and offer ticket types to suit individual customers' needs.
The ability to top-up some smart products on bus or at a designated location.
North America leading the Market with highest number Smart Ticketing system installed in 2017. Europe has shown tremendous growth as more public transportation systems are adapting Smart Ticketing software technique. In UK government has announced investment of USD 112.12 millions to introduce smart ticketing across England and Wales by the end of 2018. This will deliver every passenger will have the choice of travelling without a paper ticket by the end of 2018, mobile barcode ticketing will be rolled-out on every rail franchise in Great Britain, passengers will be able to have smart cards hosted on their mobile phone – like a digital travel card – with a pilot of this technology expected in the next 4 months. Asia- Pacific, Africa and Middle east Smart Ticketing Market is expected to grow at constant rate.
In smart ticketing system is most integral and important component. The software interface of a smart ticketing system is comparatively expensive, and it id integrated with payment gateways as well with devices such as smartphones and card readers through servers. Hence, these software requires regular updation which increases the overall costing of system. In terms of application, the railways and metros has successfully adapted smart ticketing system with high number of transaction. Smart ticketing system is also getting adopted in airlines system with advantage of allowing airport authority to handle the critical operations at peak hours.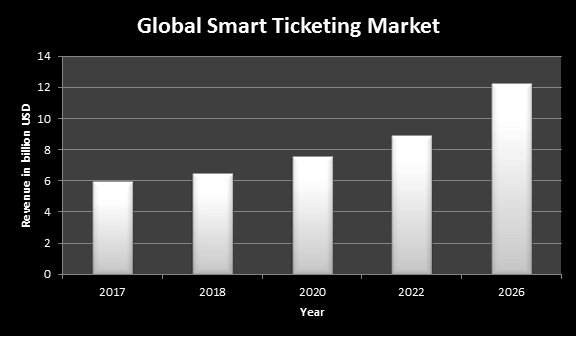 Smart Ticketing Market : Ticket System
Ticket Machine
E-Ticket
E-Kiosk
Smart Parking System
E-Toll
Smart Ticketing Market: System Components
Smart Ticketing Market : Application
Railways and Metros
Sports and Entertainments
Buses
Airlines
Global Smart Ticketing Market: Competitive Analysis
Report includes accurate analysis of key players with Market Value, Company profile, SWOT analysis. The Study constitutes of following key players in Global Smart Ticketing Market:

HID (U.S.)
Gemalto NV (Netherlands)
NXP Semiconductors (U.S.)
CPI Card Group (U.S.)
Cubic (U.S.)
Xerox (U.S.)
Geographical analysis of Smart Ticketing Market:
North America
Europe

France
Germany
Spain
UK
Rest of Europe

Asia Pacific

China
Japan
India
South East Asia

Latin America
Middle East and Africa
Smart Ticketing Market Report delivers comprehensive analysis of :
Market Forecast for 2019-27
Market growth drivers
Challenges and Opportunities
Emerging and Current market trends
Market player Capacity, Production, Revenue (Value)
Supply (Production), Consumption, Export, Import analysis
End user/application Analysis
---
Smart Ticketing Market was valued at around USD million in 2021 & estimated to reach USD by 2028.
Smart Ticketing Market is likely to grow at compounded annual growth rate (CAGR) of % between 2022 to 2028.
Yes, the report includes COVID 19 impact on the market.