Global Small Motor Market is estimated to reach USD 12627.14 million by 2027, growing at a CAGR of 2.3 % between 2019 and 2027
Small Motor or Electric Motor is an electric motor which is used to convert electrical energy into mechanical energy. Small Motor consists of rotor, Bearing, Stator, Air gap, windings and commutator. The moving part of the electric motor is rotor which turns the shaft to deliver the mechanical power. The support to the rotor is given by bearings which allow the rotor to turn on its axis. Small motors are blowers and pumps, industrial fans machine tools, household appliances, power tools and disk drives and electric watches. Small Motors are used as generators to recover energy that might otherwise be lost as heat and friction in certain applications. Massive industrialization especially in Asia Pacific region has enormously increased demand of Small Motors.
The Global Small Motor Market is expected to make a significant growth in forecasted period. Technological advancement is another major factor of increase in the growth of small motor market. Automobile industry and electrical appliances industry enhancement in technology is quiet often which results in increasing the demand of Small Motor. Not only heavy industrial use of Small Motors propelling fuel to growth of market but also it is moderately use by many students in their project works. Population increase also plays an important role in growth of the small motor market. As the population is increasing the demand of the electrical and solar power appliances are also increasing. Since 2012 Global Small Motor Market has become very competitive due to emergence various new manufacturers especially in Asia Pacific region.
The study covers detail analysis, growth and forecast of the Small Motor Market. The report includes market analysis on global and regional level. The study covers historical data analysis from 2014 to 2017 and market forecast for 2019 to 2027 based on revenue generated. The study includes market value in terms of revenue in billion USD for years 2014-27 and compound annual growth rate (CAGR) in % for from 2019-2027. The market is expected to show constant growth between 2019-2027.
The report comprises value chain analysis for each of the product segments. Value chain analysis offers in depth information about value addition at each stage. The study includes drivers and restraints for Small Motor Market along with their impact on demand during the forecast period. The study also provides key market indicators affecting the growth of the market. Research report includes major player analysis with shares of each player inside market, growth rate and market attractiveness in different end users/regions. Our study Small Motor Market helps user to make precise decision in order to expand their market presence and increase market share.
The report provides Small Motor Market Dynamics ,includes industry growth drivers, challenges, opportunities , risk, constraints as well as threats .Reports also includes Manufacturing Cost Analysis mainly included Raw Materials Analysis, Price Trend of product, Mergers & Acquisitions, Expansion, Key Suppliers of product, Concentration Rate of Small Motor Market, Manufacturing Process Analysis. Research Report contains Market Effect Factors analysis mainly included Technology Progress, Consumer Needs Trend, External Environmental Change.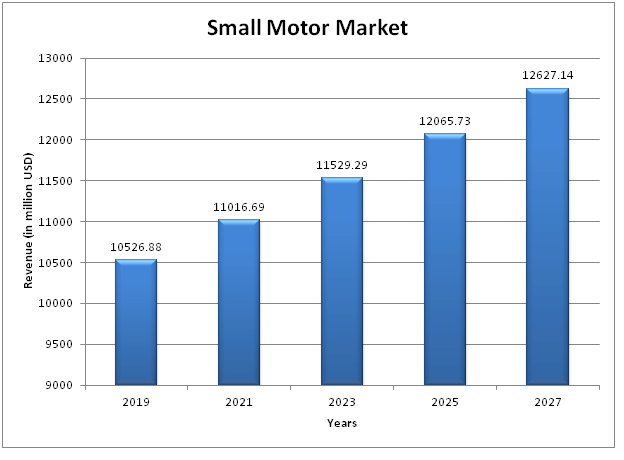 Global Small Motor Market: Product Type
Global Small Motor Market: Application
Automotive
Industrial
Others
Global Small Motor Market: Competitive Analysis
Report includes accurate analysis of key players with Market Value, Company profile, SWOT analysis. The Study constitutes of following key players in Global Small Motor Market:

Bosch
Valeo
Denso
Mahle
Mitsubishi Electric
Prestolite
Remy International
Hella
Hitachi
Geographical analysis of Global Small Motor Market:
North America
Europe

France
Germany
Spain
UK
Rest of Europe

Asia Pacific

China
Japan
India
South East Asia

Latin America
Middle East and Africa
Global Small Motor Market Report delivers comprehensive analysis of :
Market Forecast for 2019-27
Market growth drivers
Challenges and Opportunities
Emerging and Current market trends
Market player Capacity, Production, Revenue (Value)
Supply (Production), Consumption, Export, Import analysis
End user/application Analysis
---
Small Motor Market was valued at around USD 11016.69 million in 2021 & estimated to reach USD 12917.5623 by 2028.
Small Motor Market is likely to grow at compounded annual growth rate (CAGR) of 2.3% between 2022 to 2028.
Yes, the report includes COVID 19 impact on the market.