Global Self Driving Forklifts Market is estimated to reach USD 4428.09 million by 2027, growing at a CAGR of 6.6 % between 2019 and 2027
Self Driving Forklifts OR Autonomous Forklifts are the Artificial Intelligence (AI) based robotics which are self-driven and plan the route on their own through the warehouses. Self Driving Forklifts are the vital force of the warehousing. Self Driving Forklifts are also called automated guide vehicles (AGVs). Self Driving Forklifts uses computer vision technology and AI which plays a vital role to plan their route through the warehouse. They project and detect the movements of the human warehouse workers they encounter. They can also communicate with and operate devices like warehouse doors and roller tracks, all without the help of humans. Self Driving Forklifts has reduced the human work and made it easy to place the goods from one place to another.
The Global Self Driving Forklifts Market is expected to make a significant growth in the forecasted period owing to its excellent productivity and less requirement of workforce. The Invention of Self Driving Forklifts has revolutionized the warehousing techniques. Technological enhancement has played a major role in the growth of Self Driving Forklifts. Market dynamic has changed due to technological advancement and become more competitive as the usage of better technology gives a competitive advantage over other players.
Autonomous Forklifts Market is becoming more competitive due to emergence new market players especially in Asia Pacific region. Manufacturers are allocating large budget to innovation as well as R & D to attract more consumers. The increase in population leading to high demands of products and hence demands of warehouse raised exponentially since 2012. Asia Pacific is most lucrative market due to high population, increasing disposable income and massive industrial expansion. North America & Europe market estimated to show constant growth with Africa as special monitoring region.
The study covers detail analysis, growth and forecast of the Self Driving Forklifts Market. The report includes market analysis on global and regional level. The study covers historical data analysis from 2014 to 2017 and market forecast for 2019 to 2027 based on revenue generated. The study includes market value in terms of revenue in billion USD for years 2014-27 and compound annual growth rate (CAGR) in % for from 2019-2027. The market is expected to show constant growth between 2019-2027.
The report comprises value chain analysis for each of the product segments. Value chain analysis offers in depth information about value addition at each stage. The study includes drivers and restraints for Self Driving Forklifts Market along with their impact on demand during the forecast period. The study also provides key market indicators affecting the growth of the market. Research report includes major player analysis with shares of each player inside market, growth rate and market attractiveness in different end users/regions. Our study Self Driving Forklifts Market helps user to make precise decision in order to expand their market presence and increase market share.
The report provides Self Driving Forklifts Market Dynamics ,includes industry growth drivers, challenges, opportunities , risk, constraints as well as threats .Reports also includes Manufacturing Cost Analysis mainly included Raw Materials Analysis, Price Trend of product, Mergers & Acquisitions, Expansion, Key Suppliers of product, Concentration Rate of Self Driving Forklifts Market, Manufacturing Process Analysis. Research Report contains Market Effect Factors analysis mainly included Technology Progress, Consumer Needs Trend, External Environmental Change.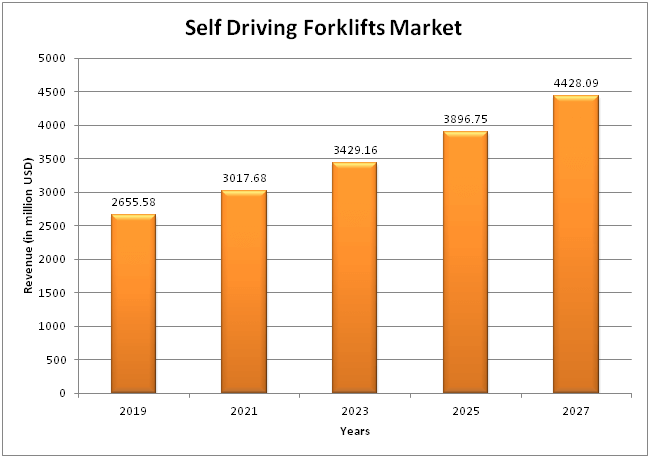 Global Self Driving Forklifts Market : Product Type
Rough Terrain Forklift
Rider Forklifts
Cushion Tire Forklifts
Narrow Aisle Forklifts
Pallet Jacks
Stackers
Pneumatic Tire Forklifts
Global Self Driving Forklifts Market : Application
Apparel Industry
Food & Beverage Industry
Hardware Industry
Pharmaceutical Industry
Electronics Industry
Chemical Industry
Others
Global Self Driving Forklifts Market : Competitive Analysis
Report includes accurate analysis of key players with Market Value, Company profile, SWOT analysis. The Study constitutes of following key players in Global Self Driving Forklifts Market:

OTTO Motors
DHL
Fairchild Equipment
Linde Material Handling
Deep Systems
Maun Motors
NDC Solutions
Geographical analysis of Global Self Driving Forklifts Market:
North America
Europe

France
Germany
Spain
UK
Rest of Europe

Asia Pacific

China
Japan
India
South East Asia

Latin America
Middle East and Africa
Global Self Driving Forklifts Market Report delivers comprehensive analysis of :
Market Forecast for 2019-27
Market growth drivers
Challenges and Opportunities
Emerging and Current market trends
Market player Capacity, Production, Revenue (Value)
Supply (Production), Consumption, Export, Import analysis
End user/application Analysis
---
Self Driving Forklifts Market was valued at around USD 3017.68 million in 2021 & estimated to reach USD 4720.343651 by 2028.
Self Driving Forklifts Market is likely to grow at compounded annual growth rate (CAGR) of 6.6% between 2022 to 2028.
Yes, the report includes COVID 19 impact on the market.