The global rubber coated fabrics market is valued at USD 1.55 billion in 2016 and is expected to reach USD 2.48 billion by the end of 2026, growing at a CAGR of 4.8 % between 2018 and 2026.
Coated fabrics are stronger and more resistant to weather conditions as they are coated, treated or covered with various substances. Rubber coated fabrics are substances that are coated with styrene-butadiene rubber, rubber, flour rubber, or any other rubber coating which best suits the purpose. Rubber Coated fabrics are widely used in different industries including industrial, defence & public safety, construction, transportation, aerospace & automotive, wall coverings, and clothing's. Rubber Coated fabrics have some features like non air-wicking, high rubber adhesion, strength and flexibility, low noise and vibration, heat and pressure resistance.
Rubber coated fabrics are widely used in a variety of applications such as protective garments, home decoration products, gymnasium mattresses, lifeboats, boats, rainwear, storage bags, and food conveyor belts are driving the market. With rising investment in transportation sector, especially in developing economies, the demand for rubber coated fabric is highly increased. However, rubber is not exactly a biodegradable material and hence availability of substitute's materials is increasing. Demand for proper disposing or recycling of waste produced during manufacturing and application of rubber is increasing. All these factors are acting as big hurdles for growth of this market.
Asia Pacific is largest and most lucrative market for rubber coated fabrics market globally due to radical economic growth, rapid industrialization in countries such as China and India, increased budget for military, and increased disposable income which has been driving the automotive and construction sectors. Asia Pacific region is expected to grow at the highest CAGR of 5.5% during forecast period. Europe and North America also becoming attractive market for rubber coated fabrics vendors. New technological advancements with increasing R& D activities are helping to remove hurdles in development of this market.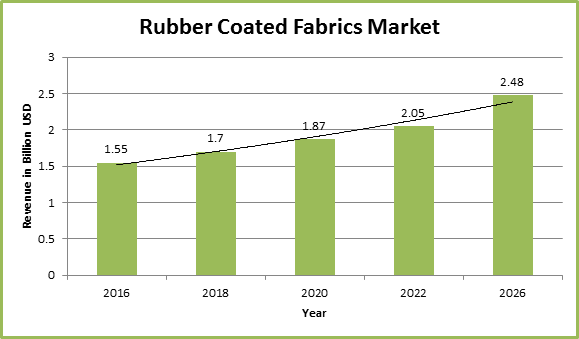 Rubber Coated Fabrics Market : Product Type
Rubber Coated Fabrics Market : Application
Industrial
Defence & Public Safety
Construction
Aerospace & Automotive
Global Rubber Coated Fabrics Market: Competitive Analysis
Report includes accurate analysis of key players with Market Value, Company profile, SWOT analysis. The Study constitutes of following key players in Global Rubber Coated Fabrics Market:
Takata
COLMANT COATED FABRICS
Fabri Cote
Longwood Elastomers
Cross Rubber Products Ltd
ContiTech AG
Zenith Industrial Rubber Products Pvt. Ltd.
RAVASCO
Trelleborg AB
Geographical analysis of Rubber Coated Fabrics Market :
North America
Europe

France
Germany
Spain
UK
Rest of Europe

Asia Pacific

China
Japan
India
South East Asia

Latin America
Middle East and Africa
Rubber Coated Fabrics Market Report delivers comprehensive analysis of :
Market Forecast for 2018-26
Market growth drivers
Challenges and Opportunities
Emerging and Current market trends
Market player Capacity, Production, Revenue (Value)
Supply (Production), Consumption, Export, Import analysis
End user/application Analysis
---
Rubber Coated Fabrics Market was valued at around USD million in 2021 & estimated to reach USD by 2028.
Rubber Coated Fabrics Market is likely to grow at compounded annual growth rate (CAGR) of % between 2022 to 2028.
Yes, the report includes COVID 19 impact on the market.