Report Summary
Pentane Market is expected to reach USD 173.91 million by the end of 2026 at CAGR of 6.1 %. Pentane is an organic compound having five carbon atoms bound to each other with single bonds. Pentane is a hydrocarbon having chemical formula is C5H12. It is a volatile, colorless liquid with a petroleum -like odour. Shell is the world's largest producer of pentane which holds 14.88% of the global market share. The global production of pentane increased from 143577 tons in 2017 to 199325 tons growing at a CAGR of 3.71% between 2017 and 2026. Pentane is employed as one of the primary blowing agents in the production of polystyrene foam. Also pentane is used as a specialty solvent in the laboratory.
Pentane plus is a natural gas liquid. Pentane is a key raw natural gas liquid material followed by heptane, benzene, hexane and octane. The product has a huge demand as a transportation fuel and as a transportation fuel, pentane plus have gained a significant momentum globally. With an increase in natural gas liquid production, market players are likely to witness huge opportunities for growth in the coming years. But various hazards such as high vapor explosion associated with the production of pentane plus likely to damage market's growth in the near future. Plus the implementation of stringent regulations towards usage of pentane that causes air pollution while burning hampers the global pentane market.
Different factors such as low cost of pentane, rise in demand for pentane from various end user industries, its beneficial chemical properties such as higher strength as compared to other alkanes, superior volatility, increased usage of pentane in fuel blending and formulation from various end-user industries will further drive growth of the global pentane market. Industries uses pentane to generate polystyrene to make insulation materials. Plus, pentane is used as a refrigerant in the fridge and AC appliances that rises its demand in the appliance industry.
Asia Pacific is the largest importer of pentane plus across the world while North America especially U.S. is being established as a leading exporter of pentane plus as they have high pentane plus yield in this region which helps to increased production of natural gas liquids. This situation is expected to remain the same in the forthcoming years. The steady growth of pentane plus production in China and Australia and increasing government initiatives for the promotion of unconventional energy in countries, such as Taiwan, India, Vietnam, China, and South Korea is likely to boost this regional market substantially over the next few years.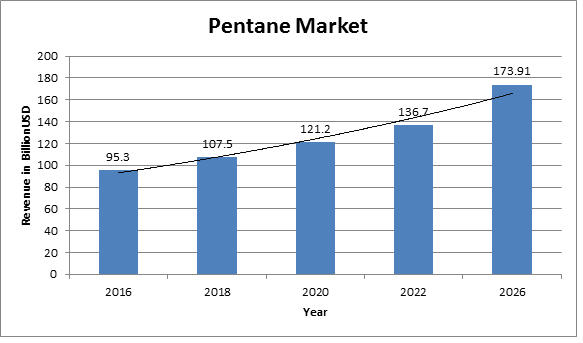 Global Pentane Market Report: Product Type
Pentane 85/15
Pentane 80/20
Pentane 70/30
Pentane 60/40
Pentane 50/50
Pentane 20/80
Global Pentane Market Report: Application
EPS Blowing Agent
Electronic Cleaning
Chemical Solvent
Aerosol Propellant
Global Pentane Market Report: Competitive Analysis
Report includes accurate analysis of key players with Market Value, Company profile, SWOT analysis. The Study constitutes of following key players in Global Pentane Market Report:

Shell
South Hampton Resourc
CNPC
ExxonMobil Chemical
Phillips 66
TOP Solvent
Junyuan Petroleum Group
Aeropres Corporation
Diversified CPC
Rizhao Changlian
Geographical analysis of Global Mattress Market:
North America
Europe

France
Germany
Spain
UK
Rest of Europe

Asia Pacific

China
Japan
India
South East Asia

Latin America
Middle East and Africa
Global Pentane Market Report delivers comprehensive analysis of :
Market Forecast for 2018-26
Market growth drivers
Challenges and Opportunities
Emerging and Current Market trends
Market player Capacity, Production, Revenue (Value)
Supply (Production), Consumption, Export, Import analysis
End user/application Analysis
Report Coverage
| Parameters | Details |
| --- | --- |
| Base Year | 2022 |
| Historical Data | 2017-2022 |
| Forecast Data | 2023-2029 |
| Regional Scope | North America, Europe, Asian Pacific, Latin America, Middle East and Africa, and ROW |
---
Frequently Asked Questions (FAQ)
Pentane Market report considers 2021 as the base year.
Pentane Market report considers data for period 2016 to 2021 as the historical data to predict market forecast between 2022 to 2029.
Yes, report is inclusive in-detailed analysis of key players in Pentane Market
Pentane Market Study is broadly divided into North America, Europe, Asian Pacific, Latin America, Middle East and Africa, and ROW. Also these regions are further analysed as per various countries
Pentane Market Report includes Market Segmentation, Regional outlook, Application Analysis, Competitive analysis, Supply-Demand Analysis, Pricing insight.
Yes, the report includes COVID 19 impact on the market.