The global Pay TV Video Encoders market is valued at USD 638.8 million in 2016 and is expected to reach USD 1554.4 million by the end of 2026, growing at a CAGR of 9.3 % between 2016 and 2026. The Pay TV encoders market covers all applications of video encoders like video On Demand (VOD), games, interactive advertisements, etc. related to Pay TV services. Pay TV Video Encoders must become more versatile and extensible to support multi-screen ecosystems and not just traditional architectures.
Pay TV Video Encoders are segmented into cable, satellite and internet Protocol Television (IPTV). Versatile head ends are available for different types of services, continued digitization, growth in number of HD and SD channels with migration to more-efficient compression formats drive growth in the cable video encoders segment. High cost of laying fiber with saturation in larger markets is restraining growth in the IPTV video encoders segment. Scarcity of bandwidth and rising competition from other Pay TV services increasing risks for the satellite video encoders segment.
Pay TV video encoders operators deploying digital services in affluent, non-conditional-access markets for the first time are providing set-top boxes with the latest compression formats. They have also joined the Over-the-top (OTT) services, such as Netflix, to make their content available to subscribers online and via multiple screens for free and pay-per-view. They are also offering more HD channels, video-on-demand packages, personal video recorders, and other services to better compete and minimize subscriber churn.
TV video encoders devices are simplifying, while simultaneously increasing capabilities as pay tv operators will require versatile, scalable, and feature-rich video encoder products to enable their growing content libraries and services. Pay TV video encoders operators are upgrading delivery networks, increasing ultra HD (UHD) content, crafting a video encoder product line that comprehensively addresses convergence and multi-screen needs, particularly for the cable and IPTV video encoder segments which will play a critical role in expansion of business.
North America is the largest market for pay TV video encoders market followed by Europe. Asia Pacific will remain as the fastest growing market in forecast period. Cable video encoders segment will grow rapidly as compared to internet protocol television (IPTV) and satellite video encoders segment. New advancements in technology, new specifications, innovative concepts, remaining competitive on cost and channel density, and innovate on lateral features such as multiplexing and advertising insertion will boost this market in forecast period.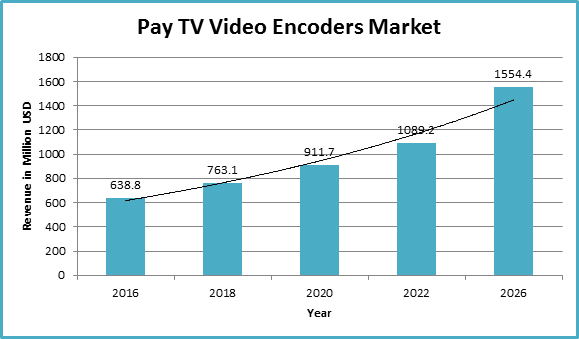 Pay TV Video Encoders Market : Product Type
Cable
Satellite
Internet Protocol Television (IPTV)
Pay TV Video Encoders Market: Application
Video On Demand (VOD)
Games
Interactive Advertisements
Pay TV Video Encoders Market : Company Analysis
Anystream
Cisco
Digital Rapids
Arris Group
Akamai Technologies
Ericsson
Huawei Technologies
Polycom
Geographical analysis of Pay TV Video Encoders Market:
United States
Europe
China
Japan
South Korea
Taiwan
Pay TV Video Encoders Market Report delivers comprehensive analysis of :
Market Forecast for 2018-26
Market growth drivers
Challenges and Opportunities
Emerging and Current Market trends
Market player Capacity, Production, Revenue (Value)
Supply (Production), Consumption, Export, Import analysis
End user/application Analysis
---
Pay TV Video Encoders Market was valued at around USD million in 2021 & estimated to reach USD by 2028.
Pay TV Video Encoders Market is likely to grow at compounded annual growth rate (CAGR) of % between 2022 to 2028.
Yes, the report includes COVID 19 impact on the market.