Rising demand for robots for increased packaging efficiency, the requirement for intelligent transformation to reduce product delivery time, growth in numerous manufacturing industries, and abridged operational cost are some of the factors propelling the growth of the Global Packaging Robots Market. Although, heavy capital investment, lack of skilled professionals, and high installation costs may restrict market growth. Moreover, further development of the global robotics industry and unceasing growth in the retail sector & e-commerce is expected to unfold various attractive business opportunities for the market in the coming years. A robot end-of-arm tool (EOAT) is selected based on the operation it will perform and is specific to the part or tool that it manipulates. Robot users need customized solutions to deliver creative shaped objects but this is typically an expensive and time-consuming approach.
End-of-arm tooling is a type of device by which a robot connects with other machines around it, conducting, clutching, and operating on various parts. An end-effector is one of the major parts and an important component of the robotic system. Arriving of new technology has led to improvement in end-effectors to perform different sets of tasks according to the program. Robots with multiple arms comprise multiple end-effectors A packaging robot is a robot system used for packaging the materials. Industries use packaging robots to make the packaging process faster, more precise, and more cost-efficient. Packaging robots are extremely flexible. A packaging robot can complete any sort of packaging work with the right end of arm tooling. There is a wide range of robot sizes, mounting options, payload, and reach available.
The study covers a detailed analysis, growth and forecast of the Packaging Robots Market. The report includes market analysis on global and regional levels. The study covers historical data analysis from 2017 to 2022 and market forecasts for 2023 to 2029 based on revenue generated. The study includes a market value in terms of revenue in million USD for years 2017-29 and compound annual growth rate (CAGR) in % from 2023 to 2029. The market is expected to show constant growth between 2023 to 2029.
The report comprises a value chain analysis for each of the product segments. Value chain analysis offers in-depth information about value addition at each stage. The study includes drivers and restraints for Packaging Robots Market along with their impact on demand during the forecast period. The study also provides key market indicators affecting the growth of the market. The research report includes major player analysis with shares of each player inside the market, growth rate and market attractiveness in different end-users/regions. Our study Packaging Robots Market helps users to make precise decisions to expand their market presence and increase market share.
The report provides Packaging Robots Market Dynamics, including industry growth drivers, challenges, opportunities, risks, constraints as well as threats. Reports also include Manufacturing Cost Analysis mainly including Raw Materials Analysis, Price trends of products, Mergers & Acquisitions, Expansion, Key Suppliers of products, Concentration Rate of the Packaging Robots Market, and Manufacturing Process Analysis. The research Report contains Market Effect Factors analysis mainly including Technology Progress, Consumer Needs Trends, and External Environmental Change.
Based on the geographical analysis, the global Packaging Robots Market is classified into North America, Europe, Asia-Pacific and Rest of the world (RoW). Asia Pacific is anticipated to witness high growth in the global packaging arm robot market mainly owing to rapid industrialization across various countries such as China, India, and South Korea. Owing to the rise in demand for packaged products in emerging economies would shift manufacturers towards the automation of packaging lines to lessen delivery time. The second largest market share was accounted by Europe, due to changing consumer lifestyles and an increase in consumption of food and other consumer products. In addition, the U.S. is anticipated to dominate the market in the near future. Owing to the presence of an increasing number of diversified industries.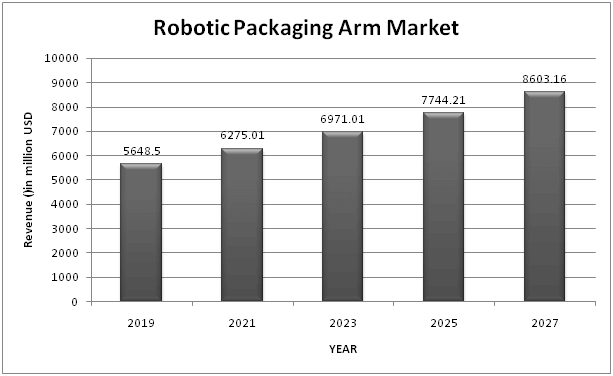 Global Packaging Robots Market: Product Type
Picking Robots
Packaging Robots
Palletizing Robots
Global Packaging Robots Market: Gripper Type
Global Packaging Robots Market: Application
Food and Beverages
Electronics
Consumer Goods
Automobile
Others
Global Packaging Robots Market: Competitive Analysis
The report includes accurate analysis of key players with Market Value, Company profile, and SWOT analysis. The Study constitutes of the following key players in Global Packaging Robots Market:

Packaging World
Motoman
Bastian Solutions
ABB
Bosch Packaging Technology
Motion Controls Robotic
DENSO Robotics
Universal Robots
Midwest Packaging Solutions
Packaging Digest
MMCI Robotics
Pearson Packaging
Nortech Packaging
KUKA Robot
JLS Automation
Automated Motion
GeboCermex
Combi Packaging Systems
Robotic Automation
Geographical analysis of Global Packaging Robots Market:
North America
Europe

France
Germany
Spain
UK
Rest of Europe

Asia Pacific

China
Japan
India
South East Asia

Latin America
Middle East and Africa
Global Packaging Robots Market Report delivers a comprehensive analysis of the following parameters :
Market Forecast for 2023-29
Market growth drivers
Challenges and Opportunities
Emerging and Current market trends
Market player Capacity, Production, Revenue (Value)
Supply (Production), Consumption, Export, Import analysis
End-user/application Analysis
Report Coverage
| Parameters | Details |
| --- | --- |
| Base Year | 2022 |
| Historical Data | 2017-2022 |
| Forecast Data | 2023-2029 |
| Base Year Value (2022) | USD 6275.01 million |
| Forecast Value (2029) | USD 9067.73 million |
| CAGR (2022 to 2028) | 5.4 % |
| Regional Scope | North America, Europe, Asian Pacific, Latin America, Middle East and Africa, and ROW |
---
Packaging Robots Market was valued at around USD 6275.01 million in 2022 & estimated to reach USD 9067.73 million by 2029.
Packaging Robots Market is likely to grow at compounded annual growth rate (CAGR) of 5.4% between 2023 to 2029.
Yes, the report includes COVID 19 impact on the market.