Micro EVs are small manned electric vehicles like E-bikes, cars. They are usually lower in cost and and smaller in size than regular vehicles. They are estimated to reach $41 billion in 2028 at a CAGR of 7.5%. These small vehicles are uniquely significant in addressing megatrends and in pioneering energy independent, unlimited travel. Micro EVs vehicle will help nation in emerging as pollution free country. These micro EVs are among the first categories to spawn energy independent vehicles (EIVs) that never plug in or fill up.
Development of technologically advanced batteries with higher efficiency and durability is integrated with Micro EVs vehicles which provide significant growth opportunities for the market. Consumers have started adopting the latest technology which will act as growth factor for manufacturing companies and utility providers. Rise in the cost of energy and competition among the energy efficient technologies is expected to act as fuel for the growth in the micro EVs market.
The global electric vehicles market is dominated by key industry players including General Motors, Nissan, Tesla, and Toyota. Other companies include BYD, Daimler AG, Mitsubishi Motors Corporation, Renault S.A., Smith Electric Vehicles and Volkswagen.the focus of Key market players is on developing commercial and strategic relationships with other industry participants. For instance, Tesla started to develop an electric powertrain for the Toyota RAV4 by entering into an agreement with Toyota.
Among all the regions U.S is expected to dominate the electric vehicle market which is followed by Asia Pacific. U.S government is taking initiatives to exempt insurance surcharges and grant access to carpool lanes. Government of countries like U.K, France are taking initiative to provide these vehicle to the government agencies which will fuel the market growth in those regions. Due to rise in fuel prices, Electric motor vehicle market is expected to grow in European countries. In Asia Pacific region China, Japan and Korea are expected to emerge as growing market due to subsidy provided for Electric Vehicle.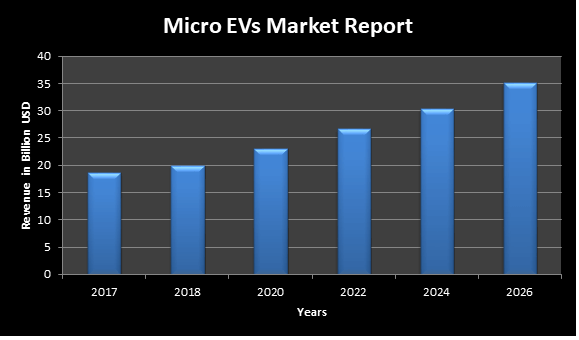 Micro EVs Market: Product Type
Lead-acid Battery EVs
Lithium-ion Battery EVs
Micro EVs Market: End User / Application
Personal Use
Commercial Use (Sightseeing, Golf etc.)
Public Utilities
Global Micro EVs Market: Regional Analysis
North America
Europe

France
Germany
Spain
UK
Rest of Europe

Asia Pacific

China
Japan
India
South East Asia

Latin America
Middle East and Africa
Micro EVs Market Report delivers comprehensive analysis of :
Market Forecast for 2018-26
Market growth drivers
Challenges and Opportunities
Emerging and Current market trends
Market player Capacity, Production, Revenue (Value)
Supply (Production), Consumption, Export, Import analysis
End user/application Analysis
---
Micro EVs Market was valued at around USD million in 2021 & estimated to reach USD by 2028.
Micro EVs Market is likely to grow at compounded annual growth rate (CAGR) of % between 2022 to 2028.
Yes, the report includes COVID 19 impact on the market.