Global Lemongrass Oil Market is estimated to reach USD 421.13 million by 2027, growing at a CAGR of 6.9% between 2019 and 2027
Lemongrass, also known as Cymbopogon, is a tropical island plant that comes under the category of Poaceae – a grass family. It is a common culinary herb used in various Asian cuisines and also for its medicinal purposes in India. It is also used as a tea in countries in Africa and Latin America. Lemongrass oil is type of essential oil that is derived from lemongrass plant. It has lemony smell and various medicinal properties such as anti-fungal, anti-antiseptic, anti-inflammatory, etc. Lemon grass oil is used to regulate cholesterol, improvement of digestion system, boosting nervous system, relive stress, detoxification of body, relive mensuration cramps, etc.
Rising awareness regarding health benefits provided by lemongrass oil is a key factor driving growth of the global market. Growing preference for natural medicines among individuals is resulting into increasing popularity of lemongrass among consumers. In addition, growing popularity of aromatherapy and increasing availability of aromatherapy candles, diffusers, oils are factors fuelling growth of the global lemon grass market. Lemongrass is a rich source of vitamins and minerals as it contains vitamin B1, B2, B3, B5, B6 and minerals such as magnesium, calcium, potassium, phosphorus, magnesium, zinc; that are beneficial for health.
Furthermore, rising demand for lemongrass oil in pharmaceuticals and cosmetic industries is a factor likely to boost growth of the global market in the coming future. However, high cost of lemongrass oil may hinder growth of the global lemongrass oil market. Additionally, possible side effects of lemongrass oil if consumed directly on breastfeeding and pregnant women is another factor that may affect growth of the global market. Nevertheless, increasing use of lemongrass oil in food industry can create high revenue opportunities for players in the target market.
By product type, the global lemongrass oil market can be categorized into Food Grade and Therapeutic Grade. Lemongrass is an edible food grade essential oil that can be used for cooking and to flavour food and drinks. Food grade is mainly for food and beverage purpose and therapeutic grade is for pharmaceutical as well as personal care uses. The term "therapeutic grade" was created and trademarked by newer essential oil companies to differentiate their products from others on the market. The truth of the matter is that the Food and Drug Administration does not certify the quality of essential oils as "therapeutic grade" nor do they provide a certifying label.
As per application side, the lemongrass oil market can be segmented as Pharmaceutical, Cosmetics & Personal Care, and Food & Beverages. As Lemongrass oil have high medicinal value and used in numerous treatments since history market demand in pharmaceutical segment is significantly high. Cosmetic & personal care product segment is used in soaps, deodorants, shampoos, conditioner, body lotion, air freshener and tonics. It's vital vitamin contents as well as skin healing properties are driving lemongrass oil market demand in personal care market segment. Lemongrass oil popularity as taste and fragrance, its demand in food and beverage market segment has developed over the time. It is used in various culinary delights, added to ready-made curries, paired with beef, fish, poultry and seafood's, it is also used for flavouring tea and soups.
In terms of region, the global lemongrass market is divided into key regions such as North America, Latin America, Middle East & Africa, Europe, and Asia Pacific. Asia Pacific is a major exporter of lemongrass oil and is expected to maintain its position over the forecast period. Currently, the market in Europe and Latin America accounts for major share in terms of revenue. The market in Europe is expected to witness lucrative growth in terms of revenue in the near future, owing to increasing demand for essential oils among consumers in the region. Asia Pacific market is expected to witness significant growth in the near future, owing to increasing use of lemongrass oil for medicinal purposes and in various food products, especially in countries in East Asia such as Thailand, Indonesia, Malaysia, Vietnam, etc.
Major companies have established their dominance in the market by higher integration throughout the value chain. These companies also have long-term contracts with raw material suppliers as well as research institutes for product innovation. Companies are focusing on increasing their production capacities by expanding their operations to different regions. Some of the key participating players in lemongrass oil market globally are Native American Nutritionals Essential Oils, Rocky Mountain Oils, Plant Therapy® Essential Oils, Aura Cacia® Essential Oils, Prime Natural Essential Oils, Mountain Rose Herbs® Essential Oils, Fabulous Frannie Essential Oils, Plant Guru™ Essential Oils, Kis Oils, ArtNaturals Essential Oils and Healing Solutions Essential Oils.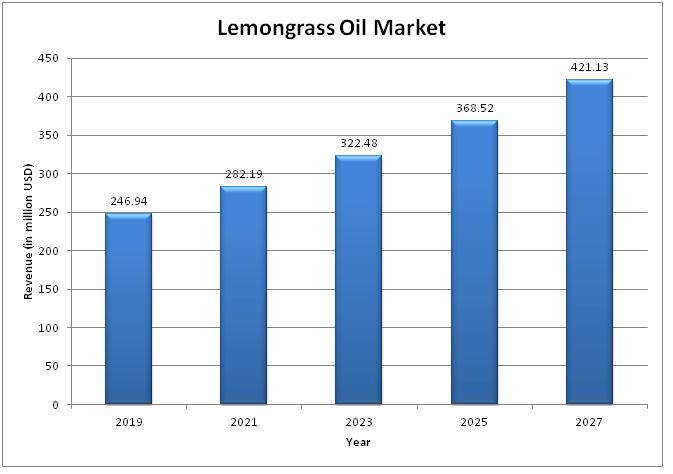 Global Lemongrass Oil Market: Product Type
Food Grade
Therapeutic Grade
Global Lemongrass Oil Market: Application
Pharmaceutical
Cosmetics & Personal Care
Food & Beverages
Global Lemongrass Oil Market: Competitive Analysis
Report includes accurate analysis of key players with Market Value, Company profile, SWOT analysis. The Study constitutes of following key players in Global Lemongrass Oil Market:

Native American Essential Oils
Rocky Mountain Oils
Plant Therapy Essential Oils
Aura Cacia Essential Oils
Prime Natural Essential Oils
Mountain Rose Herbs Essential Oils
Fabulous Frannie Essential Oils
Plant Guru Essential Oils
Kis Oils
ArtNaturals Essential Oils
Healing Solutions Essential Oils
Geographical analysis of Global Lemongrass Oil Market:
North America
Europe

France
Germany
Spain
UK
Rest of Europe

Asia Pacific

China
Japan
India
South East Asia

Latin America
Middle East and Africa
Global Lemongrass Oil Market Report delivers comprehensive analysis of :
Market Forecast for 2019-27
Market growth drivers
Challenges and Opportunities
Emerging and Current market trends
Market player Capacity, Production, Revenue (Value)
Supply (Production), Consumption, Export, Import analysis
End user/application Analysis
---
Lemongrass Oil Market was valued at around USD 282.19 million in 2021 & estimated to reach USD 450.1793357 by 2028.
Lemongrass Oil Market is likely to grow at compounded annual growth rate (CAGR) of 6.9% between 2022 to 2028.
Yes, the report includes COVID 19 impact on the market.