In-vehicle infotainment System Market is estimated to reach USD 44878.2 million by 2027, growing at a CAGR of 11 % between 2019 and 2027
In-vehicle infotainment System refers to vehicle systems that combine entertainment and information delivery for drivers and passengers. In- Vehicle Infotainment System, also called as Automotive Infotainment System is a technology that came into existence out of the need for better driver assistance systems in automobiles, particularly cars. Another driving factor was to provide good quality rear seat entertainment services. Thus In- Vehicle Infotainment Systems led to the transformation of an ordinary car into a 'smart car'. These systems typically use audio and video interfaces, touchscreens and keypads. Infotainment can allow a driver to perform a number of tasks, such as standard radio and CD players to listen to music, hands-free phone connections to make phone calls, vehicle voice commands and other types of interactive audio or video. In-Vehicle Infotainment systems include rear-seat DVD capability, which allows passengers to view movies and video.
Vehicles with built in satellite navigation are becoming the norm on newer vehicles, with some also incorporating features such as: reverse camera display, ability to listen to incoming and outgoing text messages and access internet or smartphone enabled content such as traffic conditions, sports results and weather forecasts . Some vehicles even have a range of In-Vehicle Infotainment systems that allow passengers with smartphones and laptops to connect to the vehicle. The In- Vehicle Infotainment systems typically use Bluetooth technology and or smart phones to help drivers control the system. Some of these systems are controlled by pressing traditional buttons on the steering wheel or around the screen. However, many vehicles are now equipped with a screen and voice command system that allow motorists to push a button and speak to facilitate an interaction.
The study covers detail analysis, growth and forecast of the In-vehicle infotainment System Market. The report includes market analysis on global and regional level. The study covers historical data analysis from 2014 to 2017 and market forecast for 2019 to 2027 based on revenue generated. The study includes market value in terms of revenue in billion USD for years 2014-27 and compound annual growth rate (CAGR) in % for from 2019-2027. The market is expected to show constant growth between 2019-2027.
The report comprises value chain analysis for each of the product segments. Value chain analysis offers in depth information about value addition at each stage. The study includes drivers and restraints for In-vehicle infotainment System Market along with their impact on demand during the forecast period. The study also provides key market indicators affecting the growth of the market. Research report includes major player analysis with shares of each player inside market, growth rate and market attractiveness in different end users/regions. Our study In-vehicle infotainment System Market helps user to make precise decision in order to expand their market presence and increase market share.
The report provides In-vehicle infotainment System Market Dynamics ,includes industry growth drivers, challenges, opportunities , risk, constraints as well as threats .Reports also includes Manufacturing Cost Analysis mainly included Raw Materials Analysis, Price Trend of product, Mergers & Acquisitions, Expansion, Key Suppliers of product, Concentration Rate of In-vehicle infotainment System Market, Manufacturing Process Analysis. Research Report contains Market Effect Factors analysis mainly included Technology Progress, Consumer Needs Trend, External Environmental Change.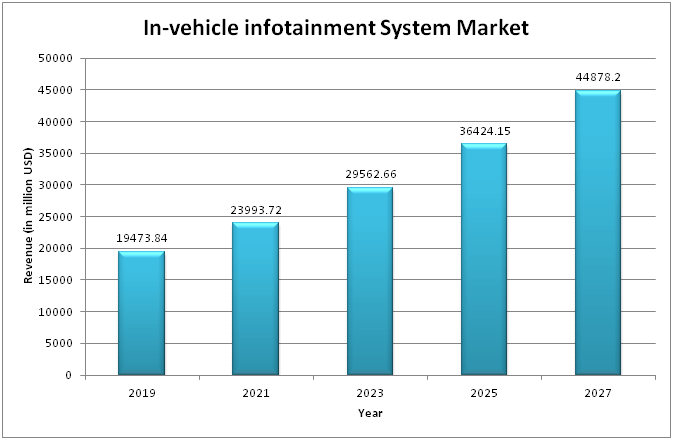 In-vehicle infotainment System Market : Product Type
QNX System
WinCE System
Linux System
Other System
In-vehicle infotainment System Market : Application
In-vehicle infotainment System Market: Competitive Analysis
Report includes accurate analysis of key players with Market Value, Company profile, SWOT analysis. The Study constitutes of following key players in In-vehicle infotainment System Market:

Eastman
Panasonic
Fujitsu-Ten
Pioneer
Denso
Aisin
Clarion
Desay SV
Kenwood
Harman
ADAYO
Alpine
Visteon
Continental
Bosch
Hangsheng
Coagent
Mitsubishi Electronics (Melco)
Delphi
Kaiyue Group
Soling
Sony
Skypine
Roadrover
FlyAudio
Geographical analysis of In-vehicle infotainment System Market:
North America
Europe

France
Germany
Spain
UK
Rest of Europe

Asia Pacific

China
Japan
India
South East Asia

Latin America
Middle East and Africa
In-vehicle infotainment System Market Report delivers comprehensive analysis of :
Market Forecast for 2019-27
Market growth drivers
Challenges and Opportunities
Emerging and Current market trends
Market player Capacity, Production, Revenue (Value)
Supply (Production), Consumption, Export, Import analysis
End user/application Analysis
---
In-vehicle infotainment System Market was valued at around USD 23993.72 million in 2021 & estimated to reach USD 49814.80538 by 2028.
In-vehicle infotainment System Market is likely to grow at compounded annual growth rate (CAGR) of 11% between 2022 to 2028.
Yes, the report includes COVID 19 impact on the market.