Global High-Fructose Corn Syrup (HFCS) Market by Product Type (Type I(HFCS 42), Type II(HFCS 55)) by Application /End User(Drink, Soy Sauce, Baked Goods) by Industry Analysis, Volume, Share, Growth, Challenges, Trends, and Forecast 2016–2022.
18-Nov-2017 | Number of pages: 105 | Report Code:PSMR-00065| Report Format : PDF | Status : Published
Demo Statistics
Global High Fructose Corn Syrup (HFCS) Market: Summary
> Global High Fructose Corn Syrup (HFCS) Market is expected to reach USD 4.195 billion by 2022 at a CAGR of 4.5 %.High fructose corn syrup is replacement of sucrose in the foods and beverages industry. It is derived as a liquid sweetener from corn syrup using a process called wet milling. High fructose corn syrup (HFCS) accounts for a share of 10 % in the global sweeteners market. HFCS is similar to other fructose glucose sweeteners such as honey, sucrose, and fruit juice concentrates in terms of composition or metabolism. It is generally composed of 42% to 55% fructose. HFCS gives better stability and works well in acidic beverages that are available in liquid state, which in turn ensures easy transport and handling of HFCS.

Fructose has emerged as a more cost-effective alternative to glucose, since it is sweeter than the latter. Owing to this attribute the use of fructose has significantly increased in food processing.The consumption of HFCS is also associated with the increasing prevalence of obesity worldwide.The use of HFCS has accelerated across the U.S. food industry at a robust pace. Corn is a reliable crop and is grown abundantly across the U.S., while the production of sucrose is limited,which provides T U.S. an lucrative opportunity for imports from major supplies from sugar-growing countries. Thus the supply of essential commodities in the country is vulnerable to political and economic conditions prevalent in exporting nations. Also because of its liquid form HFCS is considered more stable for use in acidic beverages.

Important applications of High Fructose Corn Syrup (HFCS) are:
High fructose corn syrup market is segmented into food and beverage and pharmaceutical industry. Food and beverage industry is sub-segmented into baking, canning, cereal product, dairy, carbonated soft drinks, condiments, confections, ice-cream and desserts.
• Drink
• Soy Sauce
• Baked Goods

North America is the largest consumer of caloric sweeteners in the world. The production of HFCS in North America has been primarily for the domestic market, until recent years, wherein, most of the produce has gone into exports, mostly due to the large corn availability in the region. Europe is projected as the next region anticipated for growth in the global HFCSs market.Asian countries regarding the HFCS consumption. Countries like Thailand, Indonesia, Vietnam, and the Philippines see a low use of HFCS, while the United States, Mexico, Japan, and the EU-27 have moved from sugar to HFCS, thus, considering it to be a lowcost substitute for sugar.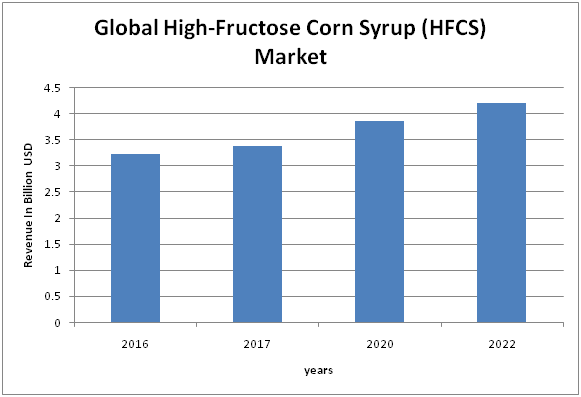 Global High Fructose Corn Syrup (HFCS) Market: Product Type Analysis
The fructose content of HFCS is generally between 42% to 55%, and hence, by type, it is segmented into HFCS 42 and HFCS 55.
• Type I(HFCS 42)
• Type II(HFCS 55)