Hi-Tech Medical Devices Market is expected to reach USD 223.61 billion by 2026 at impressive CAGR of 26.4 %
High Technological medical devices are rapidly becoming integral part of medical device industry. Today wide variety of Hi-Tech medical devices are available in market from Syringes to Laser devices. Major factors accelerating the growth in the market includes growing population using high technology hardware , software and internet of things (IoT) for their personal healthcare. Apart from these growth of Hi-Tech medical device market is also driving by Ageing, income base and associated disposable income, changing disease prevalence patterns. Few non market factors contributing in the growth of the Hitech Medical Devices Market are development of infrastructure, favorable regulations of government.
Accuracy of the data captured by the devices is the key for the success of the Hi-Tech Medical devices. Continues technological development in the hardware part of the devices, Battery life enhancement as well as introduction of flexible , thin and circulatory batteries acting as a catalyst for the growth of market. Manufacturers of Hi tech medical devices have abundant of opportunities in the field of remote patient monitoring, elderly care and Chronic disease management.
Hi-Tech Medical Devices Market is broadly segmented into handheld, headband, strap, clip, shoe sensor, bracelet. Handheld devices majorly include smartphone and tablets forms highest share in the market of devices. The popularity of smartphone and tablets is due to many application and features for the management of the health. Rising in the internet availability, good speed, fast processor, storage capacity these devices are penetrating into the market easily. Whereas Headband, bracelet and clip based devices will be experiencing fast growth in the forecasted period.
North America dominates the market followed by Europe and Asia Pacific. North America Hi-Tech Medical Devices Market is booming due to increased health awareness, supportive high technological infrastructure and presence of many multinational companies. Highly populated countries, developing infrastructure and impressive economic growth in China, Japan, India and South Korea setting up new milestone for Hi-Tech medical devices.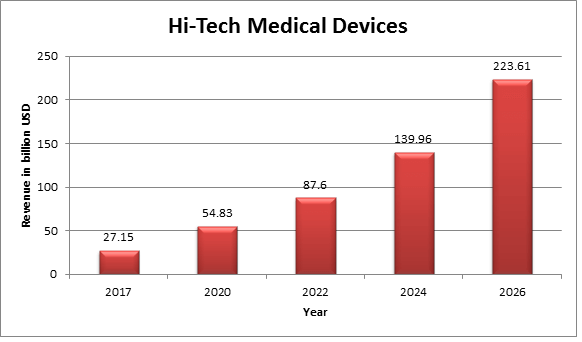 Hi-Tech Medical Devices Market: Product Type
Fitness Trackers
Tablets
Tablets
Smart Watches
Virtual Reality Devices
Smartphones
Global Hi-Tech Medical Devices Market: Competitive Analysis
Report includes accurate analysis of key players with Market Value, Company profile, SWOT analysis. The Study constitutes of following key players in Global Hi-Tech Medical Devices Market:
CAE Healthcare
Xiaomi
Adidas AG
Sony Corporation.
Apple Inc.
Toshiba
Geographical analysis of Hi-Tech Medical Devices Market:
North America
Europe

France
Germany
Spain
UK
Rest of Europe

Asia Pacific

China
Japan
India
South East Asia

Latin America
Middle East and Africa
Hi-Tech Medical Devices Market Report delivers comprehensive analysis of :
Market Forecast for 2018-26
Market growth drivers
Challenges and Opportunities
Emerging and Current market trends
Market player Capacity, Production, Revenue (Value)
Supply (Production), Consumption, Export, Import analysis
End user/application Analysis
---
Hi-Tech Medical Devices Market was valued at around USD million in 2021 & estimated to reach USD by 2028.
Hi-Tech Medical Devices Market is likely to grow at compounded annual growth rate (CAGR) of % between 2022 to 2028.
Yes, the report includes COVID 19 impact on the market.