Helichrysum Oil Market is estimated to grow at a CAGR of 7.1 % between 2022 and 2028
Overview
Helichrysum Oil is extracted from strong fruity fragrance flower of helichrysum angustifolium. Helichrysum Oil is essential oil with many health benefits as anti-allergic, anti-microbial, anti-oxidant & various other therapeutic properties. Skin related issue like scars, acne, relaxing muscle pain and reducing wrinkles, Healing circulation disorders, rheumatoid arthritis, cough, cold, flu, dermatitis, are also some of the heath related issue that can be cured by Helichrysum Oil. Pharma & Cosmetic industry is one the largest & fastest growing industry & Helichrysum Oil find its heavy usage in these both industry & hence Helichrysum Oil Market is growing at impressive growth rate.
Product type & Competitive analysis
Cold Pressed and Hot Processed are primary product included in Helichrysum Oil Market report. With the help of modern steel press, the oils are obtained through pressing fruit or a seed which is refers to cold pressing. All the flavour, aroma, and nutritional value of cold pressed oils are keeping and make these oils are available for various great for requirements like cooking and skin care. Even though pressing produces heat through friction, the oilseeds are not precooked and hence the oil is considered as cold pressed. For producing most common cooking oils which found in supermarkets, the solvent extraction method is used.
In cosmetics and skin care, both solvent extracted and cold pressed oils can be used, but for skin only cold pressed oil will deliver goodness. While in the hotly pressed oil production process, we heat the seeds up or add chemicals to help. Sesame seeds hold the little oil, so it is need to be hot pressed. Hot press oil is with pure taste. The oil plants are press after fried. Especially for oily plants like sesame seeds, it smells good.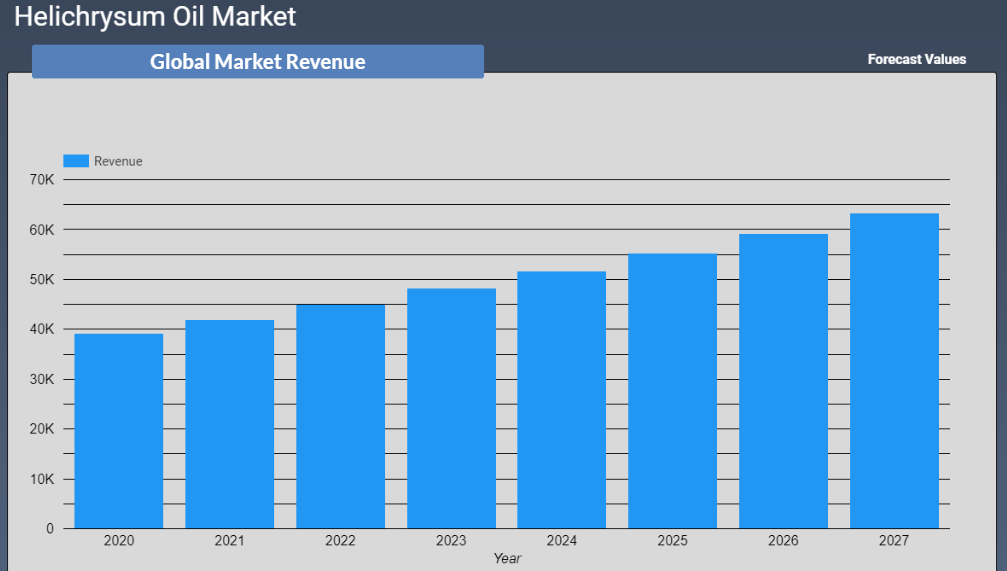 Application & Regional analysis
Application & Regional analysis
Study divided Helichrysum Oil Market report into two applications which are Pharma and Cosmetics which is estimated to be the fastest growing market in growth of Helichrysum Oil. Helichrysum Oil or other essential oils is used for massage. When people want an energizing massage, Helichrysum Oil can be used to promote vitality. Consider using Helichrysum Oil for people next full body massage to provide a soothing sensation, along with an herbaceous, energizing aroma. For massage when using Helichrysum Oil, consider using a carrier oil like doTERRA hand and body lotion to create a smooth and safe massage experience. While it is also used for various types of cosmetics which is made for skin, health etc. The Helichrysum Oil is very popular for its ability to help in anti-aging efforts.
The Helichrysum Oil has a countless of benefits that apply to the skin which is very healthy for skin. When people want to combat acne and promote a glowing complexion, Helichrysum essential oil is a helpful companion that will improve the appearance of the skin. While applying any essential oil directly to the skin remember the strength and potency of the oil and your personal skin sensitivity. Helichrysum is a miracle oil, it helps to smooth both skin tone and texture, reduces the appearance of fine lines, and its emollient properties help keep skin hydrated. Another use of Helichrysum Oil for skin is on those days when people spent a little too much time in the sun. Whether you laid out by the pool for a little too long, or your afternoon hike was sunnier than you expected, Helichrysum Oil can be used as a sun soother to calm irritated skin. Keep a bottle of Helichrysum on hand when traveling to particularly sunny or warm climates, in case of too much sun exposure.
Geographically, the Helichrysum Oil is divided into United States, China, Europe, Japan, Southeast Asia, and India. According to current study there are nearly 600 breed of Helichrysum present currently. Helichrysum italicum species is main source for the extraction of Helichrysum Oil. The plant origin is considered to be in Mediterranean as well as Asian regions. Western Europe regions like Spain, France, Italy, and the Balkans is main harvester of Helichrysum italicum flower. Helichrysum Oil has a rich traditional use for long time in countries like Portugal, Turkey, Bosnia and Herzegovina, Italy, and Spain. In 2018 nearly 42% of oil is produced in Europe region.

Helichrysum Oil Market: Product Type
Helichrysum Oil Market: Application
Helichrysum Oil Market: Competitive Analysis
Report includes accurate analysis of key players with Market Value, Company profile, SWOT analysis. The Study constitutes of following key players in Helichrysum Oil Market:

DoTERRA Essential Oils
Nature's Sunshine Products
Highland Essential Oils
Highland Essential Oils
Geographical analysis of Helichrysum Oil Market:
North America
Europe

France
Germany
Spain
UK
Rest of Europe

Asia Pacific

China
Japan
India
South East Asia

Latin America
Middle East and Africa
Helichrysum Oil Market Report delivers comprehensive analysis of following parameters :
Market Estimates & Forecast from 2022 to 2028

Market Intelligence to consolidate decisions

Market growth drivers, emerging and current market trends

Challenges and Opportunities overview

In-detailed segment & End user/application analysis

Top player Production insight, Revenue (Value), market share, recent developments & future outlook

Supply (Production), Consumption, Export-Import analysis

Covid 19 impact & sustainability strategies in a post-pandemic market
---
Helichrysum Oil Market was valued at around USD 42014.34 million in 2021 & estimated to reach USD 67908.45369 by 2028.
Helichrysum Oil Market is likely to grow at compounded annual growth rate (CAGR) of 7.1% between 2022 to 2028.
segment dominated the global market in terms of revenue generation. region is likely to show the highest growth rate between 2021 to 2028.
Yes, the report includes COVID 19 impact on the market.