Global Gastric Band Devices Market is estimated to grow CAGR of 5.2 % between 2021 and 2028
Overview
Gastric Band Device is an implantable device intended to induce weight loss in morbidly obese patients by controlling food consumption. It is surgically implanted to create a restricted opening and a small gastric pouch to control food consumption and induce early satiety. This device is intended for use in the surgical treatment of morbid obesity gaining acceptance among superobese, adolescents, and older patients. The frequency of Gastric Band Devices has been reduced in the last few years. Fewer and fewer patients are asking for the device, and fewer surgeons are performing the lap band procedure these days. In spite of the concerns about the safety and effectiveness gastric bands still account for about 6 percent of all weight loss operations. According to American society for metabolic and bariatric surgery 11,000 of these devices were implanted in patients in 2015.
Rising prevalence of obesity, growing sedentary lifestyle, geriatric population, improvements in gastric band surgery procedures are some key factors driving the growth of the global Gastric Band Device Market. Global obesity has nearly tripled since 1975. Overweight and obesity have the largest contribution for non-communicable disease morbidity and death. Obesity is a major lifestyle disease affecting millions in developed as well as developing countries. However, the lack of awareness, post-surgery side effects and complications are restraining the growth of the global Market. Ongoing technological advancements in Self-adjusting bands will offer lucrative opportunities for the growth of the Market in the forecast period 2023-2029. 
Product types & Competitive analysis
Based on product type, the Gastric Band Devices Market is segmented into non-adjustable gastric bands and adjustable gastric bands. Adjustable gastric bands segment accounted for major revenue share in 2023. Preference of Adjustable gastric bands has increased in the last decade. These devices are simple and offer safe restrictive procedures for severe obesity. Adjustable gastric bands provide improved weight loss and reduced complication rates compared with the non-adjustable band. Growing technological advancements in terms of design, band material, and adjustability will drive the growth of segments in the forecast period. 
Competitive analysis included in research study helps users to understand key players Market positioning and Marketing strategies. In the last decade gastric bands have undergone many advances to improve safety and efficacy and are continuing to develop to meet the needs and demands of patients who are battling morbid obesity. Companies are manufacturing products with improvements in band material, design and new self-adjustment features. Due to complications and losing popularity companies are reluctant to invest money on these devices. Self-adjusting bands are a reasonable possibility in the future along with smart bands that could monitor pressure and deflate automatically during times of severe obstruction. Ongoing research on self-adjusting gastric bands will offer several opportunities for the key stakeholders in the forecast period. In addition to product innovation companies are focusing on merger and acquisitions of promising players along with partnerships and collaborations to increase their Market share.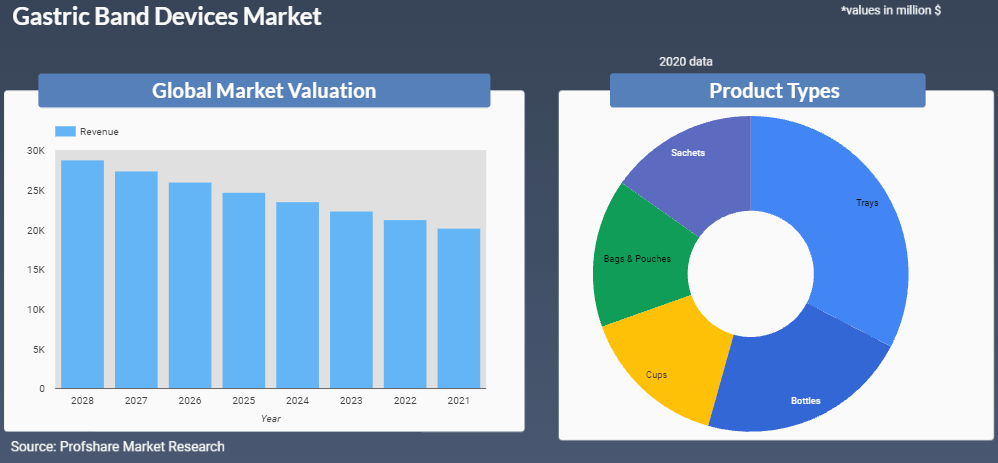 Application & Regional analysis
Application wise the global Gastric Band Devices Market is categorized into hospitals, clinics and research institutes. The hospital segment accounted for the largest revenue in 2023 as these facilities support surgery procedures, patient care, promoting optimal outcomes and executing strategies for high-risk patients. In addition, the rising number of hospitals across the world offering better bariatric surgeries, growing investments in developing countries for healthcare infrastructure from the private and government sector will drive the growth of the segment in next consecutive years. Clinics segment was the fastest growing segment in 2023 and is likely to drive the gastric bands Market in the forecast period.
Regional outlook of research study is based on analysis of Market in North America, Europe, Asia Pacific, Middle East, South America, and Africa & Rest of the World. North America led the growth of the global Gastric Band Devices Market in 2023 and is expected to maintain its dominance in the forecast period. The growth in the region was attributed to the rising number of gastric band implant surgeries in the US and Canada. According to the American Society for Metabolic and Bariatric Surgery (ASMBS) around 216,000 bariatric surgeries were performed in the U.S. in 2022. Of these, 1.1 percent procedures were gastric band surgeries. In addition to this rising prevalence of morbid obesity, presence of sophisticated healthcare infrastructure will boost the growth of Gastric Band Devices Market in the region in coming years.  
Europe is the second largest region in terms of revenue generation followed by Asia Pacific. Presence of key players, adoption of surgical interventions to treat obesity and rising prevalence obesity in the region is driving the growth of Europe Gastric Band Devices Market. According to the World Health Organization 10 to 30% adults are affected by obesity in European Union countries with significant rise in overweight problems.
Asia Pacific is expected to witness the fastest growth in the forecast period 2023-2029 owing to rising prevalence of obesity, geriatric population and growing popularity and number of surgical interventions in cases of obesity in the region. Prevalence of obesity has increased many folds in most of Asian countries in the past few decades and the number varies between countries. Bariatric surgery has grown in popularity to combat morbid obesity and the number of operations significantly varies among countries. Rising urbanization, lifestyle changes, unhealthy diets and lack of physical activity are expected to boost the growth of gastric bands in the forecast period.

Global Gastric Band Devices Market : Product Types
Non-Adjustable Gastric Bands
Adjustable Gastric Bands
Global Gastric Band Devices Market : Application
Hospitals
Clinics
Research Institutes
Global Gastric Band Devices Market : Competitive Analysis
Report includes accurate analysis of key players with Market Value, Company profile, SWOT analysis. The Study constitutes of following key players in Global Gastric Band Devices Market :

Medtronic
Mediflex Surgical
Ethicon
Johnson and Johnson
Millennium Surgical Corp
TransEnterix, Inc.,
Geographical analysis of Global Gastric Band Devices Market :
North America
Europe

France
Germany
Spain
UK
Rest of Europe

Asia Pacific

China
Japan
India
South East Asia

Latin America
Middle East and Africa
Global Gastric Band Devices Market Report delivers a comprehensive analysis of the following parameters :
Market Forecast for 2023-29
Market growth drivers
Challenges and Opportunities
Emerging and Current market trends
Market player Capacity, Production, Revenue (Value)
Supply (Production), Consumption, Export, Import analysis
End-user/application Analysis