Global Fluid Management System Market is estimated to reach USD 18625.09 million by 2027, growing at a CAGR of 6.1% between 2019 and 2027
Fluid Management System Markets deliver a variety of benefits to vehicle service shops, greater dispense precision, including increased inventory control, improved operational efficiency and detailed dispense. Complete engineered systems most effectively deliver these benefits, as components are designed to work together to deliver the greatest amount of accurate data possible. These fluids are purchased and stored in large volumes and dispensed as needed; Fluid Management System Markets control and track that dispense. Fluid Management System metering can ensure the dispense of precise volumes, avoiding costly, unnecessary overfills. With an increasing number of vehicles on the road today requiring expensive synthetic oils rather than conventional ones, precise dispense and inventory management is key to keeping costs down.
High demand for fuel management systems for use in access control and fuel dispensing applications is one of the major driving factors fuelling the growth of this market. However, Main challenge of market player is high initial investments while procurement and installation of fuel management systems. The detailed dispense history provided by effective Fluid Management System Markets can help shop managers in visualizing production and discovering patterns or workflow roadblocks in order to improve efficiency. Additionally, having a detailed dispense history recorded by the Fluid Management System Market at the time of dispense and stored for future reference means that if customers request information about work that was done on their vehicle, such as confirming that the correct oil was used in an oil change or the proper volume of coolant replaced, shop managers can easily access and share that information.
The study covers detail analysis, growth and forecast of the Fluid Management System Market. The report includes market analysis on global and regional level. The study covers historical data analysis from 2014 to 2017 and market forecast for 2019 to 2027 based on revenue generated. The study includes market value in terms of revenue in billion USD for years 2014-27 and compound annual growth rate (CAGR) in % for from 2019-2027. The market is expected to show constant growth between 2019-2027.
The report comprises value chain analysis for each of the product segments. Value chain analysis offers in depth information about value addition at each stage. The study includes drivers and restraints for Fluid Management System Market along with their impact on demand during the forecast period. The study also provides key market indicators affecting the growth of the market. Research report includes major player analysis with shares of each player inside market, growth rate and market attractiveness in different end users/regions. Our study Fluid Management System Market helps user to make precise decision in order to expand their market presence and increase market share.
The report provides Fluid Management System Market Dynamics ,includes industry growth drivers, challenges, opportunities , risk, constraints as well as threats .Reports also includes Manufacturing Cost Analysis mainly included Raw Materials Analysis, Price Trend of product, Mergers & Acquisitions, Expansion, Key Suppliers of product, Concentration Rate of Fluid Management System Market, Manufacturing Process Analysis. Research Report contains Market Effect Factors analysis mainly included Technology Progress, Consumer Needs Trend, External Environmental Change.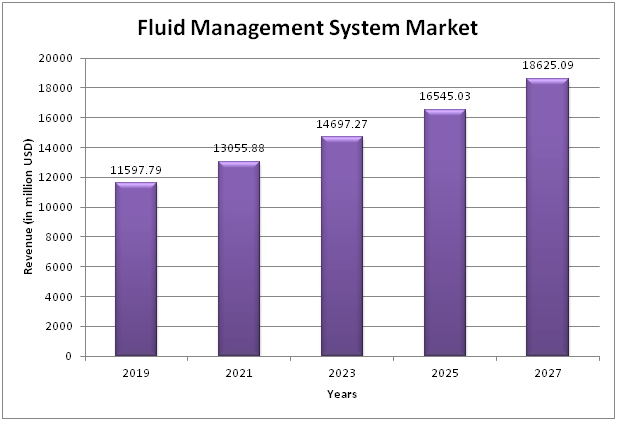 Global Fluid Management System Market: Product Type
Fluid Usage Systems
Fluid Monitor Systems
Fluid Control Systems
Others
Global Fluid Management System Market: Application
Dental
Neurology
Cardiology
Urology
Laparoscopy
Gastroenterology
Global Fluid Management System Market: Competitive Analysis
Report includes accurate analysis of key players with Market Value, Company profile, SWOT analysis. The Study constitutes of following key players in Global Fluid Management System Market:

Medtronic
Stryker Corporation
Baxter
B. Braun Melsungen AG
Smith + Nephew
ALCOR Scientific
Zimmer Biomet
Richard Wolf GmbH
Pfizer, Inc.
Geographical analysis of Global Fluid Management System Market:
North America
Europe

France
Germany
Spain
UK
Rest of Europe

Asia Pacific

China
Japan
India
South East Asia

Latin America
Middle East and Africa
Global Fluid Management System Market Report delivers comprehensive analysis of :
Market Forecast for 2019-27
Market growth drivers
Challenges and Opportunities
Emerging and Current market trends
Market player Capacity, Production, Revenue (Value)
Supply (Production), Consumption, Export, Import analysis
End user/application Analysis
---
Fluid Management System Market was valued at around USD 13055.88 million in 2021 & estimated to reach USD 19761.22382 by 2028.
Fluid Management System Market is likely to grow at compounded annual growth rate (CAGR) of 6.1% between 2022 to 2028.
Yes, the report includes COVID 19 impact on the market.