Global Extremities Implants Market is estimated to reach USD 5031.48 million by 2027, growing at a CAGR of 7.2 % between 2019 and 2027
Extremities Implants market is one of the most appealing and fastest-growing categories in the orthopaedic line of work today. A human skeleton has four types of extremities: two upper limbs, which forms the upper extremity and two lower limbs that forms the lower extremity. The joint reconstruction procedures involve modification of the body extremities. Hence, the main emphasis of orthopaedic market is to produce devices for treatment of knee, joints, hip and spine.
Key Recent developments in Extremities market are due to production of new devices. Factors such as technological innovations and rise in Mergers & Acquisition (M&A) activity are the factors propelling the growth in this market. For instance, the introduction of robotics and 3D printing has facilitated surgeons to expand the effectiveness of procedures which boosts up the success rate of operations. expand their business across regions. The restraint such as high manufacturing cost of these operations are pressurising hospitals a lot to opt for the procedures at a very low cost is draining the growth of this market.
By product type, the global extremities implant market can be categorized into Elbow Replacements, Shoulder Implants and Ankle Implants. Shoulder Implants type product segment has a massive market share of around 38 % in 2018. Increasing demand for shoulder implants and technological improvements including extension of implant life, improved patient outcomes, and less invasive surgeries are the major factor attributing towards the dominance of the segment. Elbow replacement type segment is the growing at an impressive CAGR of during the forecasted years of 2019-2027.
As per application side, the global extremities implant market can be segmented into Hospitals, Ambulatory Settings and Clinics. The Hospitals segment accounted for the largest share of the market in 2018 with almost 70 % of market revenue. Clinics are expected to exhibit a relatively higher CAGR in the global extremities implants market. Clinics are projected to be the fastest expanding in this market at relatively higher CAGR than market overall.
In terms of region, North America has the largest market share in 2018 and anticipated to remain same throughout the forecast period due to increasing number of patients because of large number of road accidents. The major factors that attributed towards its high share include rising incidences of sports injuries, increase in aging population and rising health awareness. Europe accounts for the second largest market share due to huge approval of fund through European Union.
Asia Pacific is expected to show fast growth in extremity implant market over the forecast period owing to the increasing incidences of obesity and associated bone disorders such as musculoskeletal diseases. Developing countries such as Brazil and Mexico are projected to create good opportunity for market growth of extremities devices due to higher accident cases, favourable demographics, and improvement in access to health care. Middle East and Africa (MEA) is growing at a lower growth rate due to poor awareness of the market.
The prominent players in extremity implant market are Stryker Corporation, Synthes, Boston Scientific, Zimmer Biomet, Smith & Nephew, Medtronic, St. Jude Medical and Tornier. Companies adopt strategies such as playing a key role between the healthcare organization, braces support selling companies and patient. These companies are also involved in novel product developments by regulatory pathway definition and are receiving positive feedback from surgeons. Various mergers and acquisitions in the market are also expected to provide growth platform for the market growth over the forecast period.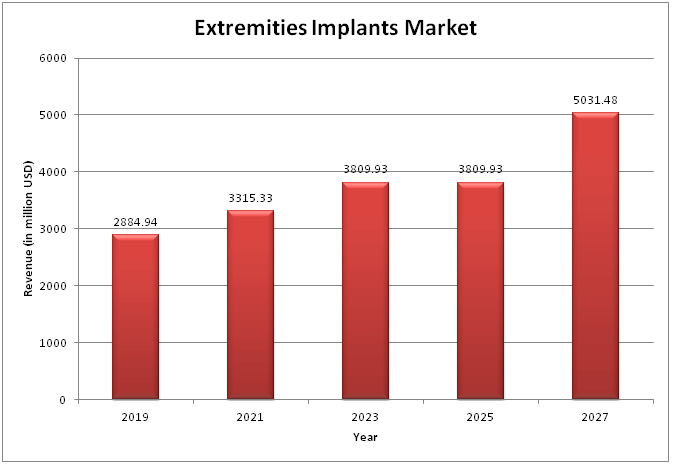 Global Extremities Implants Market: Product Type
Elbow Replacements
Shoulder Implants
Ankle Implants
Global Extremities Implants Market: Application
Hospitals
Ambulatory Settings
Clinics
Global Extremities Implants Market: Competitive Analysis
Report includes accurate analysis of key players with Market Value, Company profile, SWOT analysis. The Study constitutes of following key players in Global Extremities Implants Market:

Stryker Corporation
Synthes
Boston Scientific
Zimmer Biomet
Smith & Nephew
Medtronic
St. Jude Medical
Tornier
Geographical analysis of Global Extremities Implants Market:
North America
Europe

France
Germany
Spain
UK
Rest of Europe

Asia Pacific

China
Japan
India
South East Asia

Latin America
Middle East and Africa
Global Extremities Implants Market Report delivers comprehensive analysis of :
Market Forecast for 2019-27
Market growth drivers
Challenges and Opportunities
Emerging and Current market trends
Market player Capacity, Production, Revenue (Value)
Supply (Production), Consumption, Export, Import analysis
End user/application Analysis
---
Extremities Implants Market was valued at around USD 3315.33 million in 2021 & estimated to reach USD 5393.743144 by 2028.
Extremities Implants Market is likely to grow at compounded annual growth rate (CAGR) of 7.2% between 2022 to 2028.
Yes, the report includes COVID 19 impact on the market.