Global ESD Bags Market is estimated to reach $ 610 million by 2024 growing at a CAGR of 7.01% between 2016 and 2024.A very essential part of everyday life, packaging solutions have evolved immensely over the past few decades. One innovation that has given the packaging industry a much needed "facelift" is the introduction of anti-static bags. Made from PET (Polyethylene Terephthalate), their excellent shielding properties make them best packaging option for sensitive products and components. Anti-static bags are available in various forms like bubble bags, polybags, and foam and stretch wraps, and the anti-static packaging market has grown extremely.
It is the best solution for gaming ,electronics, digital signage and industrial packaging as it reduces the static charge between the material surfaces. major factors driving the anti-static packaging market at the global level. Adoption of new technology by automotive industry, It has turned to technology for enhancing its functionalities. Use of semiconductors and ICs has drastically increased. Highly mobile electronic device are used more in the Market. Based on material and additive type, the various segments are conductive and dissipative polymers, metal, and additive. Largest ESD bags and pouch are made up of conductive and dissipative polymers. The rise in demand for these materials types is attributed to their versatile use in the applications in the comprehensive protection of ESD-sensitive components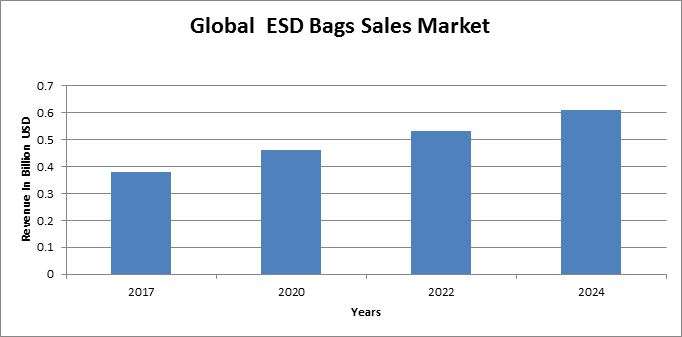 The study covers detail analysis, growth and forecast of the ESD-Safe Bags Sales Market. The report includes market analysis on global and regional level. The study covers historical data analysis from 2012 to 2016 and market forecast for 2017 to 2024 based on revenue generated. The study includes market value in terms of revenue in billion USD for years 2012-24 and compound annual growth rate (CAGR) in % for from 2016-24. ESD-Safe Bags Sales Market has been with consideration of providing accurate competitive analysis. Report include in depth analysis of leading market players sales, market shares, Revenue and Gross Margin.
The report comprises value chain analysis for each of the product segments. Value chain analysis offers in depth information about value addition at each stage. The study includes drivers and restraints for ESD-Safe Bags Sales Market along with their impact on demand during the forecast period. The study also provides key market indicators affecting the growth of the market. Research report includes major player analysis with shares of each player inside market, growth rate and market attractiveness in different end users/regions. Our study on ESD-Safe Bags Sales Market helps user to make precise decision in order to expand their market presence and increase their market share. Market has been studied for End User Application, Regional Analysis for both Global and National level.
The report provides ESD-Safe Bags Sales Market Dynamics ,includes industry growth drivers, challenges, opportunities ,risk, constraints as well as threats .End User Hospital, Medical Center, Clinics and Research Institute .The study includes Regional analysis of ESD-Safe Bags Sales Market for North America, Europe, China, Japan, South East Asia and India. A report also includes Manufacturing Cost Analysis mainly included Raw Materials Analysis, Price Trend of product, Mergers & Acquisitions, Expansion, Key Suppliers of product, Concentration Rate of Adaptive Security Market Report, Manufacturing Process Analysis. Research Report contains Market Effect Factors analysis mainly included Technology Progress, Consumer Needs Trend, External Environmental Change.
Global ESD Safe Bags Market Report : Product Type
Antistatic Bags
Dissipative Bags
Metallized Bags
ESD Safe Bags Market Report : End Users/Application Analysis
Milit Electronics
Healthcare
Consumer Goods
Automotive
Manufacturing
Aerospace & Defense
Global ESD Safe Bags Market Report: Competitive Analysis
Report includes accurate analysis of key players with Market Value, Company profile, SWOT analysis. The Study constitutes of following key players in ESD Safe Bags Market Report :
3M
Desco
Interplas
Malaster
Elcom (UK)
Bondline Electronics
RS Components
Cryovac
PB Statclean Solutions
Acepac International
Electrotek Static Controls
Global ESD Safe Bags Market: Regional Analysis
North America
Europe

France
Germany
Spain
UK
Rest of Europe

Asia Pacific

China
Japan
India
South East Asia

Latin America
Middle East and Africa
ESD Safe Bags Market Report delivers comprehensive analysis of :
Market Forecast for 2018-26
Market growth drivers
Challenges and Opportunities
Emerging and Current market trends
Market player Capacity, Production, Revenue (Value)
Supply (Production), Consumption, Export, Import analysis
End user/application Analysis
---
ESD Safe Bags Market was valued at around USD million in 2021 & estimated to reach USD by 2028.
ESD Safe Bags Market is likely to grow at compounded annual growth rate (CAGR) of % between 2022 to 2028.
Yes, the report includes COVID 19 impact on the market.