The global electrical SCADA market was valued at around USD 2.21 billion in 2016 and is expected to reach USD 4.41 billion by the end of 2026, growing at a CAGR of 7.15% between 2018 and 2026.
SCADA stands for supervisory control and data acquisition. Electrical SCADA systems are important as it is impossible to keep control and supervision on all industrial activities manually hence some automated tool is required which can control, supervise, collect data, analyses data and generate reports. Electrical SCADA is an industrial control system where a computer system monitoring and controlling a process. SCADA monitor and control entire sites, or complexes of systems spread out over large areas (anything between an industrial plant and a country).
Components of Electrical SCADA system includes master terminal unit (MTU), remote terminal unit (RTU), human machine interface (HMI), programmable logic controller (PLC) and communication system. MTU gathers data on the process and sending commands (or control) to the process. RTU connect to sensors in the process, converting sensor signals to digital data and sending digital data to the supervisory system. HMI is an interface which presents process data to a human operator. PLC is used as field devices. Communication systems provide connectivity to the supervisory system to the Remote Terminal Units.
Electrical SCADA system is segmented into hardware, software and services on architecture basis. The hardware segment holds largest share and with rising investments focused on automated devices in power infrastructure are expected to drive the hardware segment. Further, electrical SCADA system is segmented into generation, transmission and distribution on application basis. Transmission is the largest segment of the electrical SCADA market. SCADA systems are widely used into different industries including electrical power, oil & gas, water & wastewater, manufacturing, transportation, telecommunication, chemicals, food & beverages, pharmaceuticals, and others.
North America is the largest electrical SCADA market followed by Europe due to improved infrastructure, government initiatives and support for technological advancements. Asia Pacific region is expected to grow at the highest CAGR during forecast period. Rapidly increasing investments in electrical networks and government initiatives toward the adoption of industrial automation is boosting this market. High investments in setting up of the SCADA system, concerns regarding data security and cyber security are the major challenges which is hindering this market.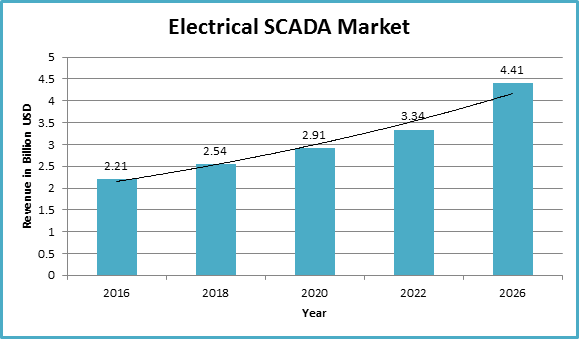 Electrical SCADA Market : Architecture Type
Hardware
Software
Services
Electrical SCADA Market : Component Type
Master Terminal Unit (MTU)
Remote Terminal Unit
Human Machine Interface (HMI)
Programmable Logic Controller (PLC)
Communication System
Electrical SCADA Market : Application
Generation
Transmission
Distribution
Global Electrical SCADA Market: Competitive Analysis
Report includes accurate analysis of key players with Market Value, Company profile, SWOT analysis. The Study constitutes of following key players in Global Electrical SCADA Market:
ABB
Siemens
Schneider Electric
Mitsubishi Electric
Honeywell
Yokogawa Electric Corporation
Open System International
Advanced Control Systems
Larsen and Toubro
Rockwell Automation
Bentek Systems
Geographical analysis of Electrical SCADA Market :
North America
Europe

France
Germany
Spain
UK
Rest of Europe

Asia Pacific

China
Japan
India
South East Asia

Latin America
Middle East and Africa
Electrical SCADA Market Report delivers comprehensive analysis of :
Market Forecast for 2018-26
Market growth drivers
Challenges and Opportunities
Emerging and Current market trends
Market player Capacity, Production, Revenue (Value)
Supply (Production), Consumption, Export, Import analysis
End user/application Analysis
---
Electrical SCADA Market was valued at around USD million in 2021 & estimated to reach USD by 2028.
Electrical SCADA Market is likely to grow at compounded annual growth rate (CAGR) of % between 2022 to 2028.
Yes, the report includes COVID 19 impact on the market.