Electric Fuse Market is estimated to reach USD 5746.8 million by 2027, growing at a CAGR of 4.8 % between 2019 and 2027
Fuse is an electrical component used to safeguard the electrical components from the high current. The fuse melts and separates if there is an incident of the unnecessary rise in the current flow. In industrial and automotive applications mostly container type fuses are used. Commonly the base material of the fuses is chosen according to the insulating property of the material. A fuse avoids electricity overload which protects electrical and electronic devices presently connected to the circuit at that time. Electric fuses have different types of applications and the voltage requirement for each of these applications is completely something different.
There is a huge growth in electrical fuse market, this growth can be attributed to growing investments in renewable and energy storage, increasing investments in T&D infrastructure plans, and revival of investments in construction sector. The demand from utilities for electric fuses is frequent because of their short life span and low replicability cost. According to the EIA, in the US, the investments on circuit protection equipment have risen more than 60 % over the last decade, thus creating opportunities for the usage of electric fuses by the utilities. The rising safety issues related to photovoltaic systems and distributed energy resources are other factors driving the demand for electric fuses from the utilities. The utilities operate at a high voltage level at 11 kV, 22 kV, and 33 kV, thus medium voltage electric fuses are preferred.
On the basis of product line electric fuse market is categorized into Industrial power and UL fuses. Axial radial thru hole fuses, cartridge fuses, surface mount fuses, specialty power fuses. The power fuse & fuse link segment of the electric fuse market is driven by the rising demand for medium voltage fuses in T&D networks, transformers, circuit and motor protection, along with industrial applications and renewable energy generation and distribution. These types of electric fuses are made of an alloy of silver, copper, or tin, and the chamber of fuse links is generally filled with boric acid, as it has minimal refilling cost and coordinates better with transformers and distribution networks. The fuse links are designed with high rupturing capacity so that the current flows in specific standards.
The industrial end-user segment/applications is expected to hold the largest market share during the forecast period owing to the electric fuses are used to prevent the damage due to the high current. Owing to this feature the industrial equipment widely uses the electric fuses to avoid any damage due to the excessive current. Also, electric fuses are used to protect the wiring and electrical equipment for vehicles. Electronic components used in vehicles require the use of electric fuses for the safety of electronic components. Lately, the adoption of the electric fuse in the transport sector has witnessed incredible progress in both developed and developing nations. The major key players present in Electric fuse market are: ABB, S&C Electric Company, Eaton, G&W Electric Company, General Electric, Siemens, Schneider electric, Toshiba, Mitsubishi Electric, Bel fuse, Mersen, and Little fuse.
On the basis of geographical analysis electric fuse market is divided into several regions such as India, China, Europe, Japan, North America, and South East Asia. Electric fuse market has been analyzed with respect to 5 regions, namely, North America, Europe, South America, Asia Pacific, and The Middle East and Africa. The market in the Asia Pacific is estimated to be the largest market from 2018 to 2025. China and India are among the largest markets in the world and also has rising per capita consumption of energy due to increased industrialization and manufacturing. The countries have seen fast growth pace infrastructure development during the recent years.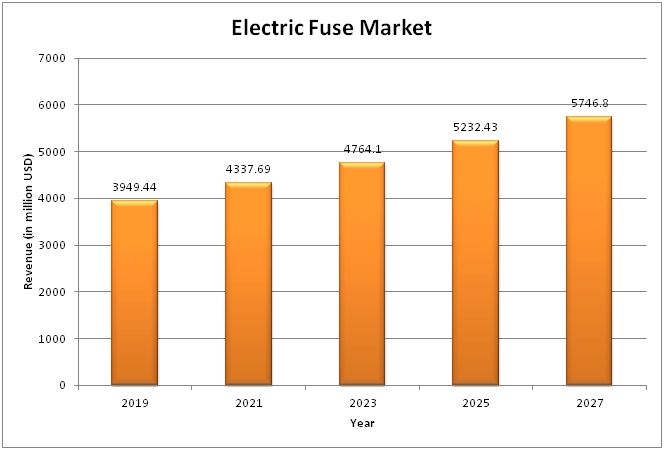 Electric Fuse Market : Product Type
Industrial Power and UL Fuses
Axial Radial Thru Hole Fuses
Cartridge Fuses
Surface Mount Fuses
Specialty power fuses
Electric Fuse Market: Application
Automotive
Industrial Operations
Energy
Electric Fuse Market : Competitive Analysis
Report includes accurate analysis of key players with Market Value, Company profile, SWOT analysis. The Study constitutes of following key players in Electric Fuse Market :

Ikea
ABB
S&C electric company
Eaton
G&W Electric Company
General Electric
Siemens
Schneider Electric
Toshiba
Mitsubishi Electric
Bel Fuse
Mersen
Littelfuse
Geographical analysis of Electric Fuse Market :
North America
Europe

France
Germany
Spain
UK
Rest of Europe

Asia Pacific

China
Japan
India
South East Asia

Latin America
Middle East and Africa
Electric Fuse Market Report delivers comprehensive analysis of :
Market Forecast for 2019-27
Market growth drivers
Challenges and Opportunities
Emerging and Current market trends
Market player Capacity, Production, Revenue (Value)
Supply (Production), Consumption, Export, Import analysis
End user/application Analysis
---
Electric Fuse Market was valued at around USD 4337.69 million in 2021 & estimated to reach USD 6022.64812 by 2028.
Electric Fuse Market is likely to grow at compounded annual growth rate (CAGR) of 4.8% between 2022 to 2028.
Yes, the report includes COVID 19 impact on the market.