The global eco fiber market is valued at USD 48.6 billion in 2016 and is expected to reach USD 135.5 billion by the end of 2026, growing at a CAGR of 10.8 % between 2018 and 2026.
Textiles industry has many working processes and each process makes various hazardous influences on the environment and human health. Hence, eco fabrics have been invented that do not require the use of any pesticides or chemicals to grow. Eco fiber is a thin long thread or a strand having flexible texture, exists in natural form. They are disease free and are naturally resistant to mould and mildew. All natural fibers are not eco fibers and while some man-made fibers can also be eco fibers. Some eco fibers are aloe vera, bamboo, bamboo viscose, banana, coir, corn, hemp, jute, pineapple, ramie, seacell, lenpur, lyocell, soysilk and sting plus nettle.
Eco fiber are environmental friendly as they are biodegradable. Many people are allergic or dislike wearing synthetic textiles while eco fabrics have all the properties of the new synthetic breathable fibers with added softness and drape. Eco fibers grow without any pesticides or chemical fertilizers hence are becoming more and more popular as consumer's increasing awareness towards pollution. On application basis, eco fiber market is segmented into textiles, industrial, medical and household & furnishings. Among these, the textile segment accounted for largest share that is nearly 50% in 2017 and is anticipated to retain its dominance over the forecast period.
Asia Pacific is the largest eco fiber market followed by North America and Europe in 2016. Asia Pacific is expected to be the largest player during the forecast period in global eco fiber market. Asia Pacific holds 38% market share in 2017 and is projected to hold 50% market share in global eco fiber market by 2026. With rapidly increasing textile sector and growing popularity of sustainable textile fibers which includes organic cotton, flax, hemp, jute, sisal, abaca, and bamboo boost the global eco fiber market. Environmental damage caused by conventional fibers and environmental awareness are a major factors that are driving this market.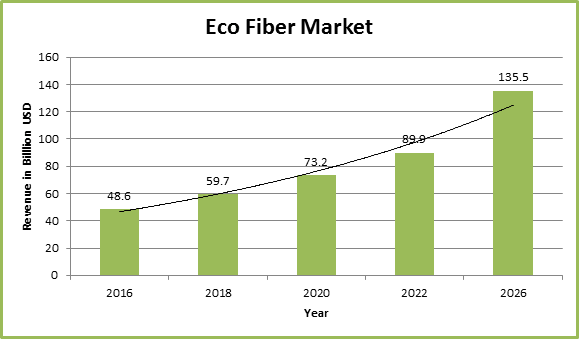 Eco Fiber Market : Type Segment
Organic Fibers
Recycled Fibers
Regenerated Fibers
Eco Fiber Market : Product Type
Lyocell Fiber
Polylactic Acid Fiber
Soybean Fiber
Regenerated Protein Fiber
Bamboo Fiber
Eco Fiber Market : Application
Commercial use
Industrial use
Public utilities
Global Eco Fiber Market: Competitive Analysis
Report includes accurate analysis of key players with Market Value, Company profile, SWOT analysis. The Study constitutes of following key players in Global Eco Fiber Market:
Lenzing AG (Austria)
Grasim Industries Limited (India)
Teijin Ltd (Japan)
US Fibers (U.S.)
David C. Poole Company, Inc.
Foss Manufacturing Company
Polyfibre Industries
Shanghai Tenbro Bamboo Textile
Tangshan Sanyou Group Xingda Chemical Fibre
Wellman Plastics Recycling
China Bambro Textile (Group) Co., Ltd.
Pilipinas Ecofiber Corporation
Foss Manufacturing Company, LLC
Geographical analysis of Eco Fiber Market :
North America
Europe

France
Germany
Spain
UK
Rest of Europe

Asia Pacific

China
Japan
India
South East Asia

Latin America
Middle East and Africa
Eco Fiber Market Report delivers comprehensive analysis of :
Market Forecast for 2018-26
Market growth drivers
Challenges and Opportunities
Emerging and Current market trends
Market player Capacity, Production, Revenue (Value)
Supply (Production), Consumption, Export, Import analysis
End user/application Analysis
---
Eco Fiber Market was valued at around USD million in 2021 & estimated to reach USD by 2028.
Eco Fiber Market is likely to grow at compounded annual growth rate (CAGR) of % between 2022 to 2028.
Yes, the report includes COVID 19 impact on the market.