Global Drop Packer Market is estimated to reach USD 17870.84 million by 2027, growing at a CAGR of 5.1 % between 2019 and 2027
Drop Packer is a machine or equipment which is used for case packing the containers, cans bottles to name a few. From rigid containers, cans and tubs to round and non-round bottles it has the perfect integrated solutions for case packing productivity. The Drop Packers are manufactured with the attributes of modular packing heads and quick changeovers to accommodate the widest range of product size on the same machine. Drop Packers utilize the soft drop that cushions the case lift in up and down stroke assuring packaging integrity and long term durability for the case lift. The innovation of Drop packer is result of the dynamic technological advancement taking place in the packaging industry. The drop packer has made the case packing convenient and less time consuming.
The Drop Packer is segmented into Manual Drop Packer, Semi-Automatic Drop Packer and Automatic Drop-Packer. Manual Drop Packer requires an operator and workforce to systematically complete the task of case packaging. Typical speed of the manual drop packer is within a range of 9-12 boxes per minute. The automatic Drop Packers consists of the case erectors which makes it different from manual Drop Packer. Automatic Drop Packer does not require any operator; it works systematically and efficiently on its own. The Automatic Drop Packer intelligently controls cases and products for maximum productivity. Technological advancement has played a major role in developing the automatic drop machine as it can case pack 25-30 boxes in a minute. Global Automatic Drop-Packer is future of Drop Packer Market and estimated show highest CAGR between 2019 to 2027.
The Drop Packer is used in Apparel Industry, Food & Beverage Industry, Hardware Industry, Pharmaceutical Industry and Electronics Industry. The durable and reliable packaging of the products is required in every industry as the products are shipped from the manufacturing area to the warehouses and market places. The drop packer is majorly used by Food and Beverage industry as the food and beverage industry is growing at a good pace so there is the need of packaging of the food and beverages efficiently and frequently. The Drop packer plays a major role in fulfilling the demand of the industry. Pharmaceutical industry uses the drop packer to case pack the chemicals and medicines. Food Packaging segment is market leader with almost 30 % of market share in 2018.
The report comprises value chain analysis for each of the product segments. Value chain analysis offers in depth information about value addition at each stage. The study includes drivers and restraints for Drop Packer Market along with their impact on demand during the forecast period. The study also provides key market indicators affecting the growth of the market. Research report includes major player analysis with shares of each player inside market, growth rate and market attractiveness in different end users/regions. Our study Drop Packer Market helps user to make precise decision in order to expand their market presence and increase market share.
The report provides Drop Packer Market Dynamics ,includes industry growth drivers, challenges, opportunities , risk, constraints as well as threats .Reports also includes Manufacturing Cost Analysis mainly included Raw Materials Analysis, Price Trend of product, Mergers & Acquisitions, Expansion, Key Suppliers of product, Concentration Rate of Drop Packer Market, Manufacturing Process Analysis. Research Report contains Market Effect Factors analysis mainly included Technology Progress, Consumer Needs Trend, External Environmental Change.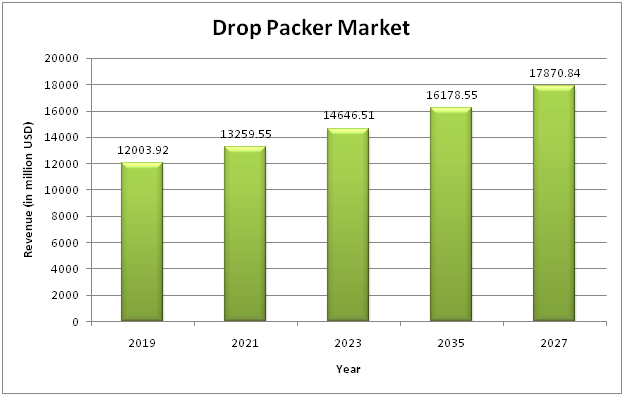 Global Drop Packer Market: Product Type
Manual
Semi-Automatic
Automatic
Global Drop Packer Market: Application
Apparel Industry
Food & Beverage Industry
Hardware Industry
Pharmaceutical Industry
Electronics Industry
Others
Global Drop Packer Market: Competitive Analysis
Report includes accurate analysis of key players with Market Value, Company profile, SWOT analysis. The Study constitutes of following key players in Global Drop Packer Market:

Combi Packaging Systems
Standard-Knapp
GeboCermex
Hartness
Thiele Technologies
Techno Pak
Hamrick Mfg
Fraingroup
Climax Packaging Machinery
Shorr Packaging Corporation
Packaging World
Emerald Automation
Packform
Geographical analysis of Global Drop Packer Market:
North America
Europe

France
Germany
Spain
UK
Rest of Europe

Asia Pacific

China
Japan
India
South East Asia

Latin America
Middle East and Africa
Global Drop Packer Market Report delivers comprehensive analysis of :
Market Forecast for 2019-27
Market growth drivers
Challenges and Opportunities
Emerging and Current market trends
Market player Capacity, Production, Revenue (Value)
Supply (Production), Consumption, Export, Import analysis
End user/application Analysis
---
Drop Packer Market was valued at around USD 13259.55 million in 2020 & estimated to reach USD 18782.25781 by 2028.
Drop Packer Market is likely to grow at compounded annual growth rate (CAGR) of 5.1% between 2021 to 2028.
segment dominated the global market in terms of revenue generation. region is likely to show the highest growth rate between 2021 to 2028.
Yes, the report includes COVID 19 impact on the market.