Urological Cancer Therapeutics Drugs Market by Product Type (Xofigo (radium Ra 223 dichloride), Jevtana (cabazitaxel), Inlyta (axitinib),Votrient (pazopanib hydrochloride), Sutent (sunitinib malate),Zytiga (abiraterone acetate), Xtandi (enzalutamide), Opdivo (nivolumab), Provenge (sipuleucel-T)) by Application /End User(Hospital, Medical Research Laboratory) by Industry Analysis, Volume, Share, Growth, Challenges, Trends, and Forecast 2017–2025.
25-June-2018 | Number of pages: 167 | Report Code:PSMR-00221| Report Format : PDF | Status : Published
Demo Statistics
Global Urological Cancer Therapeutics Drugs Market: Summary
Global Urological Cancer Therapeutics DrugsMarket is estimated to reach $48.57 billion by 2025; growing at a CAGR of 10.5% between 2017 and 2025.Now a days urological cancers became very common worldwide and causing higher mortality rates. Specially in the case of kidney cancers, that illustrates the new therapeutic targets.Urological cancers accounts for approximately 20% of global cancer prevalence.This type of cancer affects the urinary tract of male and female and the male reproductive organs. In male prostate cancer is more common of these malignancies.Basically in urological cancer there is the growth of abnormal tissues in bladder, prostate, penile, testicular or kidney. This abnormal growth of tissues is referred to as tumours, which even spreads into the surrounding tissues or muscles. In old age people, bladder cancer is common in men than women. Depending on stage of cancer, there are different signs and symptoms of a urological cancer. The major factors responsible for urological cancer including age are chronic inflammation, gender, obesity, tobacco usage and heritable cancer syndromes, smoking, advances in health care services, rising use of hormone therapies. New product innovation and research and developments will fuel the market of urological cancer therapeutics drugs.
The urological cancer market is segmented into cancer type, treatment type, end-user, and geography.There are different types of urological cancers such as kidney, prostate, testicular and bladder cancer. On the basis of type of treatment, the market is divided into chemotherapy, hormonal therapy, and surgery & radiation therapy. Depending on end-user, the market is divided into hospitals, urological cancer medical research laboratory and others. Top players of this market are Novartis, Pfizer, Johnson & Johnson, Astra Zeneca, Astellas, Bristol-Myers Squibb, Abbott Laboratories, Celgene Corporation, Dendreon Corporation, Ferring Pharmaceuticals, GlaxoSmithKline plc, Indevus Pharmaceuticals Inc, Ipsen, Roche Healthcare and Sanofi S.A.
Geographically, Global Urological Cancer Therapeutics Drugs market is classified as North America, Europe, Southeast Asia , China, Japan and India. Currently, North America dominates the urological cancer market because of increasing geriatric population, available advanced health care solutions, new product innovations, well developed healthcare infrastructure and technological advancements. North America is followed by Europe due to research and development activities and at the same time increasing consumption of alcohol and smoking behavior.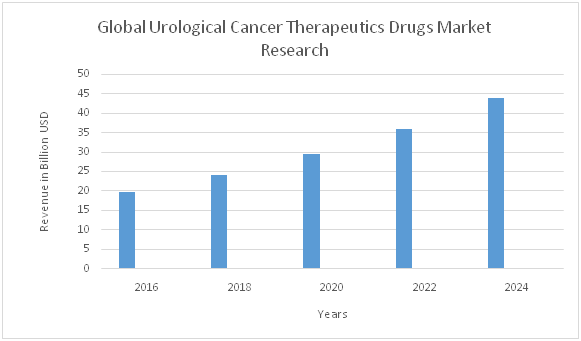 Global Urological Cancer Therapeutics Drugs Market: End Users/Application Analysis
• Hospital
• Medical Research Laboratory
Global Urological Cancer Therapeutics Drugs Market: Product Type
• Xofigo (radium Ra 223 dichloride)
• Jevtana (cabazitaxel)
• Inlyta (axitinib)
• Votrient (pazopanib hydrochloride)
• Sutent (sunitinib malate)
• Zytiga (abiraterone acetate)
• Xtandi (enzalutamide)
• Opdivo (nivolumab)
• Provenge (sipuleucel-T)