United States Oat-Based Snacks Market by Product Type (Oat-Based Bakery, Oats Bars, Oat-Based Savory) by distribution channel (Hypermarkets, Supermarkets, Independent Retailers, Convenience Stores by Industry Analysis, Volume, Share, Growth, Challenges, Trends and Forecast 2018–2026

03-Apr-2018 | Number of pages: 140 | Report Code:PSMR-00512| Report Format : PDF | Status : Published
Demo Statistics
United States Oat-Based Snacks Market: Summary
United States Oat-Based Snacks Market is expected to reach 6.13 billion by 2026 at CAGR of 6.3%. A natural source of energy Oats provide energy in the form of starchy carbohydrates. These provide fuel for the brain (glucose), helping with mental performance throughout the morning. Whole grains Oat-Based Snacks are typically eaten as the whole grain, providing the whole package of fibre, nutrients and other bioactive compounds. Fibre Oats provide fibres that are important for gut regularity, and fibre that helps manage cholesterol levels. High in -glucan , glucan is a type of fibre that helps with glycaemic control and lower blood cholesterol levels. Source of thiamin, iron, magnesium & phosphorous Vitamins and minerals provided by Oat-Based Snacks are important for good health. Combining oats with milk provides a whole package of essential nutrients. Oat-Based Snacks are low in sodium and helps in controlling blood pressure of body.

Epidemiological evidence suggests that a high intake of whole grain foods including wheat, rice, barley, maize and oats is associated with reduced risk of coronary heart disease (CHD) and diabetes. Oat-Based Snacks has been topically used as a remedy to treat skin irritation from poison ivy, sunburn, eczema, and psoriasis. Soluble dietary fibre in carbohydrate-rich foods influences the glycaemic response after a meal. In particular, β-glucans present in oats (and also barley) have been widely studied for their health benefits including their ability to reduce post-prandial glucose levels.

USA Oat-Based Snacks was the second highest revenue contributor in the global oat-based snacks market in 2017 after Europe and will continue to show tremendous growth in the coming years. The proliferation of this market in USA is attributed to factors such as hectic lifestyles and on-the-go consumption, as well as the growing popularity of Oat-Based Savory, Oat-Based bakery and oat-based bars.In addition to this an increasing number of individuals are looking for healthy diet source. Increase in disposable income, more focus on healthy lifestyle and rising number of ageing population in the country also propelling fuel to the growth of oat-based snacks market .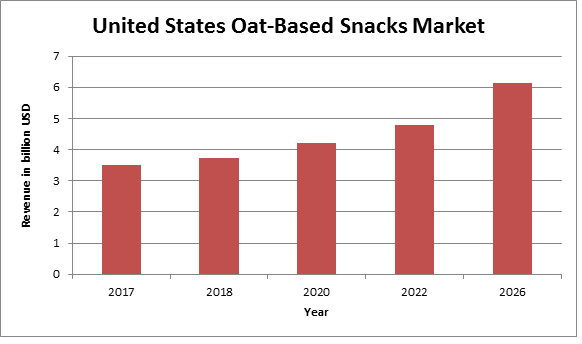 United States Oat-Based Snacks Market: Competitive Analysis
Report includes accurate analysis of key players with Market Value, Company profile, SWOT analysis. The Study constitutes of following key players in Bone Grafts and Substitutes Market:
General Mills
• Kellogg
• Mondelez International
• Nairn's Oatcakes
• Quaker Oats Company
• Bobo's Oat Bars
• Britannia Industries
• Curate Snacks
• Pamela's Products
• Seamild
Geographical analysis of United States Oat-Based Snacks Market:
• The West
• Southwest
• The Middle Atlantic
• New England
• The South
• The Midwest