Transport Bags Market by Material Type (Metal, Plastic, Paper, Jute, Cotton)by Product Type( Travel Type, Pocket Type) by End User(Players, Tourist, Amateurs) by Industry Analysis, Volume, Share, Growth, Challenges, Trends and Forecast 2018–2026
05-Apr-2018 | Number of pages: 140| Report Code:PSMR-00525| Report Format : PDF | Status : Published
Demo Statistics
Transport Bags Market: Summary
Global Transport Bags Market was valued at USD 14.28 billion in 2017 and expected to reach USD 26.68 billion by 2026 at CAGR of 7.2%. Packaging has become very important aspect of transportation service. Quality packaging and safety of product are two paramount parameter of packaging in today's world. Transport bags plays very vital role in the packaging of various elements as well as in safety. It protects the elements from accidents, temperature, heavy rain, humidity and many other natural or man made damaging reasons. As the packaging industry has grown and continue to grow tremendously Transport bags market also grown at significant rate globally.

Transport Bags market has shown impressive compound annual growth rate (CAGR) of 6.3% between 2013-17 and expected to grow at even higher CAGR of 7.2 % between 2018-26 according to Profshare Market Research. Transport Bags finds its importance of packaging in various industries such as electronics, agriculture, automotive, construction, food & beverages, chemicals, pharmaceuticals. All of these industries are growing at significant growth rate and hence Transport Bags market is showing high growth rate. Increasing popularity of online shopping also propelling fuel to the growth of Transport Bags market.
North America is leading player of market with more than USD 24 billion revenue generation through Luggage and Bags market in 2017. European market has significant impact on Trnasport Bags market with more than USD 25 billion revenue generated through Luggage and Bags market in 2017. Asia-Pacific is eye catching market for Transportation and Packaging industry. Rising population, increasing disposable income and better lifestyle are the primary reasons for the growth of Transport Bags market in the Asia-Pacific region. Africa and Middle is expected to grow at constant rate in forecasted period.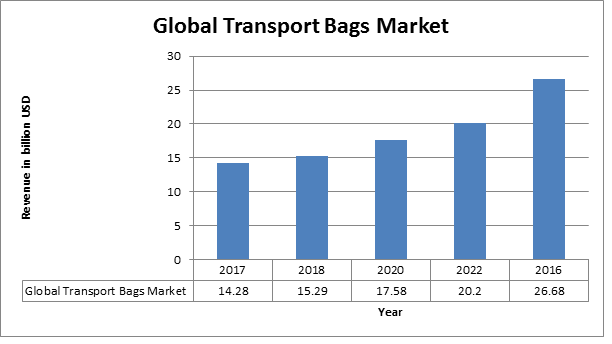 Transport Bags Market: Competitive Analysis
Report includes accurate analysis of key players with Market Value, Company profile, SWOT analysis. The Study constitutes of following key players in Transport Bags Market:
• Petzl Securite
• Utility Diadora
• Beal Pro
• ROX
• Blaklader Workwear
• Neofeu
• GeoMax
• Precintia International
• Helly Hansen Work Wear
• Swiss Rescue
• DMM Professional
• VersarPPS
• Maletas Tecnicas Boxfort
• Lafont
• Somain Securite
• Louis Blockx
Geographical analysis of Transport Bags Market :
• North America
• U.S.A
• Canada
• Europe
• France
• Germany
• Spain
• UK
• Rest of Europe
• Asia Pacific
• China
• Japan
• India
• South East Asia
• Latin America
• Brazil
• Middle East and Africa