Tissue Engineered Skin Substitutes Market by Procedure Type (Cellular Allogeneic, Acellular, Cellular Autologous) by Application (Burn Injury, Diabetic, Vascular Ulcer, Chronic wound) by Industry Analysis, Volume, Share, Growth, Challenges, Trends and Forecast 2018–2026
04-Apr-2018 | Number of pages: 135 | Report Code:PSMR-00518| Report Format : PDF | Status : Published
Demo Statistics
Tissue Engineered Skin Substitutes Market: Summary
Global Tissue Engineered Skin Substitutes Market was valued at USD 628.31 million in 2017 and is expected to reach USD 1.39 billion by 2026, at a CAGR of 9.3% from 2018 to 2026. Nowadays Chronic wounds and extensive skin loss have become serious problem globally. Even if injured epidermis is normally able to self-renew, deep injuries can cause negative regulation of the wound healing cascade, leading to chronic wound formation. Skin-autografting surgical procedures are often limited by the poor availability of healthy tissue, whereas the use of non-self-tissues for allografts presents some severe risks. Tissue-engineered skin substitutes have recently become viable as a suitable alternative to auto- and allografts. However, biologists, biochemists, and technical engineers are still struggling to produce complex skin substitutes that can readily be transplanted in large quantities. The ambitious goal is now to construct a dermoepidermal substitute that rapidly vascularizes and optimally supports a stratifying epidermal graft on a biodegradable matrix.

Skin substitutes can be broadly divided into cellular and acellular devices, yet within these categories, each product has its own unique composition and mechanism for promoting healing. Here we summarize the characteristics and indications of cellular and acellular matrices commonly used in wound care with the most evidence supported by randomized control trials and prospective studies. This review aims to provide dermatologists and other wound care clinicians with a helpful guide on how to approach skin substitutes, from preparing the wound bed for application, to making the proper selection for patients' individual wounds.

Tissue-engineered skin substitutes represent an efficient way of meeting the deficiency in donor-skin-graft supplies . They are able to protect damaged regions from fluid loss and contamination and promote release of cytokines and growth factors at the wound site, accelerating the wound-healing processes . They also act as a temporary protective cover of the wound bed during healing. More complex 3D models have recently been developed that use cocultures of different kinds of cells, with the goal of enhancing engineered tissues' similarity to their natural counterpart. Melanocytes have been introduced to recreate the natural pigmentation process in vitro. Different skin combinations of keratinocytes and melanocytes from Caucasian and Negroid donors confirmed that pigmentation is under the control of melanocytes, whereas keratinocytes play an antioxidant defensive role. Sunlight can cause erythema and melanoma; tissue-engineered skin substitutes may be used as easily manageable in vitro systems in studies aiming to produce new photoprotective agents.
Several commercially available models of engineered skin substitutes have now been developed, which apply different techniques and use different cell sources. CeladermTM (Advanced BioHealing, New York, NY, USA) is representative of this model, and its efficacy has been validated in clinical trials for treating venous leg ulcers. Alloderm (LifeCell, New York, NY, USA) is a commercially available decellularized tissue-engineered skin substitute consisting of a cell-free matrix permanently incorporated into the wound bed. After application, Alloderm is colonized and vascularized by underlying cells; however, in some cases, it induces immunogenic rejection.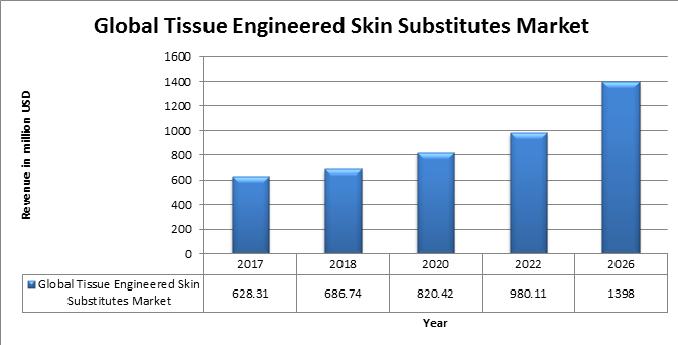 Tissue Engineered Skin Substitutes Market: Competitive Analysis
Report includes accurate analysis of key players with Market Value, Company profile, SWOT analysis. The Study constitutes of following key players in Tissue Engineered Skin Substitutes Market:
• Amarantus BioScience Holdings
• Acelity L.P., Inc.
• BSN medical
• Integra LifeSciences Corporation
• Medtronic (Covidien)
• Molnlycke Health Care
• Smith & Nephew plc
• Organogenesis, Inc
Geographical analysis of Tissue Engineered Skin Substitutes Market:
• North America
• U.S.A
• Canada
• Europe
• France
• Germany
• Spain
• UK
• Rest of Europe
• Asia Pacific
• China
• Japan
• India
• South East Asia
• Latin America
• Brazil
• Middle East and Africa