Surgical Navigation Software Market by Technology (Optical, Electromagnetic (EM), Hybrid) by Applications (Neurosurgery navigation systems, ENT navigation systems, Spinal navigation systems, Dental navigation systems) by End User (Practices & Ambulatory Settings, Hospitals) by Industry Analysis, Volume, Share, Growth, Challenges, Trends and Forecast 2018–2026

02-Apr-2018 | Number of pages: 135 | Report Code:PSMR-00510| Report Format : PDF | Status : Published
Demo Statistics
Surgical Navigation Software Market: Summary
Global Surgical Navigation Software Market is expected to reach USD 1.31 billion by 2026 at CAGR of 6.9%. Since last decade, computer-aided navigation system has experienced tremendous development for minimizing the risks and improving the accuracy of the surgery . Nowadays, some commercially-available surgical navigation systems have already been tested and proved efficient for clinical applications. In Surgical Navigation Software system, uses computer screen to render the navigation information such as the real-time position and orientation of the surgical instrument, and virtual path of preoperative surgical planning.

In recent years Surgical Navigation Systems Market has been boosted with tremendous technological advancements. These advancements results into higher success rate of surgery, better results, reduced surgery time and cost effectiveness. In accordance with these advantages demand for Surgical Navigation Systems has been raised globally. Major player of market are now investing large amount of time and money in R&D to deliver best Surgical Navigation Systems software and to gain better competitive edge inside market.

Geographically, North America particularly USA holds highest share of market in 2017. According to report Europe has shown decent growth in recent year with Asia Pacific emerged as fastest-growing market Surgical Navigation Software. Increasing number of patient count, more health awareness and increase in disposable income driving the market. Health infrastructure has been improved globally leads to increased number of surgeries globally. Growth for Africa and Middle East is expected to remain steady for recent coming years.
On future side of Surgical Navigation Software Market, three significant drawbacks of existing image-guided surgical navigation systems are the lack of integration between therapeutic site and the display, the sub-optimal viewpoint of the images shown in the display, and the limited hand/eye coordination. Augmented Reality (AR) has the potential to overcome these limitations by enhancing the actual view therapeutic site view with selected computer-generated objects overlaid in real time in their current position. Augmented medical imaging devices consist of a video camera or transparent screen mounted on an existing intraoperative imaging device, such as a C-arm fluoroscope, an ultrasound probe, or a CT scanner.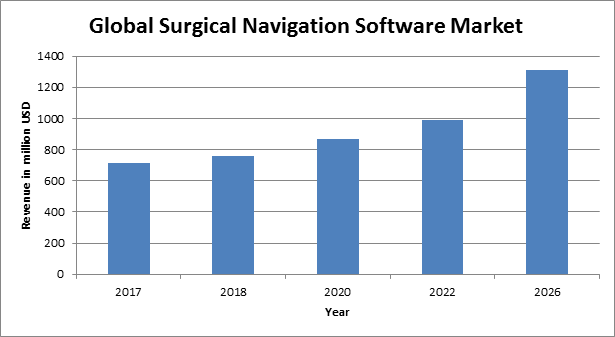 Surgical Navigation Software Market: Competitive Analysis
Report includes accurate analysis of key players with Market Value, Company profile, SWOT analysis. The Study constitutes of following key players in Surgical Navigation Software Market:
• Medtronic plc
• Stryker Corporation
• Brainlab AG
• B. Braun Melsungen AG
• Scopis GmbH
• Fiagon AG
• Karl Storz GmbH & Co. KG
• Amplitude Surgical
• Zimmer Biomet Holdings, Inc.
• Siemens Healthineers
Geographical analysis of Surgical Navigation Software Market:
• North America
• U.S.A
• Canada
• Europe
• France
• Germany
• Spain
• UK
• Rest of Europe
• Asia Pacific
• China
• Japan
• India
• South East Asia
• Latin America
• Brazil
• Middle East and Africa