Smart Camera Market by Product (Single-Chip Smart Cameras, Embedded Smart Cameras, Stand-Alone Smart Cameras, Compact-System Smart Cameras, Distributed Smart Cameras) by Resolution (High Definition, Mid-range) by Application (Automobile assembly, Pharmaceutical processing, Product and Food packaging, Quality control roles, Automated surveillance) by Industry Analysis, Volume, Share, Growth, Challenges, Trends, and Forecast 2018–2026
05-Apr-2018 | Number of pages: 135 | Report Code:PSMR-00529| Report Format : PDF | Status : Published
Demo Statistics
Smart Camera Market: Summary
Smart Camera Market is expected to reach USD 31 billion by 2026 at CAGR of 21.7%. Smart cameras refers to category of cameras with ability to picture along with making sense of what happening in image followed by automation of decision for user. This allows the automation of simpler processing decisions, and their small footprint and internal (and often very powerful) processors make them more flexible than machine vision sensors. Frequently, smart cameras are linescan instruments with exceptional one-line resolutions. Smart cameras are enabled with functionality of image analysis and data communication with interface.

Smart camera operation can be demonstrated as , a camera that can monitor a door entry and trigger an alarm or send an e-mail to a user when an entry is attempted outside of opening hours . With this functionality camera would qualify as "smart camera" because it can figure out what is happening (detecting a prohibited entry) and take action (triggering an alarm or sending an e-mail). The primary purpose of image processing in smart cameras, on the other hand, is to generate event descriptions and decisions for other devices in an automated control system. This is evident in two of the most popular applications for smart cameras: video surveillance and industry machine vision.

Some of the key features of Smart Cameras includes:
• Real-time image processing and pattern recognition
• Extract useful information from the images and make decisions
• Programmable to perform different tasks for a particular class of applications
• Small physical size hence easier to be deployed in realworld applications
• Very low bandwidth devices
• Smart cameras are autonomous systems and do not need a great deal of intervention once calibrated.
• built-in microprocessors and autonomous operations, smart cameras are especially suited for intelligent
networked
Geographically Smart Camera Market is dominated by Asia-Pacific with expected CAGR of region is 19.7 % between 2017-22. Technological advancement, increase in disposable income, infrastructure growth, more security spending and increased level of lifestyle are the primary reasons for the growth of Smart Camera Market in the region. China and Japan are highest contributor to growth followed by India and South Korea. North America Smart Camera Market will continue to show strong growth in forecasted years. Market in Europe has witness high growth rate in 2013-27 and will continue at CAGR of 15.6 % between 2017-22. Africa and Middle east market will grow at constant rate in 2018-26.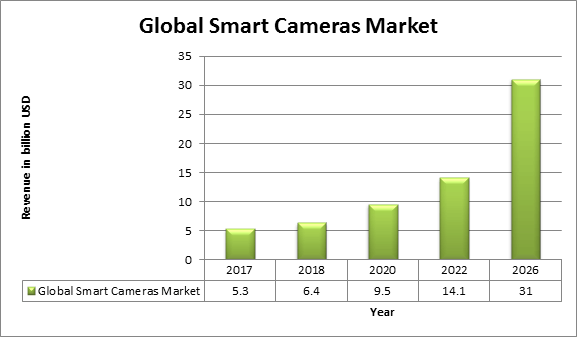 On application side smart cameras in action in real-world , especially for video surveillance and industrial machine vision. Industrial machine vision is probably the most mature application area for smart cameras, where these cameras perform tasks such as bar code recognition, parts inspection, surface inspection, fault detection, and objects counting and sorting. In video surveillance applications, typical tasks of smart cameras include motion detection, intrusion detection, crowd profiling, number plate recognition.

Smart Camera Market: Competitive Analysis
Report includes accurate analysis of key players with Market Value, Company profile, SWOT analysis. The Study constitutes of following key players in Smart Camera Market:
• FLIR
• Canon
• Nikon
• Panasonic
• Samsung
• Sony
• Fujifilm
• Olympus
• Polaroid
• Bosch
• Raptor Photonics
• Watec
Geographical analysis of Smart Camera Market:
• North America
• U.S.A
• Canada
• Europe
• France
• Germany
• Spain
• UK
• Rest of Europe
• Asia Pacific
• China
• Japan
• India
• South East Asia
• Latin America
• Brazil
• Middle East and Africa