Marine Propulsion Engine Market by Product Type (Steam Turbines, LNG Engines, Reciprocating Steam Engines, Reciprocating Diesel Engines) by Application /End User ( Military Aviation, Business Aviation, General Aviation,) by Industry Analysis, Volume, Share, Growth, Challenges, Trends, and Forecast 2016–2024
28-Dec-2017 | Number of pages: 125 | Report Code:PSMR-00175| Report Format : PDF | Status : Published
Report Description
Overview
Global Marine Propulsion Engine Market: Summary
Global Marine Propulsion Engine Market is estimated to reach $10.85 billion by 2024; growing at a CAGR of 3.9% between 2016 and 2024. This system creates thrust and enables ships to maneuver themselves in water. A number of innovations have led to the development of advanced mode of propulsion engine that would ensure safety of the marine ecosystem coupled with cost efficiency. Various types of propulsion engines are used in ships, among which diesel propulsion is most commonly used, converting thermal forces into mechanical energy. Introduction of liquefied natural gas (LNG) fuel engine in ships have also gained popularity in recent times due to their low emission and cost advantages.In last few years, numerous norms have instructed the shipping industry to reduce the emission of greenhouse gases, contamination of marine water and others.
There is a Increase in international trade activities through water transportation due to its cost-effectiveness, rise in the number of marine travelers, vast development of the global seaborne transport industry, arrival of technologically advanced and highly reliable engines, economic stability, and rising disposable incomes are the major factors that have accelerated the global marine propulsion engines market in the last few years.additionally, growing need for efficient as well as operationally dependable ships will spur the demand for marine propulsion engine in the upcoming years. Growing importance on increasing diesel engine capacity to drive new generation tankers with large cargo holding ability will expand the global marine propulsion engine market growth. Rising focus on renewable energy sources owing to the depletion of conventional reserves and ever-increasing demand for crude oil will further support the growth of the market..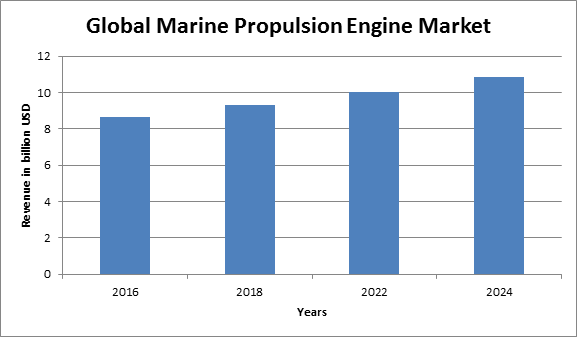 Important applications of Marine Propulsion Engine Market Report are:
On the basis of application, marine engine market is segmented into commercial vessels, offshore support vessels, and inland waterways vessels. Commercial vessels segment is estimated to register for the largest share in Global Antiemetic market . Commercial vessels further get segmented into LNG carriers, cargo vessels, pure car carriers, chemical carriers, bulkers and container ships. Work with greener fuels such as LNG and solar & wind power and the stringent rigid norms about emission is expected to observe development for the global marine engine market. Four stroke engines are registering fast growth in the market, due to reliability, fewer emissions, smoothness, and quiet operation.
• Military Aviation
• Business Aviation
• General Aviation
Geographically, the marine propulsion engine market is segmented into North America, Europe, Asia-Pacific and Rest of the World (RoW). The U.S., Canada and Mexico are covered under North America wherein Europe covers Germany, UK, Italy, Norway and others. Asia-Pacific covers China, Japan, South Korea and others. RoW covers South America, Middle East and Africa.Second largest market share is occupied by Europe followed by North America. Strict norms taken by government following environmental concerns is expected to restrain the market growth in the next few years.
Global Marine Propulsion Engine Market: Product Type Analysis
• Steam Turbines
• LNG Engines
• Reciprocating Steam Engines
• Reciprocating Diesel Engines