Down Feather Market Report by Product Type (Goose Down, Duck Down, Mixed Down ) by Application / End User (Down Jacket, Down Quilt ) by Industry Analysis, Volume, Share, Growth, Challenges, Trends and Forecast 2018–2026.
17-Mar-2018 | Number of pages: 125 | Report Code:PSMR-00366| Report Format : PDF | Status : Published
Demo Statistics
Down Feather Market is valued at USD 5.9 Billion in 2017 and is expected to reach USD 10.25 Billion by the end of 2025, growing at a CAGR of 7.5% between 2017 and 2025. Down is one of the by-product of the global meat industry. Down is the soft layer of feathers mostly equivalent to birds' skin, especially in the chest region. The feathers on geese or ducks are the outer covering of the bird. They have quills, repel water, and make it possible for the animal to fly.

Down is quills less, hence, it is used extensively in apparel and bedding applications, as it provides extreme softness and offers high level of comfort without the excess weight with unparalleled warmth. These feathers are highly valued by manufacturers of down clothing and comforters. Hence, these are mixed with down to provide comfort in pillows and bedding applications. Thus, these are broadly used in the apparel and clothing industry. Because of protective nature, feathers in a fill offers support and durability to a product and hence are ideal for decorative pillows, cushions.

Global down feather market has significantly increased over the recent past. The market is highly attractive due to The increasing demand for down and feather products all over the world, especially from emerging economies. This expected to drive the market. With increasing urbanization across the small and large cities, rise in consumer purchasing power, rise in consumer preference toward luxury and comfort and modernizing of lifestyle habits are some of the parameters likely to influence the demand for down and feathers from the apparel and home furnishing industry.

Geographically, Global Down Feather market is segmented into several areas- North America, Europe, China, Japan, Southeast Asia, India, Africa and Latin America. Global down feather market is dominated by Asia Pacific, followed by North America and Europe. Global market share of Asia Pacific by volume in down feather market was 32.8% in 2017. During the forecast period, the consumption of down feathers in the region is expected to increase at a CAGR of 6.3%. The down feather market in Middle East & Africa is expected to have significant growth during the forecast period.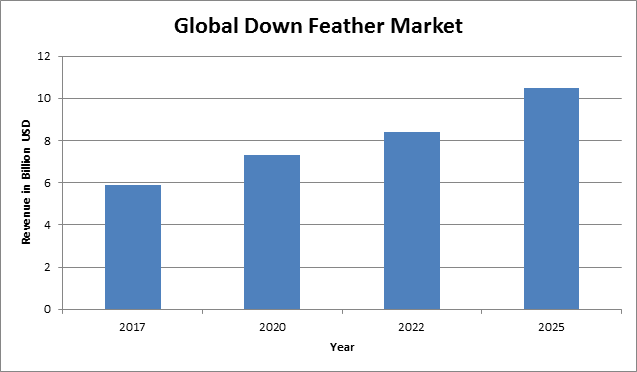 Down Feather Market : Competitive Analysis
Report includes accurate analysis of key players with Market Value, Company profile, SWOT analysis. The Study constitutes of following key players in Coated Glass Market:
• Allied Feather & Down
• Feather Industries
• Down Décor
• Down Inc
• United Feather & Down, Inc.
• Heinrich Hassling
• OBB Oberbadische Bettfedernfabrik GmbH
• Peter Kohl
• Rohdex
• Karl Sluka
• Treude & Metz GmbH & Co. KG
• Hans Kruchen
• Hammerfest S.r.l.
• Otto Keller
• Richard Behr & Co.
• Down & Feather Company
• Norfolk Feather Company
• Highland Feather Manufacturing Inc
• Downlite

Down Feather Market : Regional Analysis
• North America
• U.S.A
• Canada
• Europe
• France
• Germany
• Spain
• UK
• Rest of Europe
• Asia Pacific
• China
• Japan
• India
• South East Asia
• Latin America
• Brazil
• Middle East and Africa