Digital Printing Packaging Market by Product Type (Thermal Transfer Printing, Inkjet Printing, Electrophotography & Electrostatic Printing ) by Application / End User (Food & Beverage, Pharmaceuticals and Healthcare, Household & Cosmetic Products ) by Industry Analysis, Volume, Share, Growth, Challenges, Trends and Forecast 2017–2025
04-Mar-2018 | Number of pages: 120 | Report Code:PSMR-00337| Report Format : PDF | Status : Published
Demo Statistics
The Global Digital Printing Packaging Market was valued at USD 11.8 billion in 2017 and by 2022 this will grow by almost 12.3% CAGR to USD 28.8 billion. Digital Printing is the printing technology that links printing processes to computers. Digital printing technology differs from the the longer-established conventional offset litho and flexo processes. In that processes printing doesn't dependent upon the preparation of a separate plate for each print run. All the colours are printed in a single pass. In analog printing, the plates are replaced repeatedly. It saves cost and time.

In the coming decade, packaging industry will witness a significant revolution as the applications of digital printing increases significantly. Digital printing is one of the prominent printing technology for packaging and labels, that has been recognized across the globe for quick-turnaround capability which digital printing offers. Digital Printing is faster, cost effective, more personalized, green technology which has higher effects as compared to traditional litho and flexo processes. Digital printing allow user to make last minute changes at the time of printing via the computer.

Digital printing is a simpler and faster process compared to offset. With no need for plates, mixing inks etc, the final print can be delivered faster. Digital Printing Packaging is cost effective as no set-up costs, no minimum print quantities and no plate costs. Some digital machines are also capable of doing inline finishing like binding eg saddle stitch, perfect bound or wire binding, so costs and turnaround times are reduced. Digital Printing have lots of positive environmental factors like no pre-press stages so no films, plates or photo chemicals which means less waste. Lot of wateris used for printing but digital presses are now waterless saving thousands of litres of water per year.

The global digital printing packaging market is going to witness high CAGR over the next decade due to the increasing demand for different consumer products which need effective and low cost printing technology with aesthetic visual graphics. Factors like fluctuations in raw material prices, high manufacturing cost can sometimes act as barrier in growth of the digital printing packaging market. In 2017 digital printing packaging market which is valued at USD 11.8 billion makes only 4.3% of all printed packaging. . Asia-Pacific holds the largest share of the digital printing packaging market in 2017 which is 42% and is expected to witness the highest growth during 2017 to 2025.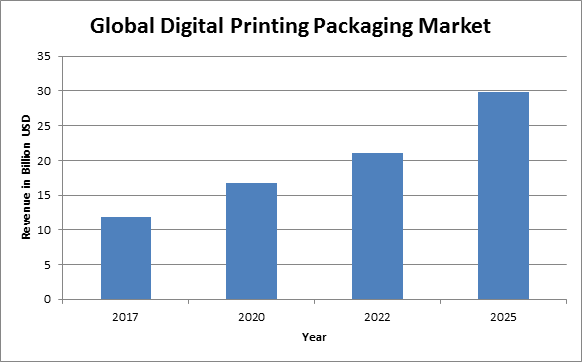 Digital Printing Packaging Market : Product Type Analysis
• Thermal Transfer Printing
• Inkjet Printing
• Electrophotography & Electrostatic Printing
Digital Printing Packaging Market : End Users/Application Analysis
• Food & Beverage
• Pharmaceuticals and Healthcare
• Household & Cosmetic Products