Curved OLED TV Market by Product Type (Large-sized Curved Televisions,Mid-sized Curved Televisions,Small-sized Curved Televisions ) by Application /End User(Home, Commercial, Trade centres, Shopping malls) by Industry Analysis, Volume, Share, Growth, Challenges, Trends, and Forecast 2016–2022.
14-Oct-2017 | Number of pages: 112| Report Code:PSMR-00061| Report Format : PDF | Status : Published
Demo Statistics
Global Curved OLED TV market: Summary
Global Curved OLED TV market is expected to reach USD 64 billion by 2022 at a CAGR of 97.5 %.
Today, TV has become an important means of entertainment and education in every home, institutions and businesses. Consumer expectations are now increasing for better features, and most importantly for better image quality.

As a result, better picture quality offered by curved television is one of the important factors driving the growth of this market. Curved television with 4k resolution has remarkebly enhanced the perceived quality of image for end-users on large screen. Also, curved OLED TV reduces power consumption to half or less as compared to CRT and LCD TVs. Image degradation has gradually decreased with OLED and picture quality has significantly enhanced, such as light bleed typically found in conventional backlit systems. This results in the highest quality image rendering with the purest black and lifelike colors. One of the major constraints to the growth of this market is high initial cost of television. Due to the high cost of curved televisions, these products are popular with limited number of applications, for instance, in shopping malls, commercial trade centers and people with high disposable income. At present, the cost involve in manufacturing OLED displays is very high and which, in turns, effects the cost of final product.
Other important applications of car camera are:
• Home
• Commercial
• Trade centers
• Shopping malls

Light is produced by passing electricity through a thin layer of carbon-based organic dyes, but because it's done at a pixel level (there are more than two million of them in the 55EC9300) and the OLED panel is made entirely of self-lighting pixels, it's a much faster technology than LED, which means smooth, fast-moving images free from blur and judder. The fluidity is quite something, and it's hard to go back to watching an LED television. OLED also happens to be incredibly energy-efficient.

North America led the Global Curved Television Market with more than 50% of the overall market. In North America, the U.S. accounts for the largest market for curved television, with the highest demand for mid-sized curved television. However, Asia Pacific and Rest of the World are expected to exhibit a sizeable demand for curved televisions due to rising disposable income and overall improvement in the economic index of countries in these regions.
Curved Televisions Market, by Geography
• United States
• China
• Europe
• Japan
• Southeast Asia
• India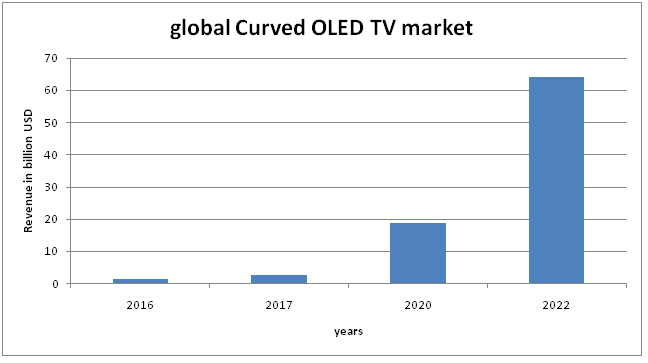 Global Curved Television Market: Product Analysis
• 65 Inches
• 55 Inches
Global Curved Television Market:Screen Size
• Large-sized Curved Televisions
• Mid-sized Curved Televisions
• Small-sized Curved Televisions