Construction Adhesives Sales Market Report by Product Type (Acrylic, PVA, PU, Epoxy ) By Application /End User(Residential, Commercial ) by Industry Analysis, Volume, Share, Growth, Challenges, Trends and Forecast 2017–2025.
11-Mar-2018 | Number of pages: 117 | Report Code:PSMR-00346| Report Format : PDF | Status : Published
Demo Statistics
Construction Adhesives Sales Market is valued at USD 8.1 billion in 2017 and is expected to reach USD 12.7 billion by the end of 2025, growing at a CAGR of 5.8 % between 2017 and 2025. Construction Adhesives are one of the construction chemical compounds) added to construction materials or formulations to improve the workability, performance, and strength of the construction materials. These adhesives are genedrally used to either bond or repair two surfaces or items on the construction site. Excellent bond strength, high chemical stability, high temperature stability, and weather resistant are important properties of construction adhesives, which make them an integral part of various commercial and industrial sectors.

These products are being increasingly used the construction activities, such as carpet layment, ceramic tiles, concrete, flooring underlayment, pre-finished panels, roofing, waterproofing, flooring & insulation, cladding, and reinforcement of various commercial and industrial sectors. The industry has witnessed numerous technological advancements and new innovation that promote the usage of construction adhesives in industrial and residential buildings. The emerging economies, such as Brazil, South Africa, Saudi Arabia, Israel, Egypt, Mexico, and Argentina with their growing economy and increasing government expenditure on constructions in, are expected to boost the market for adhesives during the next decades.

Increasing use of construction adhesives in architectural design and renovation of old buildings are among other factors driving their growth globally. Rapid urbanization, changing lifestyles, rising safety concerns, and healthy living environment with increasing disposable income in emerging economies have influenced the consumption trends of construction materials. These factors are expected to boost the growth of the Construction Adhesives Sales Market over the forecast period.

Global Construction Adhesives Sales Market is split into Asia Pacific, North America, Latin America, Europe, and the Middle East and Africa. Asia Pacific, powered by India and China, holds a dominant share in the market. Due to the high rapid growth, driven by the significant economic progress and infrastructural development in various countries across the Asia Pacific region, the Construction Adhesives Sales Market witnessing a steady increasing growth across the region in coming decades. Europe and North America market in the coming years expected to show slow growth as the market being predicted saturated already.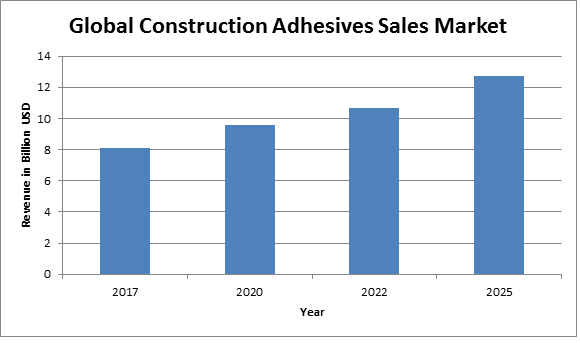 Construction Adhesives Sales Market : Product Type Analysis
• Acrylic
• PVA
• PU
• Epoxy
Construction Adhesives Sales Market : End Users/Application Analysis
• Residential
• Commercial
• Global Epoxy