Coated Glass Market Report by Product Type (LOW-E Glass, Heat-Reflective ) by Application / End User (Automotive Glass, Construction Industry, Solar Battery Module, Electronics ) by Industry Analysis, Volume, Share, Growth, Challenges, Trends and Forecast 2018–2026.
16-Mar-2018 | Number of pages: 135 | Report Code:PSMR-00365| Report Format : PDF | Status : Published
Demo Statistics
Global Coated Glass Market is valued at USD 13.6 billion in 2017 and is expected to reach USD 23.2 billion by the end of 2025, growing at a CAGR of 6.9% between 2017 and 2025. Surface coatings can be applied to glass to modify its appearance and give it many of the advanced characteristics and functions such as low maintenance, special reflection/transmission/absorption properties, scratch resistance, corrosion resistance, etc. Glass coatings consist of particles of silicon dioxide within the hard resin that acts as barrier to contamination and increase shine.

Glass coatings can last for six months upto two years, depending upon natural and man-made conditions. Glass coated surfaces becomes resistant to sand, debris and stone chips. It protects surface from the formation of hard water spots and stains from bird droppings, tree sap, etc. Glass coatings provides superb shine over any surface it is applied to. Coated glass also blocks ultraviolet and infrared light by up to 85%, thus increasing protection of individuals against fatal diseases like skin cancer. Coated glass that has been treated to help retain building heat.

Glass coating is not cost effective. Application of glass coatings requires the necessary tools and the hands of an expert. Otherwise, it might create an uneven application since it hardens quickly. To eliminate the chances of contamination from dust and debris, glass coating needs to be done in a dust-free area. Glass coating materials are highly toxic as they use extremely harsh chemicals. Coatings are usually applied by controlled exposure of the glass surface to vapours, which bind to the glass forming a permanent coating.

Geographically, Global Coated glass market is segmented into several areas- North America, Europe, China, Japan, Southeast Asia, India, Africa and Latin America. Global Coated glass market is dominated by Asia Pacific, followed by North America and Europe. Coated glass market is fueled by increasing urbanization, rising population, better living standards of people, increasing number of developing economies, demand for affordable housing and development of the services sector such as IT & ITES. Rising demand for motor vehicles and increasing demand for solar thermal panels also boosts this market over forecast period.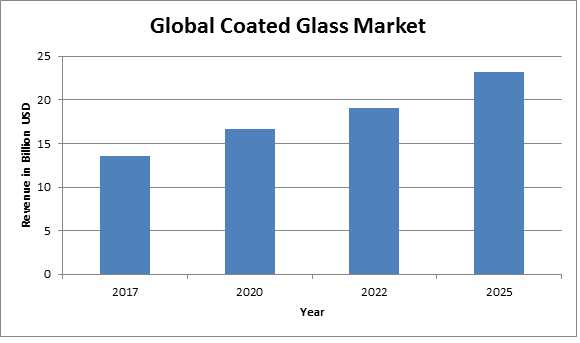 Coated Glass Market : Competitive Analysis
Report includes accurate analysis of key players with Market Value, Company profile, SWOT analysis. The Study constitutes of following key players in Coated Glass Market:
• AGC
• NSG
• Central Glass
• Guardian
• TGSG
• Glassform
• Wattanachai Safety Glass
• PMK-Diamond Glass
• V.M.C SAFETY GLASS
• Asahimas Flat Glass
• PT. Multi Arthamas Glass Industry
• PT. Tamindo Permaiglass
• Intan Glass Product
• Bintangmas
• CSG
• Xinyi Glass
• SYP
• Taiwan Glass
• Blue Star Glass
• Saint-Gobain
• North Glass
• Sanxin Glass
• Qingdao Jinjing
• Doya Glass
• Grand Glass
• Fuyao Group

Coated Glass Market : Regional Analysis
• North America
• U.S.A
• Canada
• Europe
• France
• Germany
• Spain
• UK
• Rest of Europe
• Asia Pacific
• China
• Japan
• India
• South East Asia
• Latin America
• Brazil
• Middle East and Africa