Chronic Idiopathic Constipation (CIC) Drugs Market by Product Type (Lubiprostone, Linaclotide) by Application/End User (Hospitals & Clinics, Ambulatory Surgical Centers, Long Term Care Centers) by Industry Analysis, Volume, Share, Growth, Challenges, Trends, and Forecast 2016–2024.
14-Jan-2018 | Number of pages: 118 | Report Code:PSMR-00217| Report Format : PDF | Status : Published
Demo Statistics
Global Chronic Idiopathic Constipation (CIC) Drugs Market: Summary
Global Chronic Idiopathic Constipation (CIC) Drugs Market is estimated to reach $2.96 billion by 2024; growing at a CAGR of 6.6% between 2016 and 2024.If the constipation happens chronically with an unidentifiable cause it is known as Chronic Idiopathic Constipation (CIC). The word "Idiopathic" means the cause is not known. Increasing awareness and widespread presence of idiopathic constipation are the key factors for growth of CIC drugs market. Currently CIC drugs market has huge opportunity for research and development.

Depending on type of drugs, global CIC drugs market is segmented into Lubiprostone, Linaclotide and others. Currently Lubiprostone drug segment dominates the market. But, due to its lower efficacy in comparison with others, patent loss and growing competition from Linaclotide, Lubiprostone will lose its dominance in the upcoming future. Depending on prescription types it is subdivided into prescribed drugs and over the counter drugs. After analysing the symptoms also, constipation is not considered as a disease but a condition, side effect or syndrome. Usually patients avoid to visit doctors to address the issue. Therefore approximately 65% of the CIC drugs market is covered by over the counter drugs. The top players of CIC drugs market are Actavis, Chugai Pharmaceutical, Ferring International Center S.A., Synergy Pharmaceuticals, Pfizer, GlaxoSmithKline, Roche Holding AG, Sanofi, Bayer AG, Salix Pharmaceuticals Ltd, Sucampo Pharmaceuticals Inc, Ironwood Pharmaceuticals and Progenics Pharmaceuticals.
Geographically, Global Chronic Idiopathic Constipation (CIC) Drugs Market is divided into several regions such as North America, Europe, China, Japan, Southeast Asia and India. In upcoming years, North America is expected to dominate the CIC drug market. In North America approximately 28% of population suffers from chronic idiopathic constipation. Also Government in this region is taking steps to medicate and to develop the healthcare sectors by providing advance technological and developed medication treatments support. These are major factors for growth of CIC market in North America. It is anticipated that growing awareness in developing Asian countries like China and India will create significant growth in the Asia Pacific market.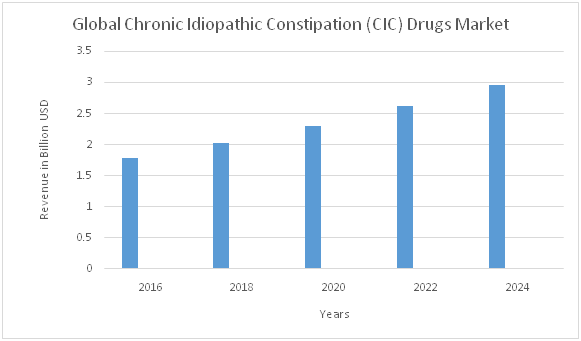 Global Chronic Idiopathic Constipation (CIC) Drugs Market: End Users/Application Analysis
• Hospitals & Clinics
• Ambulatory Surgical Centres
• Long Term Care Centres
Global Chronic Idiopathic Constipation (CIC) Drugs Market: Product Type
• Lubiprostone
• Linaclotide