Caustic Soda Market Report by Product Type ( Liquid Caustic Soda, Solid Caustic Soda, Caustic Soda Flake, Caustic Soda Particle ) by Application / End User (Pulp and Paper,Textiles, Soap and Detergents, Bleach Manufacturing, Petroleum Products, Aluminum Production, Chemical Processing ) by Industry Analysis, Volume, Share, Growth, Challenges, Trends and Forecast 2018–2026.
19-Mar-2018 | Number of pages: 140 | Report Code:PSMR-00407| Report Format : PDF | Status : Published
Demo Statistics
Global Caustic Soda market is valued at USD 32.6 billion in 2017 and is expected to reach USD 53.23 billion by the end of 2026, growing at a CAGR of 5.6% between 2017 and 2026. Caustic soda is the common name for sodium hydroxide (NaOH). Caustic soda is an alkali salt which is also called Lye. Sodium hydrate is caustic or corrosive. Because of this chemical identity, it is known as caustic soda. Caustic soda is a waxy, white solid in its pure form. It readily absorbs water and forms aqueous solutions. Sodium hydroxide is a by-product of chlorine production.

Sodium hydroxide is used to manufacture a variety of medicines and pharmaceutical products. It is used in manufacturing of soaps and a variety of detergents that are applicable in homes and commercial applications. It is also used in the production of fuel cell. Sodium hydroxide is used by municipal water treatment facilities to control water acidity and to help remove heavy metals from water. It is also used in paper making and paper recycling processes. Several food processing applications uses Sodium hydroxide. Sodium hydroxide is used in many other industrial and manufacturing processes such as extraction of alumina , manufacturing of rayon, spandex, explosives, epoxy resins, paints, glass and ceramics.

Global down feather market has significantly increased over the recent past. The market is highly attractive due to The increasing demand for down and feather products all over the world, especially from emerging economies. This expected to drive the market. With increasing urbanization across the small and large cities, rise in consumer purchasing power, rise in consumer preference toward luxury and comfort and modernizing of lifestyle habits are some of the parameters likely to influence the demand for down and feathers from the apparel and home furnishing industry.

Geographically, Global Caustic Soda market is segmented into several areas- North America, Europe, China, Japan, Southeast Asia, India, Africa and Latin America. Global Caustic Soda market is dominated by Asia Pacific, followed by North America and Europe. Global market share of Asia Pacific by volume in Caustic Soda market was nearly 50% in 2017. Emerging economies like China, India, Indonesia are the key consumers of caustic soda in Asia-Pacific.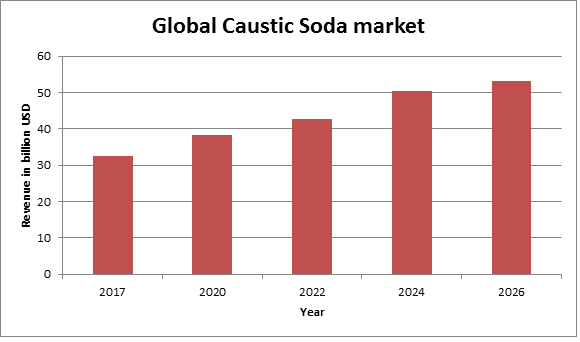 Caustic Soda market : Competitive Analysis
Global Caustic Soda market competition by top manufacturers/players, with Caustic Soda sales volume, Price (USD/MT), revenue (Million USD) and market share for each manufacturer/player; the top players includes:
• Dow Chemical
• OxyChem
• Axiall
• Olin Corporation
• Formosa Plastics Corporation
• Tosoh
• Inovyn
• Asahi Glass
• Covestro
• Shin-Etsu Chemical
• AkzoNobel
• Hanwha Chemical
• Solvay
• LG Chemical
• Tokuyama Corp
• SABIC
• Kemira
• Basf
• Aditya Birla Chemicals
• GACL
• Joint Stock Company Kaustik
• Sanmar Group
• Unipar Carbocloro
• Braskem
• Kem One
• Vinnolit
• Evonik
• VESTOLIT
• Tessenderlo Group
Caustic Soda market : Regional Analysis
• North America
• Europe
• China
• Japan
• Southeast Asia
• India
• Africa
• Latin America