Global Car Cameras Market by Product Type(Single Channel, Dual Channel) by Application /End User(Passenger Car (PC), Light Commercial Vehicles (LCV)) by Technology(Infrared, digital, thermal) by Industry Analysis, Volume, Share, Growth, Challenges, Trends, and Forecast 2016–2022.
14-Oct-2017 | Number of pages: 112| Report Code:PSMR-00061| Report Format : PDF | Status : Published
Demo Statistics
Global Car Cameras Market Market: Summary
Global Car Cameras Market is expected to reach USD 14.68 billion by 2022 at a CAGR of 12.4 %.
Heavy demand of vehicle is prime driving factor for Global Car Cameras Market growth. Global sales of passenger cars are expected to reach 88.7 million by 2019. Increase in disposable income and population across the world are also important factors contributing for growth of Global Car Cameras Market.

On the basis of technology used the single lens/single channel segment accounted for the largest revenue as well as volume share in the global car cameras market in 2016. Multi lens car camera segment is expected to see the fastest growth through the forecast period. Multi lens/dual channel car camera use two camera modules in which one camera is equipped outward to record incidents in front of the vehicle and another to record interior of the vehicle. These camera modules are also used for security applications when your vehicle is parked as it records video evidence of theft and hit and run accidents. These cameras are gaining more popularity among private and commercial vehicle owners. The mandatory regulation in the U.S. to install rearview camera in new cars and lightweight vehicles is increasing the demand for rearview car cameras.

Other important applications of car camera are:
• parking surround view,
• parking
• night vision
• drowsiness
• distance
• blindspot,
• AFS(Adaptive Front-lighting System)
North American is dominant vehicle camera market and is expected to witness significant gains on account of growing demand of luxury vehicles in U.S., Canada, and Mexico, coupled with increasing installation of ADAS(Advanced Driver-Assistance Systems) in commercial vehicles and passenger cars. Europe is also prominent market for product and will show immense growth in light of high installation of ADAS and legislation mandating the installation of safety technologies in the passenger cars in Germany, UK, France, and Italy.Asia Pacific will witness significant growth mainly in China, India, Japan, Thailand, Malaysia and South Korea in light of rapid industrialization along with increasing number of automobile production. In addition, rising disposable income along with high standard of living of the consumers will propel market growth over the next seven years. The key players in the car camera market include Delphi, Continental, Blackbox Guard,BlackVue,Garmin,Papago, Spy Tec, Thinkware,WickedHD,Valeo, Clarion,Eken,RoadHawk,Transcend,Old Shark, Kdlinks.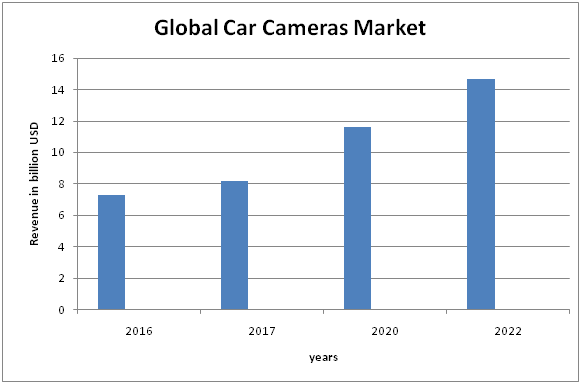 Global Car Cameras Market: Product Analysis
• Rear-view cameras
• Side-view cameras
• Forward-view cameras
• Interior-view cameras
Global Car Cameras Market: Product Technology Analysis
• Mono cameras
• Stereo cameras
• Infrared cameras