Bone Grafts and Substitutes Market by Product Type (Allografts, Autograft, Bone Grafts Substitutes, Osteoinductive agents) by Applications (Spinal Fusion, Trauma Fixation, Joint Reconstruction, Craniomaxillofacial (CMF)) by End User (Hospital, Research Institutions) by Industry Analysis, Volume, Share, Growth, Challenges, Trends and Forecast 2018–2026.
30-Mar-2018 | Number of pages: 140 | Report Code:PSMR-00505| Report Format : PDF | Status : Published
Demo Statistics
Bone Grafts and Substitutes Market: Summary
Global Bone Grafts and Substitutes Market is expected to reach 6.9 billion by 2026 at CAGR of 5.7%. Bone grafts are used as a filler and scaffold to facilitate bone formation and promote wound healing. These grafts are bioresorbable and have no antigen-antibody reaction. It act as a mineral reservoir which induces new bone formation. Bone grafting is basically a surgical procedure that replaces missing bone with material from patient′s own body, an artificial, synthetic, or natural substitute. Bone grafting is possible because of the ability of bone tissue to regenerate completely if provided the space into which it has to grow. As natural bone grows, it generally replaces the graft material completely, resulting in a fully integrated region of new bone.

Basically Bone grafting process divided into:

Autograft
Autologous or autogenous bone grafting involves utilizing bone obtained from same individual receiving the graft. Bone can be harvested from nonessential bones, such as from iliac crest, mandibular symphysis (chin area), and anterior mandibular ramus (coronoid process). When a block graft will be performed, autogeneous bone is the most preferred because there is less risk of graft rejection as the graft is originated from the patient′s body. It would be osteoinductive and osteogenic, as well as osteoconductive. Autograft has a disadvantage that additional surgical site is required, another potential location for postoperative pain and complications.

Allografts

Allograft is derived from humans. The difference is that allograft is harvested from an individual other than the one receiving the graft. Allograft bone is taken from cadavers that have donated their bone so that it can be used for living people who are in need of it; it is typically sourced from a bone bank.
Allografts are primarily of 3 types:
1. Fresh or fresh-frozen bone
2. FDBA
3. DFDBA
The use of allografts for bone repair often requires sterilization and deactivation of proteins normally found in healthy bone. Contained in the extracellular matrix of bone tissue are the full cocktail of bone growth factors, proteins, and other bioactive materials necessary for osteoinduction and successful bone healing; the desired factors and proteins are removed from the mineralized tissue by using a demineralizing agent such as hydrochloric acid. The mineral content of the bone is degraded, and the osteoinductive agents remain in a demineralized bone matrix (DBM).

Bone Grafts and Substitutes Market is dominated by spinal grafting procedures as with more than 65% Bone Grafts and Substitutes are used in these procedures. North America contributes largest share in market with more than 1100000 Bone Grafts procedure count in 2017. Technological advancement, increase in disposable income and reliability propelling fuel to growth of Bone Grafts and Substitutes Market. Appreciable results orthopedic community to put more emphasis on Bone grafting procedure results in increasing number Bone grafting surgeries.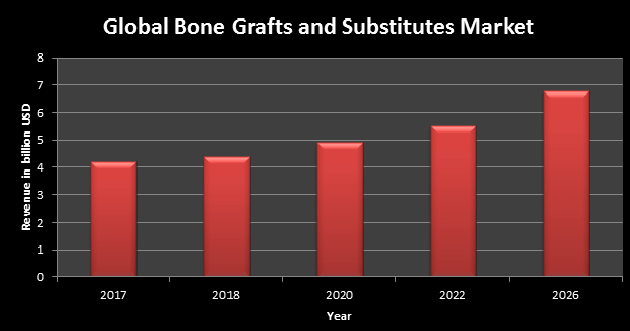 Bone Grafts and Substitutes Market: Competitive Analysis
Report includes accurate analysis of key players with Market Value, Company profile, SWOT analysis. The Study constitutes of following key players in Bone Grafts and Substitutes Market:
• Medtronic
• Stryker
• DePuy Synthes
• Integra Lifesciences Holdings
• Wright Medical
• Zimmer Biomet Holdings
• Xtant Medical Holdings
• Arthrex
• Baxter International
• Musculoskeletal Transplant Foundation (MTF)
• NovaBone Products, LLC,
• BonAlive Biomaterials Ltd.,
• Sigma Graft Biomaterials
• Pioneer Surgical Technology
• RTI Biologics
• Orthofix International
• Citagenix
• Heraeus Medical
• Graftys
• NuVasive
Geographical analysis of Bone Grafts and Substitutes Market:
• North America
• U.S.A
• Canada
• Europe
• France
• Germany
• Spain
• UK
• Rest of Europe
• Asia Pacific
• China
• Japan
• India
• South East Asia
• Latin America
• Brazil
• Middle East and Africa