Global Battery Separators Film Market by Product Type (Standard Separator Film, Coated Layer Separator Film, Multilayered Separator Film) by Application /End User(Electronics, Automobile Industries) Industry Analysis, Volume, Share, Growth, Challenges, Trends, and Forecast 2016–2022.
11-Oct-2017 | Number of pages: 121| Report Code:PSMR-00059| Report Format : PDF | Status : Published
Demo Statistics
Battery Separators Film Market: Summary
A Battery separator is a porous membrane placed between electrodes of opposite polarity, permeable to ionic flow but preventing electric contact of the electrodes. A variety of Battery separators have been used in batteries over the years. Starting with cedar shingles and sausage casing, separators have been manufactured from cellulosic papers and cellophane to nonwoven fabrics, foams, ion exchange membranes, and microporous flat sheet membranes made from polymeric materials. It plays a key role in all batteries. Their main function is to keep the positive and negative electrodes apart to prevent electrical short circuits and at the same time allow rapid transport of ionic charge carriers that are needed to complete the circuit during the passage of current in an electrochemical cell.

Global Battery Separators Film Market is expected to reach USD 5.67 billion by 2022 at a CAGR of 7.9 %. Battery Separators Film Market is primarily driven by increasing demand of automobiles and electronic industry.The battery industry has seen enormous growth over the past few years in portable, rechargeable battery packs. The majority of this demand can be attributed to the widespread use of cell phones, personal digital assistants (PDA's), laptop computers, and other wireless electronics. Batteries remained the mainstream source of power for systems ranging from mobile phones and PDA's to electric and hybrid electric vehicles.High demand of automobiles globally propelling fuel in growth of Battery Separators Film Market.

Battery Separators Film has following importance in overall quality of battery:
• Minimal electrolyte (ionic) resistance
• Mechanical and dimensional stability
• Sufficient physical strength to allow easy handling
• Chemical resistance to degradation by electrolyte, impurities, and electrode reactants and products
• Effective in preventing migration of particles or colloidal or soluble species between the two electrodes
• Readily wetted by electrolyte
• Uniform in thickness and other properties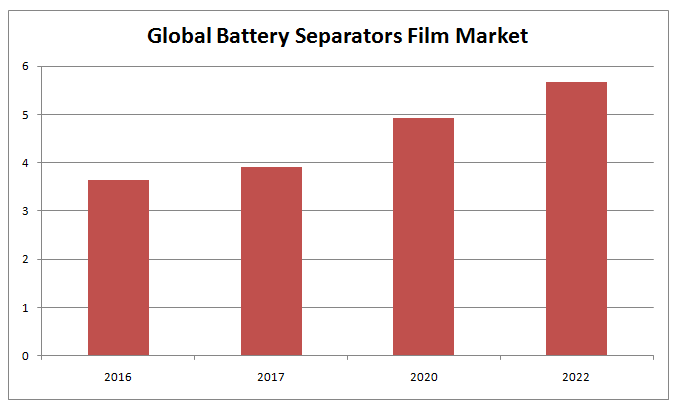 The materials used is Battery Separators Film nonwoven fabrics which include a single polyolefin, or a combination of polyolefins, such as polyethylene (PE), polypropylene (PP), polyamide (PA), poly (tetrafluoroethylene) (PTFE), polyvinylidine fluoride (PVdF), and poly (vinyl chloride) (PVC).

Global Battery Separators Film Market: End Users/Application Analysis
• Electronics
• Automobile Industries
Global Battery Separators Film Market: Product Type Analysis
• Standard Separator Film
• Coated Layer Separator Film
• Multilayered Separator Film