Global Automotive Transmission Pump Market ( Product Type-Fixed displacement pump,Variable displacement pump,Fuel Injection Pump, End User Application-Passenger Vehicles (PV),Passenger Cars, Utility vehicles & Vans,Light Commercial Vehicles, Medium & Heavy Commercial Vehicle) Industry Analysis, Volume, Share, Growth, Challenges, Trends, and Forecast 2012–2022.
20-Oct-2017 | Number of pages: 129 | Report Code:PSMR-00054| Report Format : PDF | Status : Published
Demo Statistics
Global Automotive Transmission Pump Market: Summary
The transmission pump is an oil pump that circulates transmission fluid like oil through the valve body of vehicle, which in turn controls the clutches and the bands that control the planetary gear box.Transmission Pump draws oil from a sump in the bottom of the transmission and feeds it to the hydraulic system. It also feeds the transmission cooler and the torque converter.Transmission Pump is one the important part of vehicle as it control overall displacement process of vehicle.
Global Automotive Transmission Pump Market is expected to reach USD 49.73 billion by 2022 at a CAGR of 5.43 %. Technological advancements in automotive pump industry resulted into maximize the influence of Automotive Transmission Pump in boosting the efficiency of vehicles.Automotive pumps can also be used in car's suspension system which resulted into increse in demand of Automotive Transmission Pump. Rising in preference of vehicle engines developed on advanced technologies is propelling fuel in the demand for Automotive Transmission Pump.
Asia Pacific is the fastest-growing region in the global automobile market with high demand for cars, especially from China and India. In recent years, Automatic transmissions vehicles with advance technologies provide better fuel efficiency and convenience on heavy traffic road . Greater mileage and fuel efficiency offered by automatic transmissions such as continuously variable transmissions (CVTs) is the main factor for growth of Asia Pacific Automotive Transmission Pump Market.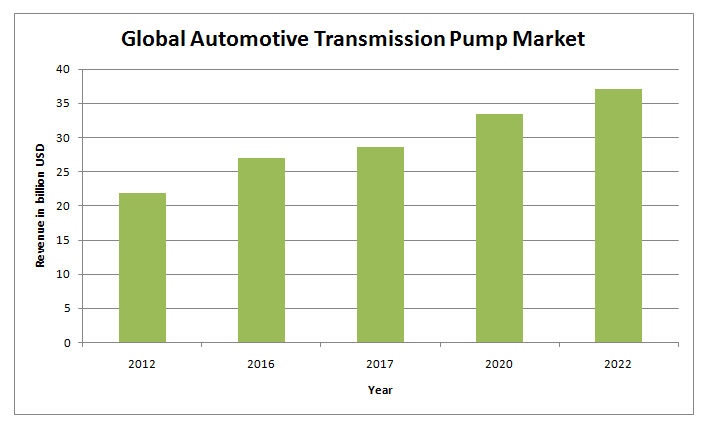 Global Automotive Transmission Pump Market: End Users/Application Analysis
Passenger Car & Utility vehicles segment is fastest growing in Global Automobile Industry.Global sales of passenger cars are expected to reach 88.7 million by 2019.With tremendous growth in Automobile industry leads to boost in Global Automotive Transmission Pump Market.

• Passenger Car & Utility vehicles
• Light Commercial Vehicles (LCV) like vans.
• Heavy Commercial Vehicles (HCV) like buses,trucks.
Global Automotive Transmission Pump Market: Product Type
• Fixed displacement pump
• Variable displacement pump