Automotive Fuses Market(End User Application- Original Equipment Manufacturer(OEM), Automotive aftermarket, Product Type-Blade Fuses, Plug-in Fuses, Cartridge Fuses, Glass Fuses, Cable Fuses, High Current Fuses, Voltage Type-High Voltage, Medium Voltage, Low Voltage) Industry Analysis, Volume, Share, Growth, Challenges, Trends, and Forecast 2012–2022
18-Oct-2017 | Number of pages: 115 | Report Code:PSMR-00053| Report Format : PDF | Status : Published
Demo Statistics
Automotive Fuses Market: Summary
Automotive fuses are a class of fuses used to protect the wiring and electrical equipment inside vehicle. They are generally designed for circuits no higher than 32 volts direct current, but some types are designed for 42-volt electrical systems. Automotive fuses are also used in non-automotive electrical products. Automotive fuses are classified as Blade fuses (also called spade or plug-in fuses), Bosch type, Lucas type, Glass tube type, Limiter type.
Global Automotive Fuses Market is expected to reach USD 13.4 billion by 2022 at a CAGR of 6.9 %. Increase in vehicle production is primary reason for growth of Automotive Fuses Market.Rise in disposable income, population,urbanisation , development in road transportation services are also propelling fuel in the growth of Automotive Fuses Market.Technological advancement in Automotive Fuses market includes advancements in both chip and wire-in-air fuse technology is offering dramatically better reliability results over traditional solutions. Multi-layer Ceramic Chip Fuse it has a wider operating temperature and can maintain stable operating characteristics in extreme conditions. AirMatrix Fuse offers reliable operation in high-stress automotive applications.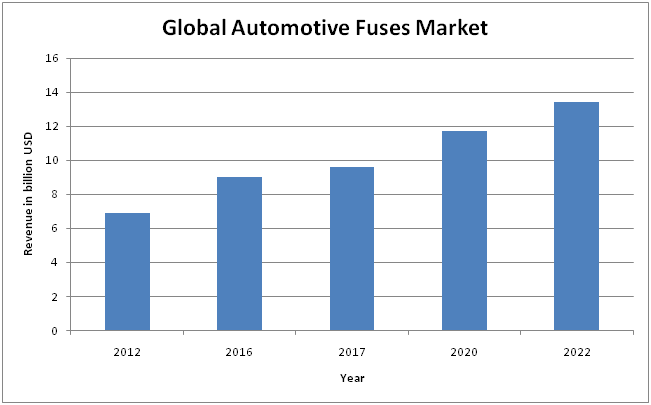 North America (USA and Canada) contributes 37% of overall Automotive Fuses Market.Largest number of vehicle manufactures and user is key factor for highest demand of Automotive Fuses in North America. Developing countries like China and India in Asia pacific region with highest population count shares 27% of overall Market.Europe , Middle east and Latin America contributes 18% ,13% and 5% resp. in Global Automotive Fuses Market.