Asia-Pacific Water Tank Market Report by Product Type (Concrete Tank, Metal Tank, Plastic Tank, Fiber Glass Tank) by Application / End User (Commercial, Residential, Municipal, Industrial) by Industry Analysis, Volume, Share, Growth, Challenges, Trends and Forecast 2018–2026
26-Mar-2018 | Number of pages: 111 | Report Code:PSMR-00607| Report Format : PDF | Status : Published
Demo Statistics
The Asia-Pacific water storage systems market was valued at USD 3.52 billion in 2017 and is expected to reach USD 8.38 billion by 2026, at a CAGR of 10.12 % from 2017 to 2026. A water tank is a container which is used for preserving water. Water tanks are used to provide storage of water .It is used in many applications like drinking water, irrigation agriculture, fire suppression, agricultural farming, both for plants and livestock, chemical manufacturing, food preparation and many others. Factors for rise in the water tank market is increase in population and scarcity of water is increasing day by day in Asia –pacific. The water tank Play important role in preserving the rainwater as well.

Water Tank Market is segmented into Concrete Tank, Metal Tank, Plastic Tank, Fiber Glass Tank. Concrete water tanks and ferro-cement water tanks are generally strong and long-lasting. They are very heavy, and difficult to handle. 5000G tank would weigh about 8 tonnes. Concrete water tank Concrete water tanks are most often installed underground however smaller tanks are available for above ground. It is more durable as compared to the plastic water tank. If properly maintained, it can last for several years. It keeps water cold and clean as compared to the plastic water tank. It is easy to clean as compared to the plastic water tank.

Among the various end-use industries, the municipal segment held the largest share of the Asia Pacific water storage systems market. Major user of the water tank is Municipal, they are responsible for the distribution and supply of water to cities, towns, and domestic & public service enterprises. The huge distribution network of municipal consists of water storage systems to store as well as deliver water when needed.Growing population and urbanization has led to the municipal to be major user of the water tank.

Due to growing water demand in day to day life Water Tank Market is rising at a faster rate.Asia pacific accounts for the largest market share. China accounts for the major share followed by Japan ,
South Korea, Taiwan, India. . Water scarcity and the depleting groundwater resources in the Asia pacific will also drive the water storage systems market in the countries.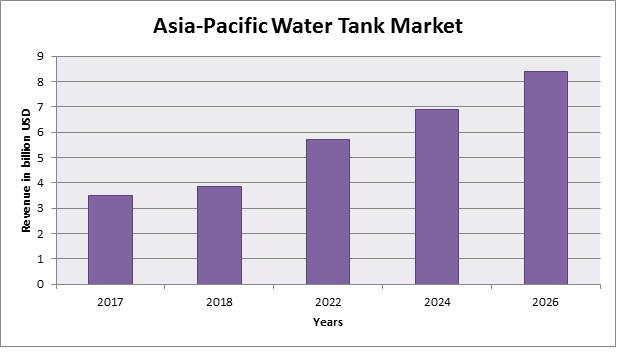 Water Tank market : Competitive Analysis
Global Water Tank market competition by top manufacturers/players, sales volume, Price (USD/MT), revenue (Million USD) and market share for each manufacturer/player; the top players includes:
• ZCL Composites Inc
• CST Industries, Inc
• Tank Connection
• Schumann Tank
• UIG
• DN Tanks
• American Tank Company
• Crom Corporation
• Chicago Bridge & Iron Company N.V. (CB&I)
• Caldwell Tanks
• Maguire Iron Inc
• Snyder Industries Inc
• Norwesco Industries
• Promax Plastics
• Containment Solutions, Inc
Water Tank market : Regional Analysis
• North America
• Europe
• China
• Japan
• Southeast Asia
• India
• Africa
• Latin America