Antiemetics Market by Product Type (Phenothiazine Drugs, Antihistamine Drug, Anticholinergic Drugs ) by Application /End User(Hospital, Medical Center, Clinic, Research Institutes) by Industry Analysis, Volume, Share, Growth, Challenges, Trends, and Forecast 2016–2024
16-Dec-2017 | Number of pages: 105 | Report Code:PSMR-00111| Report Format : PDF | Status : Published
Report Description
Overview
Global Antiemetics Market: Summary
Antiemetic also known as antivertigo is a drug class effective against vomiting and nausea. Vomiting is controlled by the vomiting centre in the medulla of brain. It is controlled by histamine (H1), muscarinic and serotonin (5-HT3) receptors and is activated by either one of four trigger zones:

Vestibular nuclei – It is is controlled by muscarinic and histamine (H1) receptors and activated in vertigo or motion sickness.
Gastrointestinal tract-It has serotonin (5-HT3) receptors and affected by chemotherapeutic drugs.
Cerebral cortex – It activates vomiting from smell, thought.
Chemoreceptor – It is sensitive to chemical stimuli, such as opioids and cytotoxic drugs and under the control of dopamine, serotonin (5-HT3).

Antiemetic Market Growth Analysis
Global Antiemetic Market is expected to reach USD 6.32 billion by 2024 at a CAGR of 6.8 % according to report published by Profshare Market Research. Growth in the Antiemetic Market is primarily driven by increase in research methodologies to find new and effective drugs. Technological advancements, better infrastructure and rise in health awareness are also propelling fuel to growth of market. On regional level North America particularly USA in market leader due to development of advance manufacturing technique. Europe, Asia Pacific, Middle East, South Asia, Latin America also shown significant growth in recent years and market will continue to grow in foreseeable future.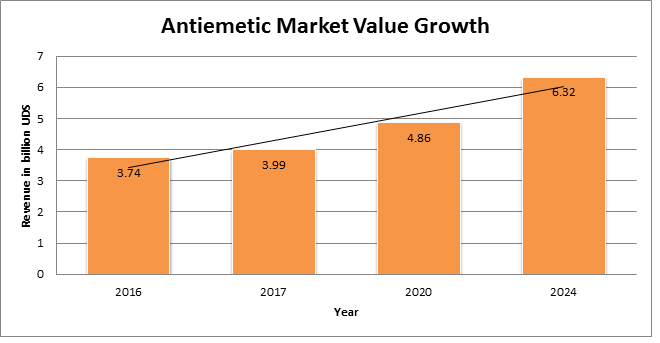 Antiemetic Market on Product Type segmented as:
Antihistamines – It is class of Antiemetic agents that block histamine release from histamine-1 receptors. It is anti-allergic in inflammation (redness), itch, runny nose, sneezing. Antihistamines are divided into non-sedating antihistamines and sedating antihistamines.

Phenothiazine – It is Antipsychotics used to reduce hallucinations and delusions associated with psychosis. Phenothiazine blocks the action of dopamine in the brain. Psychotic symptoms associated with schizophrenia or bipolar disorder can be treated with Phenothiazine .

Anticholinergic– It antagonizes (blocks) action of the neurotransmitter acetylcholine, a chemical released by nerve cells to send signals to other cells. Anticholinergic used to treat of Diarrhea, Asthma, Insomnia, Motion sickness

Neurokinin 1 (NK1) – These receptor antagonists are used for prevention of acute and delayed nausea and vomiting. NK1 receptor antagonist blocks the binding of substance P and prevents the emetic signal being transmitted.

5-HT3 receptor- These antagonists are used for the prevention and treatment of nausea and vomiting, particularly that caused by chemotherapy, radiation therapy, or postoperatively. 5-HT3 also called serotonin receptor antagonists or serotonin blockers.

Miscellaneous antiemetics – Antiemetics that do not fall into above classes are classified as miscellaneous antiemetics.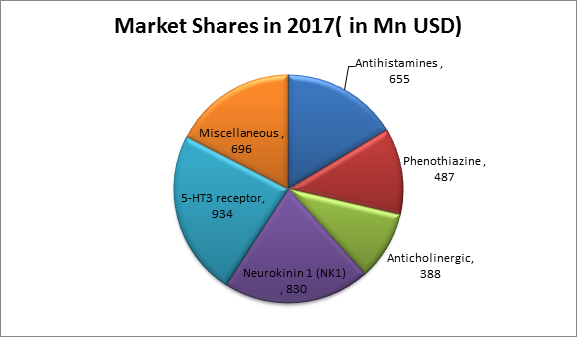 Important applications of Global Antiemetic Market are:
• Hospital
• Medical Center
• Clinic
• Research Insitutes