Anesthesia Monitoring Devices Market Report by Product Type(Bispectral Index (BIS) Monitor, Entropy Monitor, Narcotrend Monitor ) By Application /End User (Adults, Children, Neonatal ) by Industry Analysis, Volume, Share, Growth, Challenges, Trends and Forecast 2017–2025.
03-Mar-2018 | Number of pages: 123 | Report Code:PSMR-00332| Report Format : PDF | Status : Published
Demo Statistics
Anesthesia Monitoring Devices Market: Summary
The Global Anesthesia Monitoring Devices Market was valued at USD 1.41 billion in 2015 and is expected to reach USD 4.7 billion by 2025, at a CAGR of 12.8% from 2015 to 2025. Many professionals, including doctors, nurses, dentists and vets use anaesthetic gases on a regular basis. Anesthesia monitoring devices are used to check patient's responsiveness towards anesthesia during surgery. Anesthesia monitoring devices can be either standalone or or connected to PMPM(Patient Multi-Parameter Monitors). They are typically found in the operating room of hospitals or surgery centers. The Anesthesia Gas monitor is used to specify the agent that is being used and to quantify the amount of agent. The obtained information is displayed with waveforms and alphanumeric on the display monitor.

Anesthesia Gas monitor devices measurement tells anaesthetist that patient are receiving enough anaesthetic gas to ensure that patient are unconscious. Anaesthetist also constantly observes a number of measurements from the anaesthetic machine. These includes the pressure of oxygen and nitrous oxide in the pipelines or tanks on the back of the machine from which these gases are delivered, the amount of oxygen flowing to patient from the machine, the number of times each minute that the breathing machine (or ventilator) delivers a breath to patient, the amount or concentration of anaesthetic agents in the gas patient breathe in and out, that patient are still connected to the breathing circuit, and that this circuit has not become disconnected.

Global anesthesia monitoring devices market is dominated by North America due to the increasing number of surgeries which, in turn, has raised the awareness among surgeons towards the benefits offered by anesthesia monitoring devices. Europe is also expected to see a healthy growth during the forecast period. However, due to improvement in the healthcare sector, Asia-Pacific is anticipated to be the fastest growing market for anesthesia monitoring devices. Increasing spending capacity of the consumers would ensure further growth of this market in the emerging countries such as India, China and Japan among others. Further, re-imbursement facilities, government funding and increased healthcare awareness has also improved the way for steady demand of anesthesia monitoring devices in Asia-Pacific.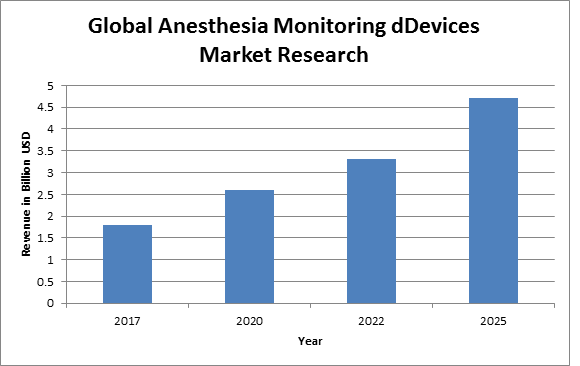 Anesthesia Monitoring Devices Market: Competitive Analysis
Report includes accurate analysis of key players with Market Value, Company profile, SWOT analysis. The Study constitutes of following key players in Animals Wearing Clothes Market:
• Masimo
• Fukuda Denshi
• Infinium Medical
• Covidien
• GE Healthcare
• Nihon Kohden Corporation
• Philips Healthcare
• Mindray Medical International
• Dragerwerk AG & Co. KGAA
• Schiller
• Criticare Systems
• Heyer Medical
Geographical analysis of Anesthesia Monitoring Devices Market:
• North America
• U.S.A
• Canada
• Europe
• France
• Germany
• Spain
• UK
• Rest of Europe
• Asia Pacific
• China
• Japan
• India
• South East Asia
• Latin America
• Brazil
• Middle East and Africa