Global Alcoholic Drinks Market by Product Type (Wine, Beer, Cider, Mead) by Application / End User(Supermarkets and Hypermarkets, Convenience Stores, Specialist Retailers, Online Retailers) by Industry Analysis, Volume, Share, Growth, Challenges, Trends, and Forecast 2017–2024.
05-Jan-2018 | Number of pages: 125 | Report Code:PSMR-00206| Report Format : PDF | Status : Published
Demo Statistics
Global Alcoholic Drinks Market is estimated to reach $1935.706 billion by 2025; growing at a CAGR of 6.1% between 2018 and 2024. Alcoholic drinks contains ethanol commonly known as alcohol. Alcoholic drinks are broadly categorized into three categories- beer, wines and distilled beverages. Beer and wines are fermented drinks. Beer is made by brewing cereal grains like malted barley,wheat, maize, and rye. Fermentation of the starch sugars in the wort produces ethanol and carbonation which results beer and this process is known as brewing.Wine is an alcoholic beverage made from grapes, fermented without the addition of sugars, acids, enzymes, water, or other nutrients. Rice wine, fruit wine are also available in market.A distilled drinksare produced by distillation of ethanol.These are completely different fromundistilled fermented beverages such as beer, wine, and cider. Vodka, gin, baijiu, tequila, rum, whisky, brandy, Singani and soju are some examples of distilled drinks.
Alcoholic drinks contains 3% to 40% of alcohol by volume.Moderate alcohol consumption has several benefits. Alcoholic drinks are good source of food energy.Also it can lower risk of cardiovascular disease, lengthens your Life, improves libido. It prevents common cold. It can decrease chances of developing dementia.It can reduce the risk of gallstones. It also lowers the chances of diabetes. The consumption of beer, wine and other distilled drinks is increasing in young and adult population.

Geographically, Global Alcoholic Drinks Market is segmented into several areas- North America,
Europe, China, Japan, Southeast Asia and India. The growth rate of North America will be slow during forecast period as it is a mature market for alcoholic drinks. At present Europe shares largest market for alcoholic drinks followed by Asia – Pacific region.China is the biggest consumer of the alcoholic drinks followed by India. Increasing population and increased demand for premium and super premium alcohol are the factors responsible for rapid growing rate in Asia– Pacific.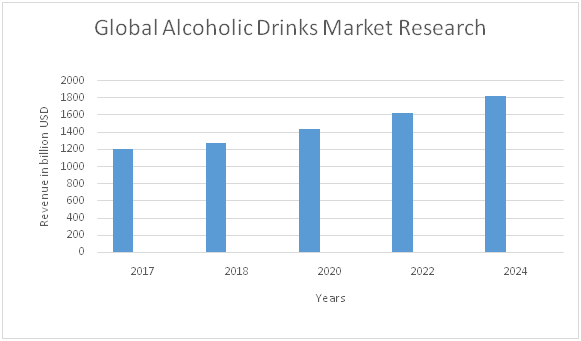 Global Alcoholic Drinks Market : End Users/Application Analysis
• Supermarkets and Hypermarkets
• Convenience Stores
• Specialist Retailers
• Online Retailers
Global Alcoholic Drinks Market: Product Type Analysis
• Wine
• Beer
• Cider
• Mead