Adaptive Security Market by Product Type (Solution, Services) by Application /End User(Endpoint Security, Cloud Security, Network Security, Application Security) by Industry Analysis, Volume, Share, Growth, Challenges, Trends, and Forecast 2016–2022
20-Nov-2017 | Number of pages: 105 | Report Code:PSMR-00066| Report Format : PDF | Status : Published
Report Description
Overview
Global Adaptive Security Market: Summary
Global Adaptive Security Market is expected to reach USD 8.73 billion by 2022 at a CAGR of 15.4 %.
Adaptive security architecture is a sturcture which help to the organizations in classifying existing and potential security investments; it also helps in ensureing that there is a balanced approach to security investments. This security architecture focuses on monitoring of threats and attacks while handling them instead of resolving the damages after the attack. It offers a continuous response to the system's security. Organizations which had adapted this security architecture proactively monitor and address attacks from their inception. This is done by presuming that the internal systems are always compromised, and hence, the system must be detecting and responding to issues in real-time instead of investing in prevention
The major factors leading to the growth of global adaptive security market are constantly varying nature of the technology infrastructure, such as increasing risk of high-profile attacks to organization infrastructure, damage to critical infrastructure and raising online attacks. Some of the other factors are its enhanced security feature and its ability to control and combat cyber-crime effectively.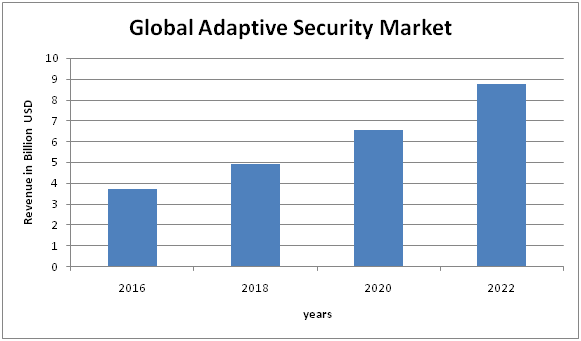 Important applications of Global Adaptive Security Market are:
In applications, adaptive security market is currently dominated by network security segment and the trend is expected to continue by the end of the forecast period. This is due to increasing demand for real-time network security intelligence solutions and services. Application security segment is anticipated to reflect highest CAGR over the forecast period owing to increasing need to protect enterprise applications that are deployed on different endpoints.
• Endpoint Security
• Cloud Security
• Network Security
• Application Security

Global Adaptive Security Market: Product Type Analysis
• Solution
• Services