Air Condition Units Market Report by Product Type(Direct Expansion Units, Multi-connected Units) By Application /End User (Commercial, Industrial ) by Industry Analysis, Volume, Share, Growth, Challenges, Trends and Forecast 2017–2025.
28-June-2018 | Number of pages: 169 | Report Code:PSMR-00318| Report Format : PDF | Status : Published
Demo Statistics
The air conditioning market is projected to grow at a CAGR of 6.69% from 2015 to 2020 to reach USD 30.4 Billion by 2020. An air conditioner (AC) works by collecting hot air from a given space, processing it within itself with the help of a refrigerant and a bunch of coils and then releasing cool air into the same space where the hot air had originally been collected. Air conditioners consist of four major components an evaporator, compressor, condenser and expansion valve.

There are number of factors including how large the area is to be cooled, the total heat generated inside the enclosed area, etc. that helps to decide which air conditioner system to use. Window air conditioner, Split air conditioner, Packaged Air Conditioner and Central Air Conditioning System are some of most popular air conditioner systems. Window air conditioner is the most commonly used air conditioner for single rooms. The split air conditioner comprises of two parts: the outdoor unit and the indoor unit. Packaged Air Conditioner used to cool more than two rooms or a larger space at your home or office. Central air conditioning is used for cooling big buildings, houses, offices, entire hotels, gyms, movie theaters, factories etc.

An evaporator is basically a heat exchanger coil that collects heat from inside a room through a refrigerant gas. Compressor is basically a device where compression of the gaseous refrigerant occurs. The condenser receives the vaporized refrigerant from the compressor and converts it back to liquid and expels the heat outside. Expansion valve also known as the throttling device, is located between the two sets of coils (the chilled coils of the evaporator and the hot coils of the condenser). It keeps tabs on the amount of refrigerant moving towards the evaporator.

A direct expansion air conditioning (DX) system uses a refrigerant vapour expansion/compression (RVEC) cycle to directly cool the supply air to the given space. The Multi-connected Units air conditioning systems are used to connect more than one indoor units to one outdoor. The global market for air conditioning systems comprises Asia Pacific, North America, Latin America, Europe, and the Middle East and Africa. The global market for air conditioning systems includes Asia Pacific, North America, Latin America, Europe, the Middle East and Africa. Asia Pacific is the largest market for air conditioning system in the world.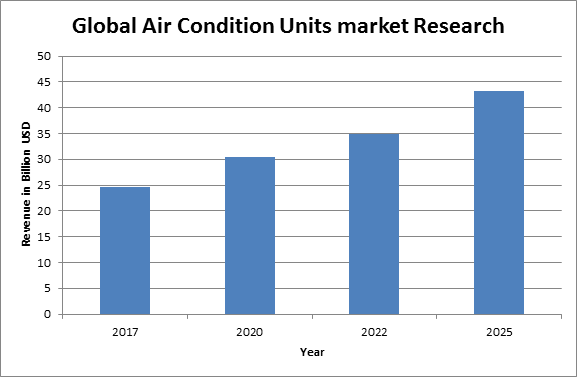 Air Condition Units Market : Product Type
• Direct Expansion Units
• Multi-connected Units

Air Condition Units Market : End Users/Application Analysis
• Commercial
• Industrial