The Daylight Fluorescent Pigments are radiant substance that gives of fluorescent color naturally and it does not require any artificially generated energy to reflect colored light. The invisible UV daylight element is converted into visible light by the Daylight Fluorescent Pigments and the pigments appear considerably stronger and more brilliant than conventional colors. The Daylight Fluorescent Pigments extends the light density to the fixed wavelengths. The Daylight Fluorescent Pigments are made up of dyed organic polymers that are formulated to be solvents for the fluorescence dyestuff. When the dyes are in undissolved state then they do not fluoresce. When the dyes are dissolved in thermoset and thermoplastic carrier resin and are converted into powder they become fluorescent pigments. But there are very few fluorescent Dyes that are available in Market and can be converted into pigments. The fluorescent color becomes brighter and visible when UV rays falls on it, unlike other conventional colors which become dull.
The Global Daylight Fluorescent Pigment Market is expected to witness impressive growth rate in upcoming years. The Daylight Fluorescent Pigments are used in toys, traffic cones, nail paints and many such things which are seen in normal day to day life. As the population is increasing, the demand of toys, nail paints and of the other products are also increasing which is resulting in the increase in demand of fluorescent pigments. Moreover, the customers taste and preference is shifting towards the fluorescent Colors which is the major factor of significant increase in the Global Daylight Fluorescent Pigment Market.
The Daylight Fluorescent Pigment is segmented into thermoplastic pigment, thermoset pigment and others. The Thermoplastic pigment is further classified into Melamine Formaldehyde Type, Polyamide Type, Polyester Type and Vinyl or Acrylic Type. Thermoplastic pigment holds largest market share also expected to grow at significant growth rate in forecasted years. Development of environmental friendly Pigments is biggest challenge facing by Daylight Fluorescent Pigment manufacturers. Large amount of budget and resources has been allocated by major manufacturers to develop better Daylight Fluorescent Pigments.
The study covers detail analysis, growth and forecast of the Daylight Fluorescent Pigments Market. The report includes Market analysis on global and regional level. The study covers historical data analysis from 2014 to 2017 and Market forecast for 2019 to 2027 based on revenue generated. The study includes Market value in terms of revenue in billion USD for years 2014-27 and compound annual growth rate (CAGR) in % for from 2019-2027. The Market is expected to show constant growth between 2019-2027.
The report comprises value chain analysis for each of the product segments. Value chain analysis offers in depth information about value addition at each stage. The study includes drivers and restraints for Daylight Fluorescent Pigments Market along with their impact on demand during the forecast period. The study also provides key Market indicators affecting the growth of the Market. Research report includes major player analysis with shares of each player inside Market, growth rate and Market attractiveness in different end users/regions. Our study Daylight Fluorescent Pigments Market helps user to make precise decision in order to expand their Market presence and increase Market share.
The report provides Daylight Fluorescent Pigments Market Dynamics ,includes industry growth drivers, challenges, opportunities , risk, constraints as well as threats .Reports also includes Manufacturing Cost Analysis mainly included Raw Materials Analysis, Price Trend of product, Mergers & Acquisitions, Expansion, Key Suppliers of product, Concentration Rate of Daylight Fluorescent Pigments Market, Manufacturing Process Analysis. Research Report contains Market Effect Factors analysis mainly included Technology Progress, Consumer Needs Trend, External Environmental Change.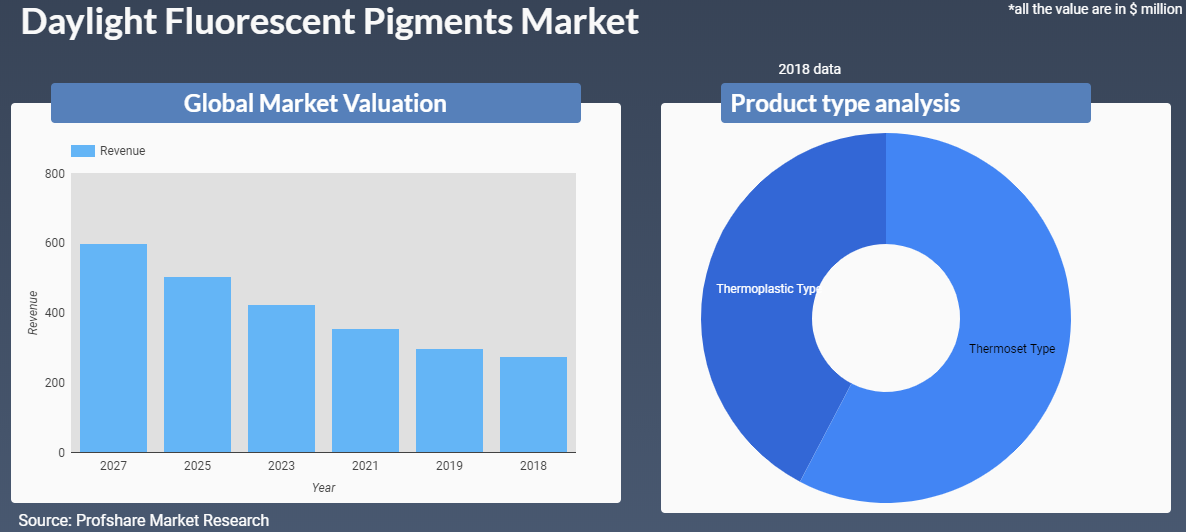 Global Daylight Fluorescent Pigments Market : Product Type
Thermoset Type
Thermoplastic Type
Other
Global Daylight Fluorescent Pigments Market : Application
Paints & Coatings Industry
Printing Inks Industry
Plastics Industry
Other
Global Daylight Fluorescent Pigments Market : Competitive Analysis
Report includes accurate analysis of key players with Market Value, Company profile, SWOT analysis. The Study constitutes of following key players in Global Daylight Fluorescent Pigments Market:

Day-Glo Color Corp (RPM International)
Dane Color (RPM International)
Radiant Color N.V (RPM International)
UKSEUNG
SINLOIHI (DAI NIPPON TORYO)
Huangshan Jiajia Science and Technology
China wanlong chemical
Lynwon Group
J Color Technologies
Vicome Corp
Ming Hui Group (Spectra Colours Ltd)
Aron Universal Ltd
Nanochemitek (Yangzhou) Corp
LuminoChem
Geographical analysis of Global Daylight Fluorescent Pigments Market:
North America
Europe

France
Germany
Spain
UK
Rest of Europe

Asia Pacific

China
Japan
India
South East Asia

Latin America
Middle East and Africa
Global Daylight Fluorescent Pigments Market Report delivers comprehensive analysis of :
Market Forecast for 2019-27
Market growth drivers
Challenges and Opportunities
Emerging and Current Market trends
Market player Capacity, Production, Revenue (Value)
Supply (Production), Consumption, Export, Import analysis
End user/application Analysis
---
Daylight Fluorescent Pigments Market was valued at around USD 356.11 million in 2021 & estimated to reach USD 655.1751601 by 2028.
Daylight Fluorescent Pigments Market is likely to grow at compounded annual growth rate (CAGR) of 9.1% between 2022 to 2028.
Yes, the report includes COVID 19 impact on the market.